Pivot Technology Solutions Inc. (OTC:PVVTF) is a $72m holding company for several IT solution companies. With a wide range of coverage of products and system design, Pivot provides integrated solutions for its customers (including many Fortune 1000 companies); Value-Added Resellers (VARs) often can only provide their specific product niche while many large IT service providers only market their suite of products; Pivot bridges these two approaches. Despite its small market cap, Pivot has already generated over $1B in sales through nine months of 2015 with gross margins in the 10-11% range.
This business model has generated some fairly strong cashflows and some capital restructuring that the Investment Doctor outlined in an article here. Since that time, an attempted takeover by some of Pivot's founders was initiated and strongly contested by an activist shareholder. This deal eventually fell through, removing an implicit put on the stock, resulting in the shares selling off. I will look at this event a bit closer as well as delving a bit more in to the underlying business environment for Pivot.
Please note that since Pivot is a Canadian company and reports in Canadian dollars, all amounts in this article will be in Canadian dollars.
The Founder Plan of Arrangement
On January 26, 2016, Pivot announced a proposed share exchange with a group including two of Pivot's founders. This notably included Gordon MacMillan, who is currently a director of Pivot as well as the support of Chairman of the Board John Sculley (former AAPL CEO and tech entrepreneur).
The nuts and bolts of the deal were that all non-founder (and non-chairman of the Board) shareholders would swap their common shares at a deemed value of $0.70 per share in exchange for preferred shares yielding 12.85% annually (equivalent to a $0.09/share annual dividend). Essentially, a yieldco was being created while ownership of Pivot would end up wholly in the hands of the Founder group, who only had 17% of the shares pre-deal. On the surface, it appeared they were trying to buy control of the company with a dividend hike for the other shareholders, leaving the new preferred shareholders with minimal exposure to any future upside the company could generate.
An activist shareholder, Torrent Capital, understandably wasn't too impressed with this offer. On January 26, they immediately issued a press release stating their opposition to the offer. They indicated that this did not represent fair value of the Company, in their opinion, and their was no formal valuation of the company to back this transaction. This was followed in short order by a publicly released letter on February 2 by Torrent. This letter outlined several key concerns, notably the perceived lack of impartiality by some members of the Board, the lack of value compared to analysts expectations and the underlying nature of the new preferred securities being callable and not necessarily listed.
Pivot then released a press release on February 4 defending its process. The bid review committee had had some precursory discussion with some investment banks that, in their opinion, proved the worth of the Founder's offer. However, this was not enough to convince the shareholder base and on February 24, Pivot announced the cancellation of this transaction, as agreed by all parties.
On the surface, with the deal collapsing, the implicit put of $0.70 to the stock was removed. It also makes it appear that there were no other real serious offers for Pivot. Any "takeover" premium that may have been baked in to the share price would be off the table. It also didn't shine favorably on management; Torrent's view of the deal was that it was an attempt by the Founder's to "steal" the Company from existing shareholders. It does appear they were trying to basically get the full upside of Pivot's future by paying for it with Pivot's existing cash flow. With this management and Board remaining on with the company, shareholders will be more vigilant in the future to ensure any dealings or takeovers are done at arm's length in a way to benefit all shareholders.
Share Price Reaction
Understandably, the shares did not respond well to this saga: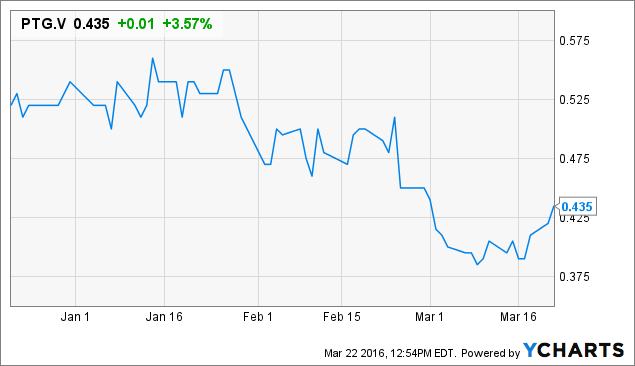 There was clearly a lot of skepticism of the deal originally, as there was a hefty spread between the share price trading in the high $.50s to the implied $0.70 per share takeover offer. The cancellation of this deal sent Pivot down to below $.40 per share, a fairly substantial haircut for a company that is already under-valued by its cash flow metrics. This was also in spite of management raising its annual dividend to $.04/share, a yield of almost 10% at this current level on the same day the deal cancellation was announced.
I have been through these high yield opportunities before, most notably with LQSIF, and they often have some significant cash flow issues attached. Pivot does not appear to have this issue, fortunately. Through the nine months to September 2015, they had generated $18.6m in cash flow from operations; non-working capital performance was similar to the prior year but their working capital levels were much more under-control. With revenue growth at about 9%, being able to hold the line on working capital is a sign of good capital allocation by Pivot, who had a significant build in the prior year.
Looking to free cash flow, Pivot generated $12.4m through nine months; if we roughly annualize that, we have a free cash flow yield of 22% on its market cap. If we look at its current dividend commitment of $.04/share per year, this equates to an annual cash flow commitment of $6.85m; this is covered over 2x by its free cash flow levels. They would have even covered the $.09 per share on the preferred share offering, thogh with much less room to spare.
The Potential Rub
One of the biggest issues for Pivot is whether it is growing profitably or just growing. If we again look at their September statements, Pivot added over $87m in sales from 2014. However, only $4.4m went to its gross margin performance, about a 5% margin on the incremental sales. From its Q3 earnings announcement:
"While we experienced solid revenue growth from both major and non-major accounts, profitability suffered as a result of increased contribution from lower-margin product sales, lower service revenues, as well as competitive pressures in the storage segment compared to last year," stated Warren Barnes , CEO of Pivot. "In general, we experienced relatively healthy levels of business activity, with the exception of storage offerings which continue to see competitive pressure and commoditization influence, while we continued to grow our customer base. In that respect, we benefited from the delivery of a sizeable data centre project for one of our new customers."
This gives the impression that there are some industry headwinds at work. At the macro level, IT projects will often be cut or deferred when times are tough for companies as the value they add can be difficult to prove out easily when finance is asking for a return on investment. The recent poor earnings season from S&P 500 companies is a good indicator that we are in this type of environment.
Despite this, Pivot's ability to grow revenue has compared favorably to its larger competitors. While Accenture was able to boost profitability, its actual revenues shrank in its most recent earnings report. Pivot's larger Canadian rival CGI Group announced strong earnings, with a 5% increase in revenue in its most recent quarter.
The fact that Pivot was able to add incremental revenue with a positive margin in this environment is encouraging. As management noted, margins are getting squeezed in part from commoditization of a portion of its business and part from a competitive pricing environment, which is pressuring the industry as a whole. However, with these smaller margin levels, any incremental revenue should be able to add to both the gross and operating margin lines; Pivot appears to be at the point where this is going to be substantially positive. Its SG&A runs at about 12% of revenue and compares favorably to Accenture's 15% rate (on a much larger revenue base); CGI does not break out its costs in this manner but has much better margins overall. If Pivot can hold the line on costs (as it has through 2015), its margins should improve substantially from here as it seems to have almost reached scale, assuming it can continue to add margin-positive contracts.
Management indicated that it has a good pipeline of work coming but didn't provide backlog figures. It has continued to show good progress each year which gives some comfort going forward on their view of the market. The dividend increase announced part way through fiscal 2016's Q1 makes me think they have finished 2015 well, combined with a good start to 2016, especially after the aborted Founder transaction. Even if I am wrong, they have a lot of cash flow leeway to ensure the dividend remains in tact. However, failure to grow sales and margins may prove a potential headwind so this will need to be monitored closely.
The Takeaway
After the cancelled takeover, market sentiment was quite negative to Pivot. However, it appears to have stabilized in the low $0.40 price range. At this price you get:
A close to 10% yield with a payout ratio of approximately 50% of free cash flow
A company continuing to grow revenues in a tough macro environment while adding to its absolute margins
A decent potential for multiple expansion due to its very high cash flow yield (price to sales is not relevant in this low margin business)
A Board of Directors who are looking to monetize Pivot's value
An invested management team with 17% ownership in Pivot
The continued cash flow generation and the high dividend yield Pivot is providing should provide some downside support here. As the negative sentiment surrounding the less-than-optimal takeover offer is removed, there is a good chance Pivot will re-rate from these levels.
For continued discussion, please don't hesitate to comment below; I learn from your feedback.
If you like what I'm doing, you can follow me by hitting the "follow" button at the top of this article. Plus, you can follow me in real time by selecting that option. It might give you somewhat of a head start whenever I write an article on what actions I am taking and why.
Hopefully, you get some value from my analysis and I appreciate your time.
Disclosure: I am/we are long PVVTF.
I wrote this article myself, and it expresses my own opinions. I am not receiving compensation for it (other than from Seeking Alpha). I have no business relationship with any company whose stock is mentioned in this article.
Additional disclosure: I am long through the TSX symbol PTG.TO.