The financial crisis triggered a deep reorganization of the Irish banking system
At the end of 2010 Ireland was a country at its lowest economic point in many years. The whole banking system had imploded dragging the Irish State into a humiliating €85bn bail out from the European Commission, the ECB and the IMF; three of its four biggest banks - Anglo Irish, Allied Irish and Permanent TSB - had been nationalized and the ruling political party during the boom, Fianna Fail, had been severely punished in the polls.
Among the nationalized banks Allied Irish was recapitalized, Anglo Irish was liquidated and Irish Life was split between insurance activities sold to Great-West-LifeCo of Canada and Permanent TSB, nationalized.
Most of the foreign banks, mainly Danske and Royal Bank of Scotland, considered their investment in Ireland as distressed and started liquidating their loan book and their organization on the island at a great cost.
Bank of Ireland (NYSE:IRE) was saved from nationalization by the injection of €1.1bn from a group of US investors led by turnaround specialist Wilbur Ross at €0.1 cents per share, or 0.3 times book value.
The banking crisis deeply changed the competitive landscape of the industry from a profitable oligopoly with foreign healthy competition to a potentially even more profitable duopoly with two central actors and several merely testimonial outsiders.
A highly profitable duopoly between Bank of Ireland and AIB was born
Ireland wanted to be perceived as a "poster child" of reforms and recovery, and for that reason the Government led at that time by Enda Kenny wanted Irish banks to be strong, profitable and not many of them.
The new banking design for Ireland would be basically a profitable duopoly between Bank of Ireland and Allied Irish Banks with some minor foreign competition to keep the appearance of healthy competition. This commercial banking cluster would be complemented by a sophisticated asset management and hedge funds back office centre in Dublin, based on a competitive tax regime.
This commercial banking competitive structure should generate high commercial banking NIMs (Net Interest Margin), a low level of impairments during the upside part of the cycle and, combined with limited TIER 1 capital ratios, high ROEs for retail banking activities - similar or even better than those of Lloyds and RBS in the UK, close to 25% of allocated capital.
The conclusion of this design would be strong and highly profitable banks, high capital generation and as a consequence a high stock price that would fund acquisitions abroad, the most likely geographic area being the UK.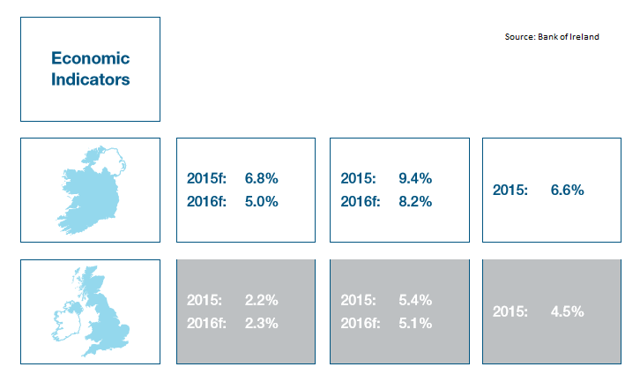 In the context of structurally high GDP growth for the Island
This highly profitable banking design must be assessed as part of the Irish macro-economic framework, which has generated abnormally high rates of GDP growth to the extent that the island has been dubbed "the Celtic Tiger".
Between 1996 and 2007 Irish GDP increased at an average ratio of 6% fuelled by consumer spending, construction and business investment. The role of Irish tax system in attracting American multinationals to its soil is well known; thus, part of this GDP increase is not tangible for Irish citizens, but has an impact somewhere else.
Furthermore, Ireland is part of the Eurozone and thus subject to its monetary policy and the ECB monetary policy is not fully suitable adequate to the Irish economic structure.
Given the structurally far higher rate of GDP growth in Ireland compared with that of main Eurozone partners - Germany, France, Spain and Italy - Ireland needs a more restrictive monetary policy to avoid overheating and the generation and explosion of financial and real estate bubbles.
Unfortunately, the power of the Island to set ECB monetary policy is close to zero. In other words, being part of the Eurozone Ireland it is condemned - to a significant extent - to experience steeper upsides and downsides of the economic cycle compared with other Eurozone members and thus to become something close to a boom and bust country on a structural basis.
That is great for investors if they are long banks during the boom and short banks during the bust, but it is certainly bad for everybody else.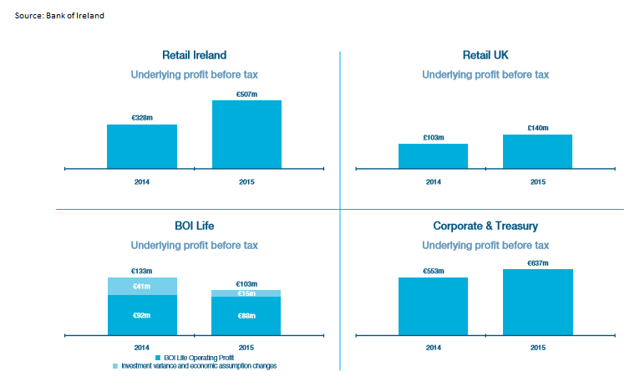 The Governor and Company of the Bank of Ireland is the best bank of the duopoly
Bank of Ireland is the biggest and best managed bank of the Island and will be the winner of the new banking design.
The turnaround story for BKIR is perfect: since 2012 Richie Boucher, the Zambia-born CEO of the bank has cleaned the balance sheet, restructured the operational infrastructure of the bank and set the lender for accelerated growth during the next 3 - 5 years.
Departing from record losses of €2.1bn before tax in 2012, Bank of Ireland posted pre-tax profits of €1.2bn in 2015 and a dividend is scheduled for 2016.
Net Interest Margin is strong at 2.19%, but still a shadow of what it should be given the economic structure in which the bank is operating. Loan book contraction has materially stopped at €83bn, with 42% increase of new lending volumes in 2015, and given current growth of Irish economy - 7.8% in 2015 - should start growing aggressively during future years.
Impairments have fallen dramatically from €1.77bn in 2012 till €296 million in 2015, and are poised for further falls as excess provisions taken during the balance sheet clean up are written back. Overall ROE should increase substantially over 15% during the next 3 - 5 years.
The only significant risk embedded in a BKIR investment is its exposure to the UK in case a Brexit materializes. Circa 40% of Bank of Ireland business is in the UK, through the Post Office franchise BKIR has enjoyed since 2004.
The Brexit referendum, to be celebrated the 23rd of June has created a short term big uncertainty in BKIR's stock price; in our view the case for a Brexit has been exaggerated - at the end property rights and contracts would still exist in the UK after a potential opt out from the Union - but the event would certainly have a deep impact on the short term stock price of the Bank of Ireland.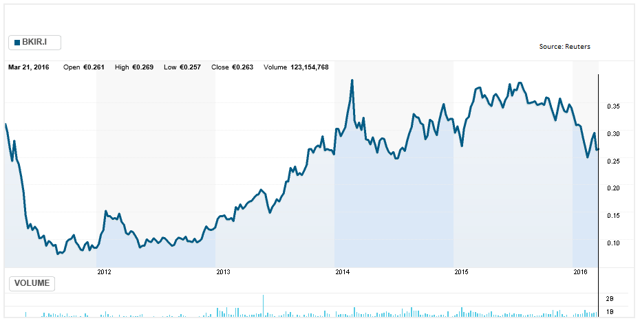 At distressed prices after the early 2016 banking panic
What does all this mean in terms of stock price? Since the recapitalization in 2012 at €0.14 the stock price has increased steeply up to a maximum of €0.39 with notable volatility, particularly during 2014 and 2015.
The Banking Panic of 2016 has battered the stock from €0.39 to a minimum of €0.23 per share. In other words, BKIR stock price is cheaper now with €1.2bn profits than in 2012 when it was losing €2.1bn. This creates a big buy opportunity.
PE is ridiculously low at 6.9 times and book value at 0.92 times is slightly higher compared with the European average but reflects in our view the higher ROE potential in the midterm for this bank.
Taking into account 1) current profits 2) strong potential for higher NIMs and ROEs given the structural competitive position of the bank and 3) the excellent macro evolution of Ireland, the stock price could very well double during the next three years to reflect a more accurate intrinsic value of the franchise.
An interesting derivatives strategy would be to buy call options with strike €0.28 at the EUREX market and maturity March 2017 for €0.04 each. This strategy can be rolled out during the next two years. Given the intrinsic price of BKIR is close to €0.5 this may be a very profitable strategy on the midterm.
The Brexit risk may be hedged in the opposite way: buying cheap out of the money options on BKIR at strike price €0.22 and Maturity March 2017 for €0.02 each with a high gamma sensitivity to a potential short term crash of the stock price.
Disclosure: I am/we are long BANK OF IRELAND.
I wrote this article myself, and it expresses my own opinions. I am not receiving compensation for it (other than from Seeking Alpha). I have no business relationship with any company whose stock is mentioned in this article.