Hanwha Q Cells (NASDAQ:HQCL) is a flagship company of Hanwha Group, a Fortune Global 500 firm in South Korea. Hanwha Q Cells has a global distribution network spread across Europe, Americas, Asia, Africa and the Middle East. The company is ranked 5th in PV Tech's top 10 solar module manufacturers in 2015. The company offers the entire range of photovoltaic products and solutions, and is also engaged in downstream development and EPC business. HQCL has benefited strongly from the synergy effects of the merger between Hanwha SolarOne with Hanwha Q Cells.
This is being reflected in the substantial operating margin improvement seen by the merged entity, in the last few quarters. While Hanwha SolarOne (or Solarfun as it was known earlier) was always a second rung solar player, HQCL has emerged as a top player in the global industry. The company has one of the leading solar cell and panel manufacturing capacities in the world and has won multiple large orders in the last one year. I expect the stock price to gain after good Q4'15 results and think it should be an opportune time to build a position when the stock is trading 47% below its 52-week high price.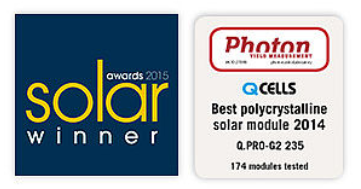 The final quarter of 2015 looks equally bright with shipments expected to rise by 50% or more quarter-to-quarter. We expect to have a more meaningful contribution in the fourth quarter from sales of downstream projects up to 150 MW, bolstering both revenues and profits -Mr. Seong-woo Nam, Chairman and CEO of Hanwha Q CELLS.

Source: HQCL PR
Why HQCL is a good stock
1) Technological innovation being rapidly implemented into mass production - Hanwha Q Cells has its R&D headquarters in Germany. The company is known for its full square monocrystalline solar cell, based on the Q.ANTUM cell technology. In 2015, Hanwha Q Cells received the Solar Industry Award in the Module Manufacturing Innovation category. HQCL's Q.ANTUM cell achieved an efficiency level of 19.1% in November '15. The company's technological edge is due to the strong lineage of Q-Cells. This German manufacturer was the largest solar cell player in the world till 2008, before cheap Chinese competition destroyed the company. It was bought cheaply by Hanwha, which is leveraging the strong R&D capabilities of Q-Cells to gain a competitive advantage in the cutthroat solar industry.
2) Flexibly positioned to address all major global markets - The company has production facilities in China, Malaysia and South Korea that enables it to sell to all major global markets without facing import tariffs. Hanwha Q Cells also has a strong distribution network across leading markets in Americas, Asia, Europe, Africa and Middle East. The company recently signed a 50MW module supply contract with Adani Group in India, which was a follow on order to a 70 MW contract signed in June 2015. The Adani Group has become one of the biggest solar players in India and this relationship should help grow Indian volumes in the future. HQCL also tripled its solar module supply agreement with Sunrun (NASDAQ:RUN) for 2016. Hanwha Q Cells will become one of the main suppliers for Sunrun, which is one the largest residential installers in the US.
"We are pleased to have access to a steady supply of high quality modules from an industry leader like Hanwha Q CELLS," said Paul Winnowski, chief operating officer of Sunrun.

Source: HQCL PR
3) Strengthening its position as a prominent player in the downstream project business as well - Hanwha Q Cells sold a portfolio of three operating PV power plants in the UK that it built and connected to the grid during Q1'15, to NextEnergy Solar Fund. These plants were valued at $90 million. The company also commissioned one of Turkey's largest PV power plants completing the plant in only two and a half months. HQCL acted as the main shareholder, module supplier, EPC and O&M service provider for this project. The company's downstream pipeline now exceeds 1.2GW, with ~40% in late stage development at the end of the third quarter. Earlier in November '15, the company signed a 25-year solar power agreement with Texas based, Austin Energy to construct a 170MW solar plant in Texas.
4) Financial Performance showing continuous improvement - Hanwha Q Cells has been showing continuous improvement since 2013. The company's turnaround began after the merger of Hanwha SolarOne with Hanwha Q Cells. For Q4'15, the company is expecting gross margins at more than 20%.
| | | | | |
| --- | --- | --- | --- | --- |
| (in $ million) | 2012 | 2013 | 2014 | TTM |
| Revenue | 589 | 780 | 780 | 1323 |
| Gross Profit | -52 | 55 | 66 | 210 |
| Net Income | -250 | -144 | -101 | -15 |
Data from Morningstar
The company has plans for a major capacity expansion with solar cells and module capacity expected to each reach 5.2GW by mid-2016, from just 3GW cell capacity at the beginning of 2015. Its cell capacity will be larger than some of the major Tier 1 Chinese solar companies like Trina Solar (NYSE:TSL), which is expecting to expand cell capacity to 5GW by the end of 2016.
Downside Risks
Hanwha Q cells has a large manufacturing base and is also looking at expanding its cell and module capacity. However, the company's wafer capacity has remained stagnant at 900 MW. This means the company will have to procure most of its wafer requirement from outside suppliers. The wafer side of the supply chain has recently been witnessing tightness in supply. Wafer ASPs have risen, as a result of strong market demand and insufficient supply. Wafer prices have improved from 80 cents/watt to 90 cents/watt in recent times, due to less supply. As a result, many mainstream solar companies like JinkoSolar (NYSE:JKS), JA Solar (NASDAQ:JASO) and Canadian Solar (NASDAQ:CSIQ) are increasing wafer capacity. This might exert pressure on HQCL's bottom line, which will suffer from increasing wafer costs.
Stock Performance & Valuation
The stock looks cheap with a P/E of 1.4x and a market capitalization value of ~$1 billion. I have been advocating a buy for this stock since it was trading at $2.34 and now HQCL is trading at more than $15. The stock gave stellar returns of ~29% in the last six months, when the broader Nasdaq was down 0.4%. Last year was bad for the energy sector with most solar stocks declining, due to the falling oil prices and a weak Chinese market. Hanwha was one of the few solar stocks that gave good returns in the last year.
Conclusion
The company's performance has picked up momentum owing to its high efficiency levels, a diversified geographic footprint and increasing global solar demand. Hanwha Q Cells is set to benefit from its multiple production facilities in China, Malaysia and South Korea and can successfully sell to different global markets, without being affected by anti-dumping duties. The industry is moving towards higher efficiency solar products and Hanwha Q Cells is ideally positioned to benefit from this trend, due to its Q.ANTUM cell technology, which has achieved 19.5% efficiency in commercial mass production. The stock looks cheap currently with a strong potential to increase in the future.
Disclosure: I/we have no positions in any stocks mentioned, and no plans to initiate any positions within the next 72 hours.
I wrote this article myself, and it expresses my own opinions. I am not receiving compensation for it (other than from Seeking Alpha). I have no business relationship with any company whose stock is mentioned in this article.