One of the more interesting microeconomic dynamics over time is the erosion of an industry's barriers to entry, as a result of excessive price and margin increases by industry incumbents.
Businesses can become permanently impaired, relative to their prior position, as a result of a couple primary leading causes:
1) Increasing competition (think American Express vs Visa / MasterCard, Gillette Razors vs Dollar Shave Club etc., IBM & Microsoft vs Google & Apple, Circuit City vs Amazon, Borders Bookstores vs Amazon, etc.)
2) Obsolescence (think Blockbuster Video, Tower Records, Kodak, etc.)
3) Some mix of both 1 & 2 (arguably Microsoft, Borders, Dell Computer, IBM, etc.)
This article will focus on cause #1: increasing competition.
Generically speaking, competition usually increases when prospective new entrants believe they can earn attractive profits that make the risk worthwhile.
Some industries have high barriers to entry, either because of brand importance, capital requirements, customer relationships or technological reasons. Other industries have low barriers to entry and are intensely competitive.
Industries with high barriers to entry generally have high returns on capital and high margin structures, while industries with low barriers to entry have low returns on capital.
A Brief Review of the North American Tractor Industry
Over the past forty years, the North American tractor market has changed considerably. During the last agriculture boom in the 1970s and subsequent bust in the 1980s, there were several tractor manufacturers: International Harvester, New Holland, Ford, Deere, Massey-Ferguson and a handful of other smaller players.
The 1980s agriculture downturn saw extensive consolidation, leaving the market with two dominant players: Deere (TICKER: DE) and Case New Holland (TICKER: CNHI).
Over the past 30 years, Deere's market share has gone from the high 20s as a percentage share of the total market to somewhere in the 60s today.
Today, the North American large agriculture equipment market is essentially a duopoly.
Farm-equipment.com has estimated Deere today has a nearly 2/3 share of the North American Market, with Case IH / New Holland taking up largely the rest: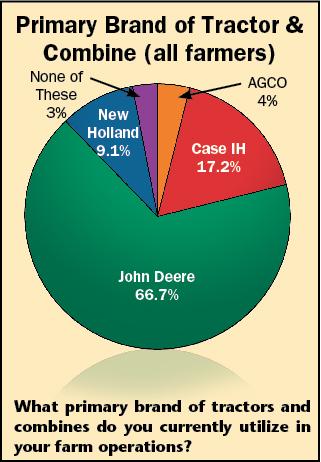 Deere's Revenue Growth
Over the past 30 years, Deere's domestic revenue has grown at ~5% annual growth rate, while Deere's international revenue has grown at a 6% annual growth rate.
Domestically, Deere grew its market share from about 30% in the early 1980s to about 65% by the 2000s.
Market share gains added a compounded 3% per year to Deere's total domestic growth over the past three decades.
Inflation averaged about 3% per year over this time.
Total acreage for row crops actually declined by more than 10% over the past 35 years, while total food production increased more than 50% (higher yields per acre more than compensated for decline in row crop acreage).
So for the domestic annual revenue growth of ~5%/yr, we have:
a) market share gains added about 3%/yr
b) inflation added about 3%/yr
c) row-crop tractor market shrank in the low double-digits, owing to acreage decline
d) Deere raised prices and expanded its margin
e) Generally speaking, manufacturing productivity across all industries has improved dramatically in the past 35 years
Adding all five factors up gets you to its roughly 5% per year annual revenue growth.
Internationally, Deere's growth has come from a combination of inflation, share gains (largely taken from AGCO) and cropland growth in South America.
Margins
In the summer of 2000, Robert Lane was appointed as Chairman and CEO of Deere. He quickly implemented a new compensation scheme, known as SVA (Shareholder Value Added). This policy aimed to improve returns on capital by improving Deere's capital efficiency and taking advantage of Deere's strong position in the duopolistic North American large agriculture equipment market.
The best way to get a glimpse at the profit power of Deere's North American large agricultural equipment business is to compare Deere's domestic margins to the company's international margins and also compare Deere's "Ag & Turf" margins to its "Construction" margins.

From the table above, we can see that not only did Deere's Ag & Turf business have better margin expansion than its Construction business, but North America had much better margin expansion than international.
My read of this is as follows:
1) The North American Construction market is much more competitive than the North American large agricultural equipment market.
2) Deere's international businesses, both Construction and Ag & Turf, have high competition, so Deere's margins internationally are structurally lower across all business lines.
The conclusion is that Deere's true significant margin advantage lies in the company's North American large agriculture equipment market.
How can we attempt to isolate just how high these margins might be today?
Deere does not break out its North American and international businesses by business line. But we know that the construction business has been about 20-25% of total revenue over the past ten years and we know it has lower margins than the Ag & Turf business.
So let's assume that 20% of Deere's North American business is also Construction and that the Construction business operates with similar margins in North America as internationally.
We can now strip out Construction revenues and margins from the reported North American segment to attempt to isolate Deere's North American Ag & Turf margins.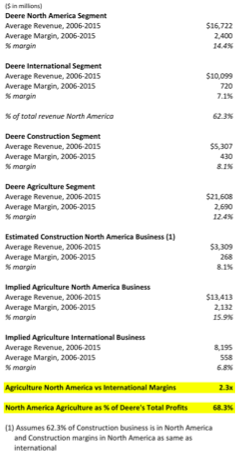 The above analysis shows that Deere's Ag & Turf division generates margins that are 2.3x higher in North America than internationally. Further, Deere's North America Agriculture business accounts for approximately two-thirds of all of Deere's profits!
This is an estimate, of course. But it not only seems well-reasoned and likely very close to the mark, it also makes intuitive sense.
We know that Deere's construction business and the company's international business are both significantly more competitive than the North America large agriculture equipment market. It follows that most of the price increases Deere implemented that actually permanently "stuck" were in the duopoly market where Deere is dominant.
Stated another way, Deere's margins on Ag equipment are several hundred basis points higher in North America than internationally, owing to the duopolistic nature of the market and Deere's aggressive price increases taken since 2001.
Let's have a look at Deere's company-wide price increases, compared to inflation, since Robert Lane implement Shareholder Value Added in 2000/2001: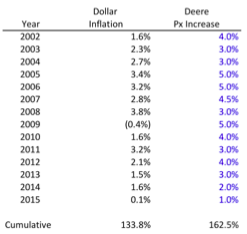 For added context, let's analyze the impact these price increases would have had on the price of a tractor compared to inflation:

I believe the above analysis is actually conservative, for the following two reasons:
1) The disclosure of price increases used above generally applied to the entire company, whereas Blue Pacific believes North America large agriculture equipment experienced a disproportionate amount of the price increases.
2) Manufacturing processes over time become more efficient, so the price of products need not rise at the rate of inflation to maintain constant margins and returns on capital.
As a result of the above analysis, Blue Pacific believes the North America large agriculture equipment market is operating with very high margins and very high returns on capital, perhaps unsustainably so.
As alluded to at the beginning of the article, sometimes businesses get carried away and take their incumbent competitive power too far. How can we know if this has happened in the case of Deere?
Enter Competition
Kubota, a significant Japanese manufacturer of construction equipment and small agriculture equipment, has recently decided to enter both the North America and global large agriculture equipment market.
For those unfamiliar with Kubota, I highly advise you read a handful of their annual reports (they are available in English) from the past several years. Kubota is a very serious competitor that has been highly successful and has excellent products.
I think of Kubota's entry into this market as similar to when Japanese auto manufacturers entered the North America automobile market.
In 2013, Kubota announced they would start with a 170HP tractor with the goal of going larger and larger until they can compete head-on with Deere. See below for an excerpt from page 17 of Kubota's 2015 Annual Report (and note that their first attempt is already award-winning):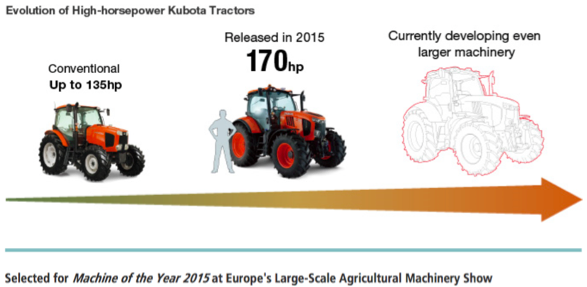 Now let's have a look at some recent statements from Kubota's management:
1) "Masumoto wants Kubota to become the world's top producer of farm equipment by overtaking Deere in the long term. 'Ten years from now, we want to be seen as a real threat to Deere,' the president said."
2) "This launch will send a strong message to the market," says Masatoshi Kimata, President of Kubota Corporation. "We are not just a small tractor company anymore."
3) "With the Kubota M7, we've set in motion a strategy for full-scale entry into new markets, setting our sights on commercial livestock and row-crop production customers, and readying Kubota to compete with other big players in the field," said Todd Stucke, Kubota vice president, agriculture and turf division.
4) "Of course our product line is in no way complete. Having now made a 170bhp class tractor, our next goal is to make a 250bhp heavy weight."
5) "Q: What was it like to finally roll out the large tractors that you and Masumoto always dreamed about? A: When we approached dealers in Europe and North America about our new tractors, it was well received. So much so that the current orders in North America are far beyond what we were expecting."
Impact to Deere's Long-Term Value
As noted earlier, over half of Deere's domestic revenue growth over the past 30 years was from market share gains. Deere presently has market share somewhere in the 60s and Blue Pacific believes the North America large agriculture equipment market enjoys very high margins and very high returns on capital.
Kubota has a long-term strategy for entering the market. Kubota will probably not be a formidable competitor within the next five years (although their indicated M-Series production targets suggest they may be aiming for ~5% market share by 2018). Rather, Kubota's impact will likely be felt over the next five to ten years and beyond.
But Blue Pacific believes this risk may have a significant impact on Deere's value today, for the following reasons:
1) As described above, Kubota is targeting Deere's most profitable business. Blue Pacific believes the terminal value of Deere in a discounted cash flow analysis is materially lower, if Deere's North America Ag & Turf business has margins similar to its other business.
2) Blue Pacific believes the next 3-5 years will be incredibly challenging for the North America large agriculture equipment market, so a disproportionate amount of Deere's value lies in the "out years".
Again, Blue Pacific believes these estimates are conservative, as they only penalize Deere for margins and not for revenue concessions from lost market share. Presumably, if Kubota is able to achieve market share of, say 15%, in ten years' time, some of this gain will come at the expense of Deere. North America is not a growth market, which means that Deere's unit volume will necessarily be lower in the future if Kubota is successful in their efforts.
Conclusion
Blue Pacific believes Deere faces significant long-term business risks as the result of a powerful new competitor entering its market. It will take time for Kubota to have a significant impact on the North America large agriculture equipment market, but Kubota is not a competitor to be underestimated.
Kubota presently has over 1,100 equipment dealers in the United States supporting their construction and small agriculture equipment business. Kubota's largest and newest tractor, the M7 170HP, is arriving at dealers in North America for the first time this week.
While Kubota's journey will be long, Blue Pacific believes the extremely high margins and high returns on capital in the North America large agriculture equipment market adequately incentivize and will support Kubota's successful entry into the market as a formidable competitor.
Disclosure: I am/we are short DE.
I wrote this article myself, and it expresses my own opinions. I am not receiving compensation for it. I have no business relationship with any company whose stock is mentioned in this article.
Additional disclosure: THIS ARTICLE IS FOR INFORMATIONAL AND EDUCATIONAL PURPOSES ONLY NOTHING CONTAINED HEREIN SHALL CONSTITUTE A SOLICITATION, RECOMMENDATION OR ENDORSEMENT TO BUY ORSELL ANY SECURITY OR OTHER FINANCIAL INSTRUMENT.INVESTMENT  BLUE PACIFIC PARTNERS FUND HAS A SHORT STOCK POSITION AND PUT OPTION POSITION IN THE STOCK OF DEERE & CO AND OTHER AGRICULTURE RELATED STOCKS.  BLUE PACIFIC PARTNERS HAS NO OBLIGATION TO UPDATE THE INFORMATION CONTAINED HEREIN AND MAY MAKE INVESTMENT DECISIONS THAT ARE INCONSISTENT WITH THE VIEWS EXPRESSED IN THIS PRESENTATION. NO REPRESENTATION OR WARRANTIES ARE MADE AS TO THE ACCURACY, COMPLETENESS OR TIMELINESS OF THE INFORMATION CONTAINED IN THIS PRESENTATION AND BLUE PACIFIC PARTNERS DISCLAIMS ALL LIABILITY FOR ERRORS OR OMISSIONS IN, OR THE MISUSE OR MISINTERPRETATION OF, ANY INFORMATION CONTAINED IN THIS PRESENTATION.