Introduction
This is the fourth article of our Bear Market Investing series. In our previous articles, we highlighted why the S&P 500 is prone to a sizable correction and why investors should tilt exposures towards cheaper markets or seek more defensive strategies:
In this article, we will provide an overview of managed futures strategies, and why they deserve a place in your portfolio at this point of the market cycle.
What Are Managed Futures?
Managed futures are a form of quantitative investment strategy that rely on trading signals generated by computer models. Due to their complexity, these strategies are usually developed by hedge funds and reserved for institutional investors with large sums of capital.
At the most basic level, the strategy involves "following trends" (up or down) in asset prices by taking corresponding long or short positions in futures contracts worldwide over various time horizons. Their investment universe is broad, and can include futures on equity indexes (i.e. S&P 500 futures), commodities (i.e. cotton, coffee, sugar, gold), foreign currency and government bond futures. Futures are highly liquid, regulated, exchange-traded instruments.
The key benefits of managed future strategies are their low correlation to traditional assets, such as stocks and bonds, and the ability to provide protection during down markets. This is possible because, during a sustained market sell-off, the strategy is able to take short positions in equity indices, or long positions in safe haven assets such as bonds (Treasuries), currencies (dollar/yen) or precious metals ((gold)).
A Differentiated Multi-Asset Investment Strategy
To back up the claims of low correlation and downside protection, we can take a look at the historical performance of the Eurekahedge CTA/Managed Futures Hedge Fund Index, a popular gauge of managed futures strategies. This is the description of the index:
The Eurekahedge CTA/Managed Futures Hedge Fund Index is an equally weighted index of 500 constituent funds. The index is designed to provide a broad measure of the performance of underlying hedge fund managers. The index is base weighted at 100 at Dec 1999, does not contain duplicate funds and is denominated in local currencies.
In a nutshell, the index is a peer group of hedge funds running managed futures programs. This is how the index has performed over the past 10 years vs. the S&P 500 Index:

Returns & Risk
The historical performance of managed futures is compelling. Over the past 10 years, these strategies have generated equity-like returns at lower risk. This means their risk adjusted return (Sharpe Ratio) is high at 1.17, versus just 0.41 for the S&P 500.
Correlation
These strategies have also exhibited very low correlation to the S&P 500 Index, of just 0.02. Minimal correlation means that they were able to generate returns independent of stock market movements. Take 2007 and 2008 for example; managed futures strategies generated high double-digit returns while equity markets have gone nowhere.
Downside Protection
Managed futures strategies have tended to generate positive returns during severe market drawdowns, or when there is a sustained down trend. This is how they have fared over the last five S&P 500 sell-offs: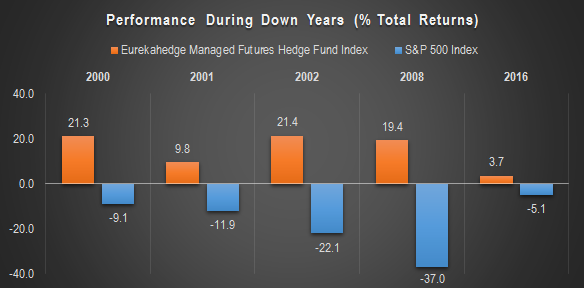 Returns have been persistently positive when the stock market dives.
Recent Returns
Recent performance of managed futures strategies have been weaker, as asset class returns have been choppy since 2011. These "trend-following" strategies tend to do better when there are clear and sustained price direction in the markets they track. The "sustained" bit is particularly important, because short or volatile trends are challenging to profit from. Down markets are just as good as uptrends, so long as they are clear. This is the trailing statistics for the past 5 years through February of this year:
| | | |
| --- | --- | --- |
| | S&P 500 | Eurekahedge |
| Annualized Return | 10.1% | 3.1% |
| Annualized Volatility | 11.9% | 4.4% |
And this is since 2000 on a rolling 3-year annualized basis: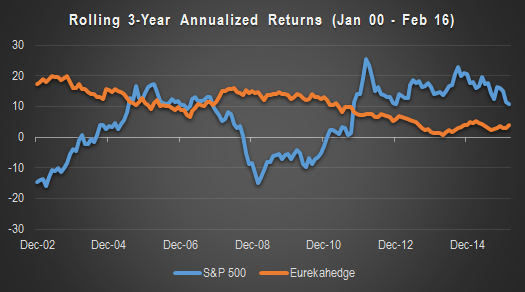 What's interesting from the above is that over rolling 3-year periods, returns of managed futures have never been negative, while equity markets fluctuate wildly. Recent returns appears to be improving after touching a low in 2013.
On a relative basis, one can see that like all investment strategies, returns of managed futures strategies are cyclical, and in this case to some degree inverse to the equity markets:
We believe recent underperformance could be an indication of better times to come for managed futures strategies.
Summary Thoughts
Based on historical returns, correlations and recent underperformance, the case for managed futures appears to be compelling, particuarly for equity-investors.
In our next article, we will study a few managed futures ETFs to see if they are as good as the Eurekahedge index has demonstrated.
Disclosure: I/we have no positions in any stocks mentioned, and no plans to initiate any positions within the next 72 hours.
I wrote this article myself, and it expresses my own opinions. I am not receiving compensation for it (other than from Seeking Alpha). I have no business relationship with any company whose stock is mentioned in this article.