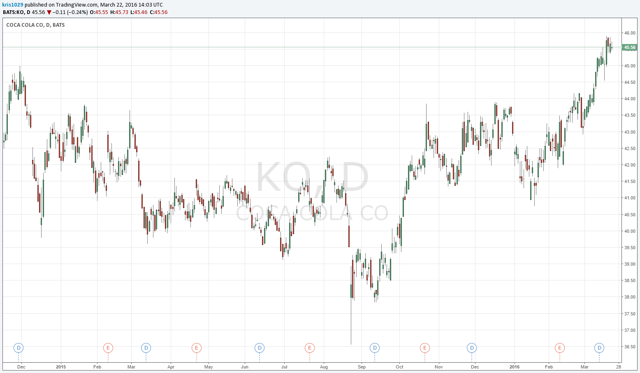 Click to enlarge
By The Valuentum Team
Coca-Cola's Investment Considerations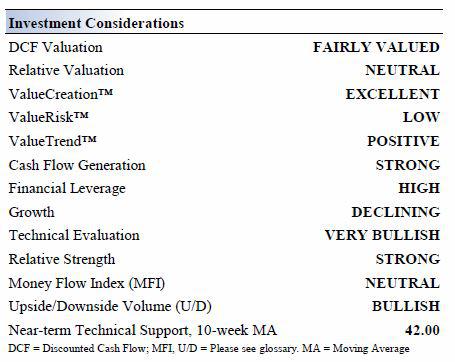 Investment Highlights
Coca-Cola (NYSE:KO) is the world's largest beverage company. The firm owns and markets four of the world's top five nonalcoholic sparkling beverage brands: Coca-Cola, Diet Coke, Fanta and Sprite. The firm has seventeen brands that account for $1 billion in annual sales individually and more on the way. Do not count out the giant's ability to innovate. The company was founded in 1886 and is based in Atlanta, Georgia.
The company boasts a number of competitive advantages: its brands, financial strength, distribution system, global reach, and a deep executive bench. Nevertheless, we don't expect the 'cola wars' with Pepsi (NYSE:PEP) to subside anytime soon, nor do we think social pressures against sugary colas will wane.
We live in a thirsty world. Since 2010, the nonalcoholic ready to-drink (NARTD) beverage category has advanced at a nice mid-single-digit annual pace. NARTD retail value has increased by over $135 billion during this time and is expected to grow more than $300 billion by 2020. Coca-Cola is very well-positioned to capture incremental growth driven by growing middle-classes across the world.
Reported revenue fell 4% in 2015, but organic revenue increased 4% over the same period thanks to global volume and global price/mix both growing 2% on a year-over-year basis. Management has warned that the company sees a slowing sales environment in energy-dependent markets and China, which led to incrementally tighter guidance for 2016. Though pricing strength in North America and Europe will provide a boost, continued currency headwinds will continue to pressure top-line results.
The U.K. will begin taxing soft drink producers based on the amount of sugar in the beverages they produce or import into the country in 2018. Health groups in the U.S. are ramping up efforts to cut soda consumption as well, and 33 states currently have some sort of law taxing sugary drinks. Political risk cannot be ignored.
Coca-Cola has multiple responses to the health advocacy groups. The firm recently launched a milk product in India and continues to invest in the dairy category around the world. These dairy-based drinks are often tailored to specific markets, as are many of the products in the company's portfolio of still and sparkling beverages.
Coca-Cola has raised its dividend in each of the past 50+ years. Investors, however, should be cognizant of the generosity embedded in its fair value estimate, originating from a low discount rate and elevated expected growth.
Valuentum on Consumer Staples, Jan 25
As emerging markets around the world suffer from commodity-price-led economic weakness, capital continues to find a safe-haven in US government bonds, but for those equity-oriented funds that mandate a fully-invested status, not something we're particularly advocates of, assets within US equities have favored "lower-beta" utilities and consumer staples sectors while cyclically-dependent and credit-levered sectors such as the financials and materials have suffered thus far in 2016. The industrials and energy sectors have also encountered higher-than-normal selling pressure in the first few weeks of the New Year, as investors evaluate the global economic landscape and what a prolonged period of low energy prices may mean for the lowest quality operators.
We caution, of course, not to pay too much attention to daily or even weekly movements in equity prices, but we think it is informative to take a look at broader sector valuations to glean incremental insight regarding both opportunities and risks. There are two observations in this regard that we want to point out. First, the consumer staples sector, while certainly full of resilient business models--such as Constellation Brands (NYSE:STZ), Philip Morris (NYSE:PM), and Coca-Cola-- aggregate valuations are starting to get stretched (19 times forward earnings versus 16.7 over the immediate 10-year period). Equity money managers may continue to increase their allocation to these "recession-resistant safe-havens," stretching their valuations further, but disappointments as in Kimberly-Clark's (NYSE:KMB) latest, for example, could send shares tumbling.
Second, the technology sector looks quite attractive from a forward price-to-earnings standpoint relative to the broad market benchmark (14.6 times versus 14.9 times for the S&P 500), but these equities, fairly or unfairly, have traditionally traded more in lock-step with new product iterations and broad emerging-market sentiment than anything else. In light of the fact that many constituents including Apple (NASDAQ:AAPL) and Microsoft (NASDAQ:MSFT), however, have enormous net-cash-rich balance sheets, a source of value not considered in the traditional multiple analyses provided above, one can even say valuations in "Big Tech" are incredibly attractive.
Said differently, if we ignore the tremendous net cash balances in the technology sector, some $150+ billion at Apple and ~$60+ billion at Microsoft alone, for example, the group is still attractively priced relative to an S&P 500, which includes some rather heavily-leveraged (debt-heavy) entities. Near-term oriented investor "bases" and concerns regarding emerging market strength could still drive multiple "compression" across the tech sector, but we like the balance sheets of several.
Business Quality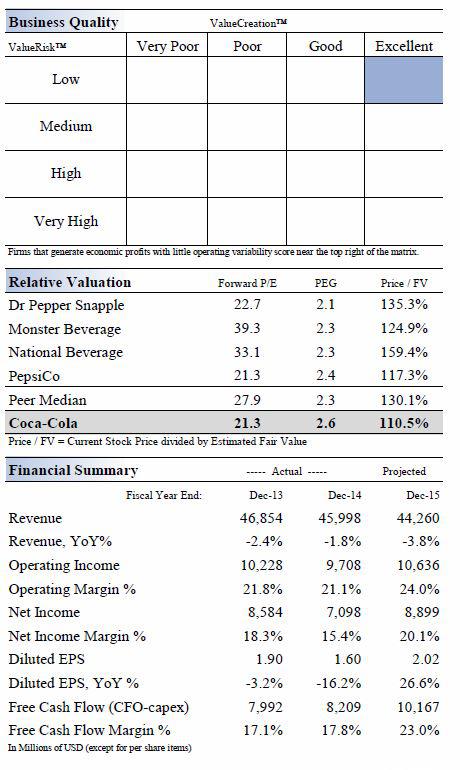 Economic Profit Analysis
In our opinion, the best measure of a firm's ability to create value for shareholders is expressed by comparing its return on invested capital with its weighted average cost of capital.
The gap or difference between ROIC and WACC is called the firm's economic profit spread. Coca-Cola's 3-year historical return on invested capital (without goodwill) is 27.8%, which is above the estimate of its cost of capital of 8.5%. As such, we assign the firm a ValueCreation™ rating of EXCELLENT.
In the chart below, we show the probable path of ROIC in the years ahead based on the estimated volatility of key drivers behind the measure. The solid grey line reflects the most likely outcome, in our opinion, and represents the scenario that results in our fair value estimate.
Companies that have strong economic profit spreads are often also solid free cash flow generators, and it also lends itself to dividend strength. Coca-Cola's Dividend Cushion ratio, a forward-looking measure that takes into account our projections of future free cash flows along with net cash on the balance sheet and dividends expected to be paid, is a solid 1.7 (anything above 1 is considered strong).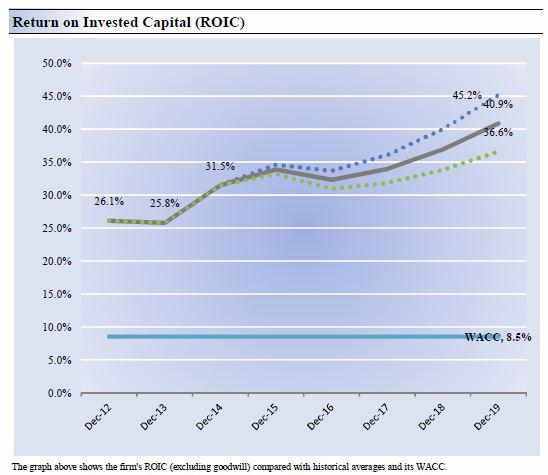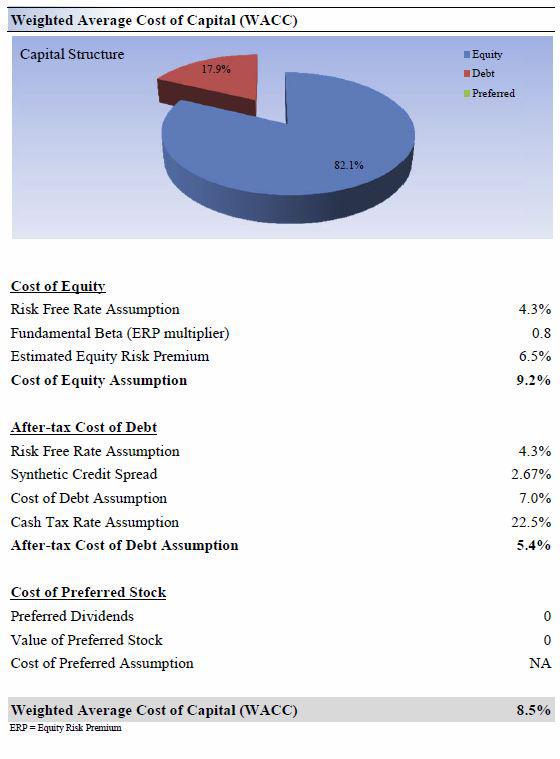 Cash Flow Analysis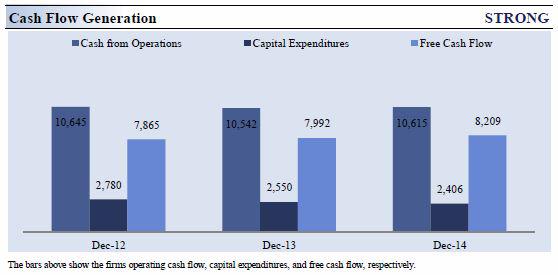 Firms that generate a free cash flow margin (free cash flow divided by total revenue) above 5% are usually considered cash cows. Coca-Cola's free cash flow margin has averaged about 17.1% during the past 3 years. As such, we think the firm's cash flow generation is relatively STRONG.
The free cash flow measure shown above is derived by taking cash flow from operations less capital expenditures and differs from enterprise free cash flow (FCFF), which we use in deriving our fair value estimate for the company. At Coca-Cola, cash flow from operations decreased about 0% from levels registered two years ago, while capital expenditures fell about 13% over the same time period.
In 2015, Coca-Cola reported cash from operations of just over $10.5 billion and capital expenditures of just under $2.6 billion resulting in free cash flow of ~$8 billion, representing a 3% decrease from 2014.
Valuation Analysis
This is the most important section of our analysis. Below, we outline our valuation assumptions as we derive a thirst-quenching fair value estimate for shares.
We think Coca-Cola is worth $39 per share with a fair value range of $31-$47. Shares are currently worth ~$45 per share, near the upper bound of our fair value range. This indicates we feel there is more downside risk than upside potential associated with shares at this time.
The margin of safety around our fair value estimate is derived from an evaluation of the historical volatility of key valuation drivers and a future assessment of them. Our near-term operating forecasts, including revenue and earnings, do not differ much from consensus estimates or management guidance.
Our model reflects a compound annual revenue growth rate of -0.7% during the next five years, a pace that is lower than the firm's 3-year historical compound annual growth rate of -0.4%. Our model reflects a 5-year projected average operating margin of 26.5%, which is above Coca-Cola's trailing 3-year average.
Beyond year 5, we assume free cash flow will grow at an annual rate of 2.4% for the next 15 years and 3% in perpetuity. For Coca-Cola, we use a 8.5% weighted average cost of capital to discount future free cash flows.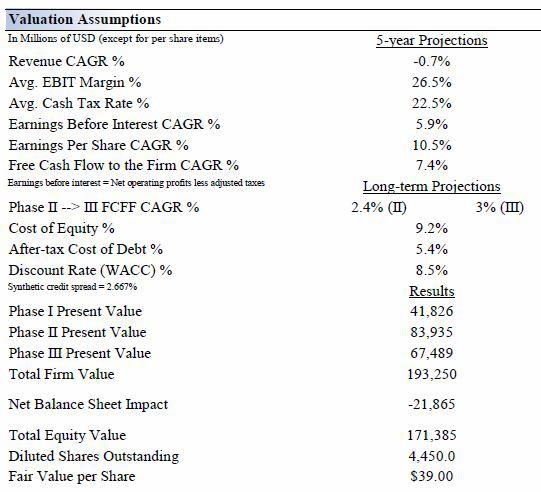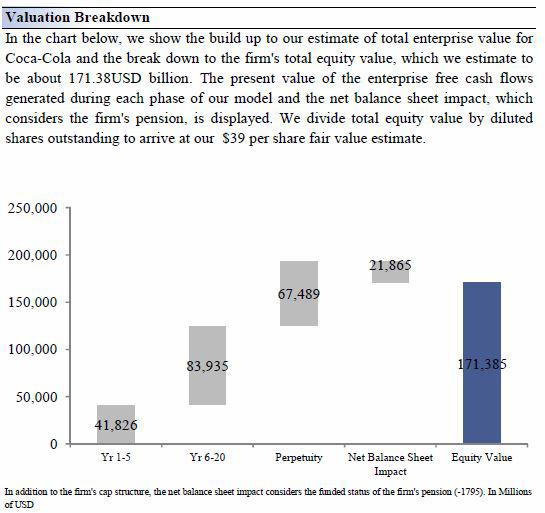 Margin of Safety Analysis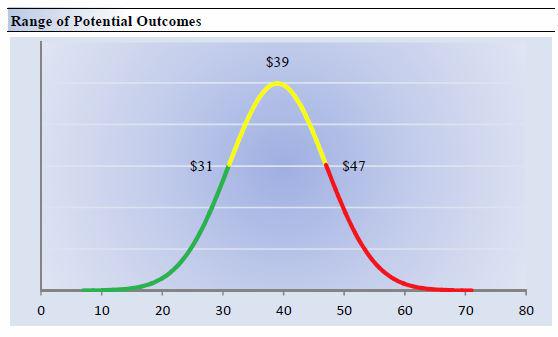 Our discounted cash flow process values each firm on the basis of the present value of all future free cash flows. Although we estimate the firm's fair value at about $39 per share, every company has a range of probable fair values that's created by the uncertainty of key valuation drivers (like future revenue or earnings, for example). After all, if the future were known with certainty, we wouldn't see much volatility in the markets as stocks would trade precisely at their known fair values.
In the graph above, we show this probable range of fair values for Coca-Cola. We think the firm is attractive below $31 per share (the green line), but quite expensive above $47 per share (the red line). The prices that fall along the yellow line, which includes our fair value estimate, represent a reasonable valuation for the firm, in our opinion.
Future Path of Fair Value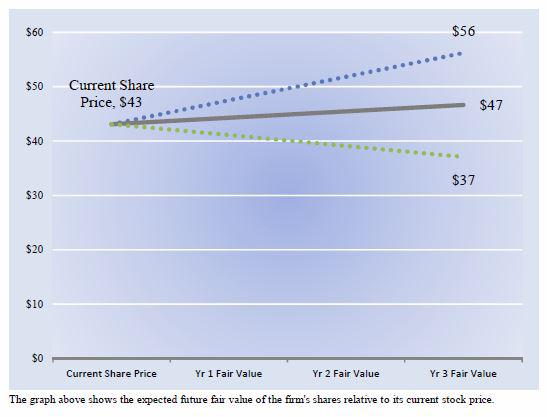 We estimate Coca-Cola's fair value at this point in time to be about $39 per share. As time passes, however, companies generate cash flow and pay out cash to shareholders in the form of dividends. The chart to above compares the firm's current share price with the path of Coca-Cola's expected equity value per share over the next three years, assuming our long-term projections prove accurate.
The range between the resulting downside fair value and upside fair value in Year 3 represents our best estimate of the value of the firm's shares three years hence. This range of potential outcomes is also subject to change over time, should our views on the firm's future cash flow potential change.
The expected fair value of $47 per share in Year 3 represents our existing fair value per share of $39 increased at an annual rate of the firm's cost of equity less its dividend yield. The upside and downside ranges are derived in the same way, but from the upper and lower bounds of our fair value estimate range.
Wrapping Things Up
Coca-Cola has one of the most resilient business models in our coverage universe. The company boasts a number of competitive advantages: its brands, financial strength, distribution system, global reach, and a deep executive bench. Although currency headwinds will continue to pressure top-line results, pricing strength in North America and Europe will provide support. Coca-Cola has increased its dividend in each of the past 50+ years and its Dividend Cushion ratio of 1.7 indicates its payout remains strong.
We like the fundamentals of Coca-Cola quite a bit, and we think its stake in Monster (NASDAQ:MNST) may prove to be its biggest growth engine in coming years. The implications of sugar taxes around the world cannot be ignored, and political risk is mounting for soda producers. The innovative ability of Coca-Cola should not be ignored, however; the firm currently registers a 6 on the Valuentum Buying Index.
This article or report and any links within are for information purposes only and should not be considered a solicitation to buy or sell any security. Valuentum is not responsible for any errors or omissions or for results obtained from the use of this article and accepts no liability for how readers may choose to utilize the content. Assumptions, opinions, and estimates are based on our judgment as of the date of the article and are subject to change without notice.
Disclosure: I/we have no positions in any stocks mentioned, and no plans to initiate any positions within the next 72 hours.
I wrote this article myself, and it expresses my own opinions. I am not receiving compensation for it (other than from Seeking Alpha). I have no business relationship with any company whose stock is mentioned in this article.
Additional disclosure: Several firms mentioned in this article may be included in Valuentum's newsletter portfolios.