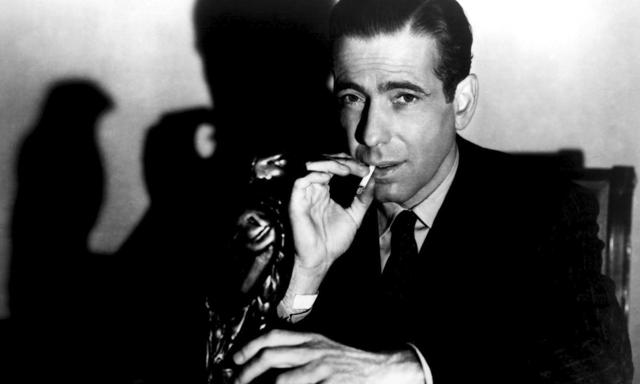 Click to enlarge
Did Merck "Bogart" the HCV market? Source: afternoongossip.com
Merck might be one step closer to Bogarting a sizeable piece of the HCV market. Tuesday, a federal jury upheld the validity of Merck's (NYSE:MRK) HCV patents in its dispute with Gilead (NASDAQ:GILD):
A jury has decided that Merck's 2002 patents related to sofosbuvir are valid, lending credence to Merck's argument that Gilead is infringing via its Pharmasset unit, acquired in 2011. Gilead's Sovaldi and Harvoni were ruled last month to infringe on Merck patents, and the next step was to decide the validity of the Merck patents.

The case now proceeds to damages owed. Sovaldi and Harvoni brought $19.2B in global sales last year. Merck has demanded more than $2B in damages and 10% of Gilead's sales of the products going forward.
In morning trading on Wednesday, GILD was down 2.5% and MRK was up nearly 1% on the news.
The Situation
Merck is claiming that Pharmasett, Inc. used patents it published in 2002 to develop sofosbuvir, the compound used in Gilead's HCV regimens Sovaldi and Harvoni. Gilead acquired Pharmasett in 2011. It launched Sovaldi in 2013 - one of the most successful drug launches in history. While it paid $11 billion for Pharmasett, Gilead has garnered over $30 billion in HCV sales. Merck made its first royalty claim in 2013 just prior to the launch of Sovaldi. The jury decision gives credence to that claim.
Potential Impacts
The next step is for a jury to determine how much Gilead owes. That could potentially involve Merck having to prove how it was financially injured by Gilead's use of its patents. There is no guarantee that [i] Merck could have developed a HCV regimen on par with Sovaldi in terms of efficacy or limited side effects or [ii] garnered the amount of sales Gilead has achieved.
Upfront Payment To Merck
An upfront payment of 10% of Gilead's HCV sales would equate to about $3 billion. Gilead has about $12 billion in marketable securities and generates annual cash flow of $11 billion. While painful, a $3 billion one-time payment to Merck would not sink the company. When one considers that the pharma has peaked, its ambitious share buyback program and bulls' longing for another sizeable acquisition, such a large royalty payment could loom large, though.
Gilead spent $5.3 billion on share repurchases in 2015, offering a tremendous level of support to the stock. Secondly, a deal approaching the size of the Pharmasett transaction could be the game-changer bulls yearn for. However, a pay out to Merck could cause management to make a trade off between buybacks and keeping dry powder for a deal. In the short term, such lack of visibility could cause volatility for GILD.
Ongoing Royalties To Merck
This is the worst case scenario and, in my opinion, would be devastating for the stock. Royalties would come as HCV sales are peaking in Europe and the potential for lawmakers and the populace to demand price concessions in the U.S. and Japan - the largest and second largest markets for HCV sales. It would also hurt Gilead's 66% operating margin; the company could cut costs in order to soften the blow but margins would get clipped. Secondly, the more patients that Gilead cures, the lower the population available to cure. At some point, the HCV runway will decline and Gilead will lose the benefits of scale. Declining scale combined with royalties to Merck could punish GILD.
Ongoing royalties would give Merck an immediate presence in the HCV market. A 10% royalty (potentially) at Gilead's 90% share of the HCV space would give Merck a de facto 9% share - almost equivalent to AbbVie's (NYSE:ABBV). Experts predict that Merck's Zepatier could garner $2 billion in HCV sales by 2020; a likely strategy would be to serve unmet needs and underserved markets. Based on today's $18 billion market size, that could equate to double-digit market share; combined with potential royalties from Gilead, Merck could garner a "de facto" share of nearly 20%. That's important because it could give Merck enough heft to be aggressive on pricing and position Zapatier on par with AbbVie and/or crowd any potential newcomers to the space.
Takeaway
GILD bulls would argue that no payment amount has been rendered, and any verdict would be challenged by Gilead. Actual payouts could take years. However, Merck can wait it out. It doesn't have to accept any quick settlement. Secondly, if a jury agrees on a payment, such potential payment(s) might have to be reserved for on Gilead's financial statements and could tamp down earnings growth and create an overhang for the stock. GILD remains a sell.
Disclosure: I/we have no positions in any stocks mentioned, and no plans to initiate any positions within the next 72 hours.
I wrote this article myself, and it expresses my own opinions. I am not receiving compensation for it. I have no business relationship with any company whose stock is mentioned in this article.