Ollie's Bargain Outlet (NASDAQ:OLLI) shares have notched outsized gains versus discount retail competitors Dollar General (NYSE:DG) and Wal-Mart (NYSE:WMT) as well as the retail sector as a whole since their July 2015 IPO.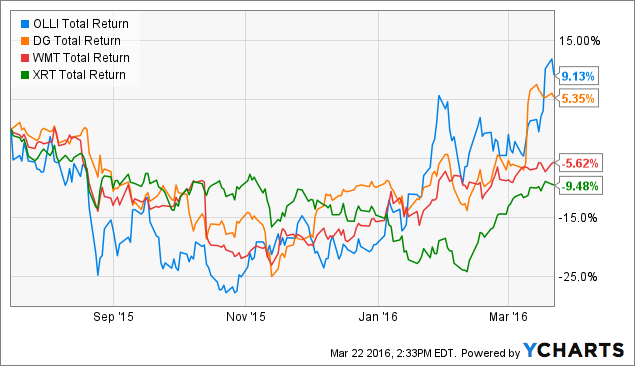 OLLI Total Return Price data by YCharts
Ollie's has reported strong operating performance in the two quarters it has been a public company:
Net sales up 19.0% year over year to $181.9 million
Comparable store sales up 7.8%
Adjusted EBITDA growth of 22.0% to $22.5 million
GAAP EPS of $0.12, adjusted EPS of $0.15
Net 6 new stores, total of 187 stores
Net sales up 16.4% year over year to $174.6 million
Comparable store sales up 3.2%
Adjusted EBITDA growth of 18.2% to $20.0 million
GAAP EPS of $0.11
13 new stores, total of 200 stores
Management outlook
On January 11, management gave a peek into holiday sales and an update for the year ended January 30. They reported that in the nine week period ended January 2, sales increased 23% and comparable store sales increased 5.6% over the same period a year earlier.
For fiscal 2015, which will be reported April 6 after the market close, management expects:
Net sales growth of 19.0% to $760 million
Comparable store sales growth of 5.5%
Net margin of 4.9%
Adjusted net income to grow 42.0% to $39 million
GAAP EPS of $0.66 and Adjusted EPS of $0.69
Reasons for hesitation
Though sales growth, store count growth, and EPS growth have been impressive in the limited reporting history of Ollie's, there are a couple reasons I am cautious at current trading levels.
1. Current prices relative to forward earnings predictions:
Recent trading levels of around $23 per share and analysts estimates of $0.76 EPS for fiscal 2016 give us a forward PE ratio of 30.3. Dollar General and Wal-Mart trade at 18.6 times and 16.3 times their respective forward earnings estimates.
Analysts are expecting EPS to rise approximately 10%, which is in-line with Dollar General, yet the share price relative to those earnings is significantly higher than Dollar General.
This premium valuation may be based on sales growth, which is much higher than both Dollar General and Wal-Mart. However that leads me into my next point:
2. Quick expansion can cause major headaches if not managed properly:
Ollie's is expected to report same stores sales growth of 5.5% for 2015, which easily trumps Dollar General's and Wal-Mart's respective same store sales growth of 2.8% and 0.6% in their most recent fiscal years. Ollie's total sales are expected to increase 19%, which means a larger proportion of sales growth will come from expansion.
At the end of Q3, the net 19 new stores from Q2 and Q3 represented just under 10% of the total store count. Expanding at such a fast clip can reward shareholders however it can also burn them if management is unable to manage debt and expenses while expanding.
Luckily, it does appear that management has done a good job so far. In the 39 weeks ended October 31, 2015, the company's store count increased by 15.6%, sales increased 18.7%, and operating income increased 19.7% over the same period from a year before. This means that operating margins actually increased along with expansion.
From the end of Q2 to the end of Q3, Ollie's long-term debt including their use of the revolving credit facility increased by only 3.5% while store count increased 7.0%. Their use of debt for expansion could be understated in this period due to growth using the proceeds of the IPO. Use of additional equity capital should be smaller in future periods, growth will come from cash flow or debt.
Where to go from here
I have both a valuation concern and an operational concern for Ollie's moving forward, both outlined above. Given that the operational concern I have hasn't been a problem thus far, the premium valuation may be fair. However the company has only reported twice as a public company, which does not give me enough history and confidence in Ollie's ability to continue this operating performance.
Given this, I do not believe the current valuation of 30x forward earnings gives us enough of a safety net at this moment. Though I do like Ollie's and may potentially buy in the future, now is not the time. I would like to see a few more quarters of strong growth to gauge management's ability and/or I'd like to see a significant pullback in valuation. I would buy Ollie's at a slight premium to peer Dollar General but not a 60% premium based on forward PE ratios.
Disclosure: I/we have no positions in any stocks mentioned, and no plans to initiate any positions within the next 72 hours.
I wrote this article myself, and it expresses my own opinions. I am not receiving compensation for it (other than from Seeking Alpha). I have no business relationship with any company whose stock is mentioned in this article.