Thermal coal continues to languish and has been doing so for some time and this has taken a considerable toll on the coal mining industry. Over the last two years, the Market Vectors coal ETF (NYSEARCA:KOL) has plunged by a massive 59% in value and despite claims by some analysts and industry insiders that recovery is in sight, there are signs that thermal coal is fast becoming a stranded asset. It is facing multiple headwinds that indicate the days of its use as a core source of energy are well and truly numbered.
When thermal coal becomes a stranded asset, it will become a costly liability for those companies that continue to operate in the coal industry with them set to suffer from substantial premature write-downs, devaluations and eventually significant costs. As a result, there will be no sustained rally in the price of thermal coal and the days of mining companies solely reliant on thermal coal to generate revenue are well and truly numbered.
Thermal coal's place in the global energy mix
Thermal coal provides over 40% of the world's electricity needs and 29% of the total global energy supply. Since 2000, its consumption has grown exponentially as the global population has grown and a range of emerging economies modernize and urbanize, increasing the demand for energy.
In fact, for more than a decade, the demand for coal has grown aggressively, with global coal consumption growing by 70% from 4,600 million tonnes in 2000 to almost 8,000 million tonnes in 2013. The majority of that growth in consumption came from China as it rapidly modernized and grew its economy to see double-digit GDP growth for the majority of the years between 2003 and 2010.
As the graphic illustrates, it is easy to see just how rapidly the consumption of coal has grown in Asia, with China and India being the primary drivers.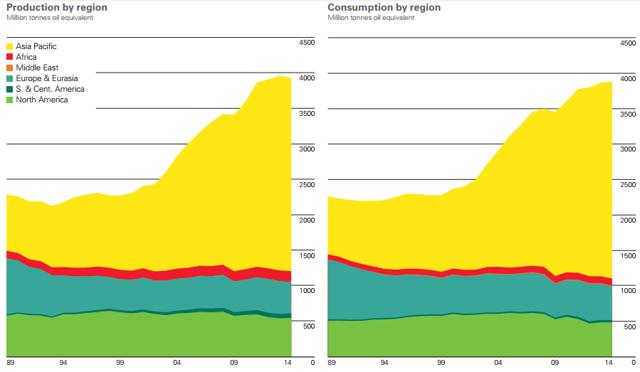 Click to enlarge
Source: BP Statistical Review of World Energy 2015.
Unsurprisingly, it is the Asia Pacific region where the majority of the growth in coal production has come from with China having the world's third largest coal reserves after the U.S. and Russian Federation. There are in fact sufficient global coal reserves to meet 110 years of coal production at the current rate of extraction.
Despite the strong growth in the consumption of coal since 2000, in 2014, global coal consumption began to decline and this trend accelerated in 2015. The rapid decline in demand is expected to continue into 2016 and beyond with a range of factors making coal less appealing as a source of energy, placing greater pressures on the coal industry.
Key among these drivers of weaker demand is the economic transformation in China and the progressive implementation of a range of environmental policies worldwide, including the recent Paris Climate Change Accord.
China the key driver of demand for coal
The impact of how China's changing demand for coal on the coal industry becomes quite clear when it is considered that it consumes roughly half of all of the coal consumed globally. This sees its share of global coal demand alone being more than twice that of the demand for oil from the U.S., which saw it become the world's largest coal importer in 2011. It is also the largest consumer of coal in the world and the largest user of coal fired electricity.
This means that any fluctuations in demand from China have the ability to substantially impact the global coal trade and coal prices.
If China sneezes, the global economy catches a cold and this is exactly what happened to commodities and in particular the global coal industry.
Global consumption of coal fell by over 2% during 2015 and this can be attributed to a significant decline in consumption in China. For 2015, China's consumption of coal fell by 3.7% in comparison to 2014 and this trend is expected to continue gaining momentum through 2016 and 2017.
Meanwhile, the use of coal in China's electricity industry fell by 4% for the same year while total coal imports fell by around 30%. This can be attributed to a range of factors with one of the most significant being a rapidly decelerating economy with China's 2015 GDP growth slowing to 6.9% or its lowest level in over two decades.
Then there is the decoupling of economic growth from the demand for electricity, which can be seen with the rate of growth in China's electricity sector continuing to decline. Demand growth for electricity from heavy industry and manufacturing (some of the largest industrial consumers of electricity) has fallen sharply and this will continue into 2016 and 2017. There has been a sharp slowdown in industrial activity in China, with it contracting in February 2016 for the seventh successive month, this along with a looming hard landing means that the growth in demand for electricity will remain subdued.
Then there is Beijing, which remains determined to transform the economy from one focused on heavy industry and manufacturing for export to expanding the services sector and domestic consumption, continuing the decline in demand for electricity from heavy industry.
On top of these economic factors, there is Beijing's desire to improve the notoriously bad air quality of China's major cities, through the introduction of aggressive renewable energy targets.
Climate change is a game changer for coal
It is China's push to renewable sources of energy that underscores the greatest threat facing coal, the secular move to renewable energy sources and reducing pollution as part of the fight against global warming.
You see, coal is the single largest producer of greenhouse gas emissions globally because it has the highest carbon content of all the fossil fuels. As a result there are growing pressures to remove coal from the global energy mix.
This has resulted in the introduction of the historic Paris Climate Change Agreement, which aims to avoid dangerous climate change by limiting global warming to below 2ºC. It forms a binding agreement between 195 countries and is the first-ever universal, legally binding global climate deal that is to be introduced in 2020.
The agreement virtually spells the doom of the use of fossil fuels.
You see, for the goals of the agreement to be achieved, the world will have to rapidly move to using only clean sources of energy and have zero net greenhouse gas emissions between about 2050 and 2080. The only way for this to occur is to completely eliminate coal, oil, and natural gas from the global energy mix.
The deal will see developed nations contribute US$100 billion to developing nations from 2020 in order to ease their transition to the new global energy regime, thereby removing the incentive for developing nations to rely upon cheap sources of energy such as coal.
In order to meet their obligations as part of the fight against global warming as well as improve air quality and reduce dependence upon fossil fuel, in particular coal, a range of nations have introduced renewable energy targets.
Key among them is China which in 2015 alone invested $110 billion in energy efficiency and renewable sources of energy, which saw its solar and wind energy capacity increased by 74% and 34% respectively. It also boosted its renewable energy targets at the end of 2015 with it seeking to generate 200 gigawatts of electricity from solar power and 250 gigawatts from wind power by 2020. This is four times higher than previous targets and for solar alone the target is five times higher than its current installed capacity.
Some of the other major economies that have established substantial renewable energy targets include:
Brazil the fourth largest emitter after China, the U.S. and the E.U. is aiming to get 28-33% of its energy from renewable sources in 2030, not including hydropower, but with it caught in its deepest economic downturn in 25 years, the ability to execute is under threat.
The U.S. is targeting that 20% of all electricity produced by 2030 will come from renewable energy sources other than hydroelectricity.
India is planning renewable energy generation of 175 gigawatts by 2022 or more than 14 times what it currently produces.
Japan wants to increase the proportion of electricity coming from renewables including hydro in its energy mix to 24% by 2030, which is a massive 18% higher than at this time.
Germany, which is aiming to have 45% of its energy sourced from renewables by 2030, which is a 12% increase from 2015.
The rising popularity of renewable energy is not only arising from environmental concerns but also because they have become more cost effective in recent years, with a sharp reduction in the cost of implementation and production. As the table illustrates, the cost of renewable sources of energy such as wind and hydro has become more economical than coal.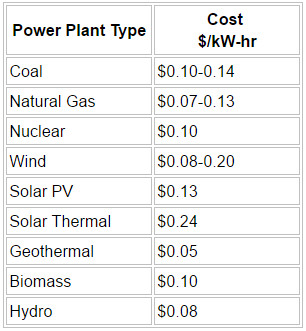 Source: U.S. Department of Energy.
This makes thermal coal even more unattractive and is also contributing to its falling use in electricity generation and in conjunction with the other factors discussed will see it fall into disuse making it a stranded asset.
The impact on the coal industry
It is difficult to see any rebound in the demand for coal despite claims by some analysts and industry insiders that there are a number of tailwinds that will help to drive a recovery in coal prices. If the conditions of the Paris Climate Change Accord are to be attained including most critically not allowing global warming to exceed 2ºC then according to research from Carbon Tracker and the Grantham Research Institute, around 80% of the total coal, oil and gas reserves of publicly listed companies are 'unburnable'.
This means that these hydrocarbon assets will become stranded assets, eventually making them costly liabilities for those companies that have invested considerable capital in developing coal reserves.
Already, the sharp decline in demand for coal and sharply weaker prices has triggered a number of bankruptcies in the coal industry including Patriot Coal Corp., Walter Energy Inc. and Alpha Natural Resources. It has even claimed the scalp of the second largest U.S. coal miner Arch Coal (NYSE:ACI), which filed for bankruptcy in January this year.
Then there is Peabody Energy (NYSE:BTU) which only two weeks ago warned of a potential bankruptcy filing after missing an interest payment totaling $70 million. This is despite some analysts claiming earlier this year that the company would survive with coal set to rebound and that its efforts at controlling costs were making its operations viable.
Clearly, this has not occurred and even if there was a moderate uptick in demand for coal it is unlikely that there would be any sustained rally in prices with there still being considerable global over capacity.
To put it simply, at the height of the commodity boom driven by China's insatiable demand for raw materials and energy, miners globally invested heavily in acquiring and developing coal assets believing that China's rapacious demand would continue indefinitely. This has not occurred and can be primarily attributed to the marked slowdown in China's economic growth and the end of the greatest commodities boom ever witnessed.
The particularly harsh operating environment for coal coupled with the likelihood of it becoming a stranded asset has seen a number of miners move to divest themselves of their coal assets.
One of the world's largest miners Anglo American (OTCPK:AAUKF)(OTCPK:AAUKY) has announced plans for a radical restructuring of its business which will see it completely exit coal. It has put a range of coal assets up for sale including its thermal and coking coal assets in Australia, its one third interest in the Cerrejon thermal coal mine, which is the largest coal mine in Colombia and all of its South African coal assets. There is considerable risk attached to executing this strategy with it clearly a buyers' market because of the limited life span for thermal coal.
The world's largest miner BHP Billiton (NYSE:BHP)(NYSE:BBL) along with mining major Rio Tinto (NYSE:RIO) are also focused on exiting thermal coal and have been quietly selling their thermal coal mines. BHP jettisoned a large portion of its thermal coal assets through the South32 spin-off last year while Rio has disbanded its standalone coal energy division and completed over $2 billion in thermal coal asset sales.
Evidently, indicating that the majority of the world's major mining companies see no future in coal, with it set to become a costly liability over the long term.
Final thoughts
While a number of market pundits are touting the usual hackneyed argument regarding the outlook for which is that commodity prices are cyclical and it will eventually recover, I believe this is a long way from reality. The evidence is quite clear that what we are witnessing is a fundamental secular shift in how energy sources are viewed and employed.
Thermal coal because of growing environmental pressures and the increasingly lower costs associated with using natural gas and renewable energy sources for electricity generation will become a stranded asset. This makes coal miners particularly unappealing investments and those miners that are unable to divest themselves of their thermal coal assets in what is an increasingly difficult market to do so will find themselves holding considerable liabilities.
Disclosure: I/we have no positions in any stocks mentioned, and no plans to initiate any positions within the next 72 hours.
I wrote this article myself, and it expresses my own opinions. I am not receiving compensation for it (other than from Seeking Alpha). I have no business relationship with any company whose stock is mentioned in this article.
Editor's Note: This article covers one or more stocks trading at less than $1 per share and/or with less than a $100 million market cap. Please be aware of the risks associated with these stocks.