ARM Holdings Plc (NASDAQ:ARMH) is a British technology giant that trades on Nasdaq and is probably one of the most important semiconductor IP licensing companies in the world. Besides its value to US-focused investors as a non-US company that can hedge one's US investments, it also has a simple, interesting, highly efficient and very successful business model.
ARM discovers cutting-edge microprocessor technology and licenses them. In 2014, ARM had total revenue of $1.3bn, up 16% from 2013. About half of this, $496mn, was from licensing, up 30% from the previous year. About $535mn was from royalty, up 8% over 2013. Its earnings per share rose a healthy 17% to $24.1, and it paid a dividend of $7. Those were very good numbers considering the turmoil we have seen in the US market in the last 6-8 months.
In the latest quarter, ARM had mixed results, beating revenue consensus but missing on EPS by a small margin.
In the entire past decade, ARM's main market has been mobile where an ARM processor is present in 85% of all mobile devices. However, the mobile, especially smartphone market, seems to be maturing, therefore slowing down, in recent quarters. That presents a significant growth lag for ARM. Even Apple (NASDAQ:AAPL), its principal licensee of microprocessor technology, has seen a visible drop in growth recently. That has been a concern for investors like me.
ARM's latest results
In the just concluded quarter, like I said, ARM had mixed results. It did much better with royalty revenue than with licensing revenue because of a "cyclical lull between the signing of 20nm process licenses and upcoming 10nm/7nm signings." 10nm/7nm processors are still in the build stage and are expected to be in development sometime by the end of this year. As that time gets nearer, I expect 10nm/7nm licensing to increase for ARM, which should, by next year, offset this quarter's slight drop.
Meanwhile, here are some figures from 2015: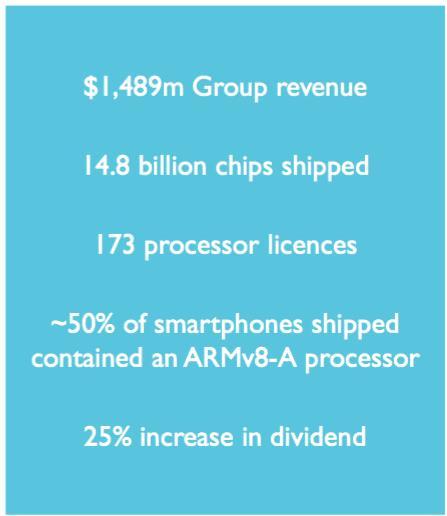 ARM's future in the non-mobile sector
Besides mobile, ARM processor technology finds use in embedded computing (traffic lights, washing machines, almost every electronic device these days), server and networking, and very important today, cars. Here's a breakdown of the market: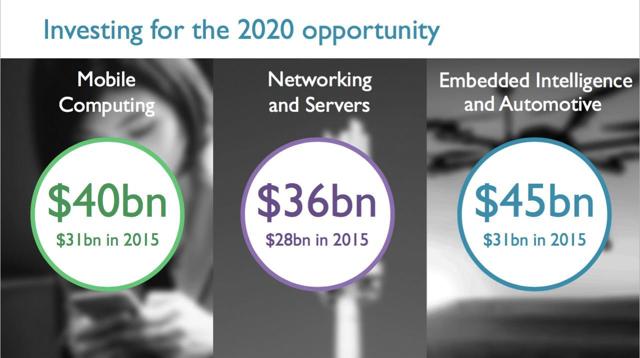 Click to enlarge
Server and networking is dominated by Intel. However, ARM has been quietly struggling to make a splash in the sector.
Very recently, it scored a point over Intel (NASDAQ:INTC) when Google/Alphabet (NASDAQ:GOOG) (NASDAQ:GOOGL) announced that it is planning to support Qualcomm/ARM's server technology over Intel. Intel controls 99% of the server chip market, while ARMH's design only has 1% share. However, Google is one of the largest buyers of server microprocessors and for long has been wanting to cut down on Intel's monopoly. This it can either do by buying Qualcomm's (NASDAQ:QCOM) hardware or design its own. However, in both cases, it will need ARMH's technology license. That will create a huge new market for ARM. Facebook (NASDAQ:FB) and Amazon (NASDAQ:AMZN), two other internet/server giants, are planning to get in on ARM's chip act.
The difference between ARM/QCOM's chip design and INTC's is that ARM makes technology primarily for the mobile market where smaller and low-power consuming chip design is the norm. Power consumption is the critical component of opex in any server-enabled company, and Google and the rest are trying to cut down on that by adapting ARM's design.
In networking infrastructure, ARM is rapidly becoming a top player. Networking infrastructure involves building chips that control access points, routing, switching and other related technologies involving the transfer of management of data networks. In 2014, ARM had a 10% share in that market. In 2015, it controlled 15%. That rapid growth is being made possible through designing of new ARMv8-A networking chips, which will see more expansion in ARM's market share. In embedded systems and automotive processing, as well, ARM is rapidly making inroads. In embedded systems, ARM controller shipments went up 25% in 2015. This opportunity is tabulated as follows: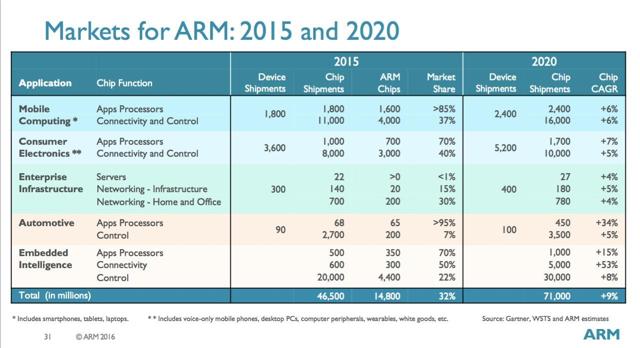 Click to enlarge
As we can see, critical growth drivers over the next few years are in automotive and embedded processors.
Why I am buying ARM: summary
ARM has seen a significant drop in share price in the last year. Slow growth in mobile is probably responsible for that. However, for long-term investors like me, a company that holds, develops and licenses critical IP for the future "internet of things" is a very good long term investment. I therefore consider any drop in ARM an opportunity to buy and hold for the 5-10 year range. Good dividends is a bonus too.
Disclosure: I/we have no positions in any stocks mentioned, but may initiate a long position in ARMH over the next 72 hours.
I wrote this article myself, and it expresses my own opinions. I am not receiving compensation for it (other than from Seeking Alpha). I have no business relationship with any company whose stock is mentioned in this article.