1 - Introduction
Significant uncertainty can destroy a company's share price more than anything. In the wake of that uncertainty, investors can find incredible value given the right company, at the right place, and the right time. I propose that Kingsrose is just that company. A company bogged with doubts that are about to be determined unfounded, unlocking significant value to shareholders.
Kingsrose Mining's (OTCPK:KGRSY) Talang Santo mine, part of the Way Linggo Project, produces from a high grade epithermal deposit in Sumatra. The mine has had significant troubles with its historical mine and ramping up its new mine, and the share price languished as a result. Fast forward to the present and the mine is ramping up to achieve its guidance of 27,000 to 35,000 ounces of gold per year at All In Sustaining Costs (AISC) of below $900/ounce. Despite this, the share price has barely budged, providing investors a fantastic opportunity to own a piece of this mine at a time where the price attributes a significant discount to intrinsic value. As of late last year, the company had booked a resource at Talang Santo of 380,000 gold ounces, providing a mine life of over ten years if all resources can be economically extracted. This number is perhaps, much higher given the ore grades mined to date of over 10 g/t (compared to an inferred resource of 5.2 g/t).
A few side notes, investors looking to invest will find much more volume on the ASX via stock ticker KRM. Apparent volume is low; however ample volume is available as I have found much of the bid/offer is off-screen. All data for this report is sourced from Kingrose' reports, found here.
2 - Investment Thesis
After the deterioration of the original mine for Kingsrose, it was closed due to declining grades and unstable ground conditions that led to a death of one worker. This resulted in a selloff in the stock, as, at the time, the mine was the only cash producing asset. Fast forward to 2016, and the company's larger, but higher cost mine is coming online, with projected AISC below $US 900/ounce. Not quite as great as the first mine's AISC of $US 300/ounce, but a very low cost producer nonetheless.
Way Linggo is a low-sulfidation epithermal deposit found in Sumatra, Indonesia. Located along the ring of fire, this type of geology leads to very high concentrations of resource. As mining has begun at the Talang Santo mine, the company has been able to log increased reserves and has substantially upgraded the average gold grade. The resource's inferred resource grade of 5.2 g/t is substantially below the indicated (11.2 g/t) and measured (10.8 g/t) grades seen as more data comes available from mining activities. One main reason for this outcome is that diamond drilling often under-reports grades due to washing out during drilling - leaving substantial room for resource upgrades as more information provides increased confidence in the inferred resource.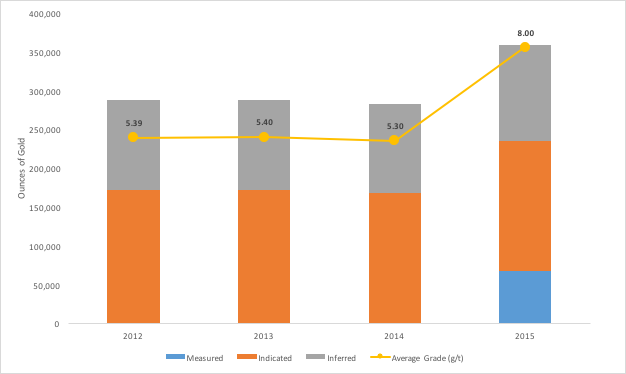 Increased capital expenditure in the second half of 2015 will open up access to very high-grade deposits (as high as 75 g/t Au). We can expect high ore grades for 2016 to drive free cash flow, elevate booked resources and fund further expansion in the existing mine.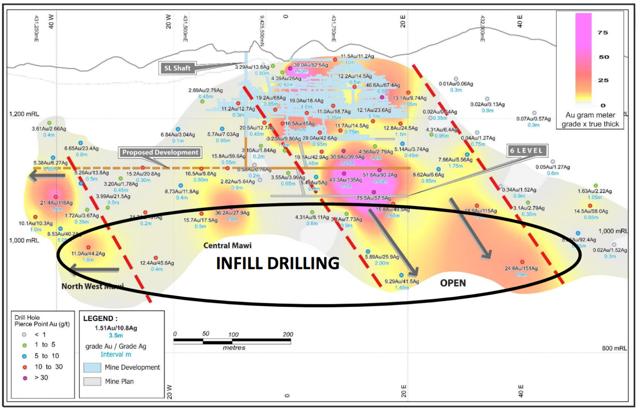 Click to enlarge
Source : (Kingsrose Mining)
As more cash flows to the company's coffers over the next few years, Kingsrose will have a substantial amount of capital available to explore the numerous other opportunities within the area. With two projects, Talang Toha and Mitra Jaya, already showing promising results in the exploration campaign.
3 - Balance Sheet
Debt and Liabilities -While the balance sheet for Kingsrose isn't in perfect shape, the liabilities are more than manageable. Sitting on interest-bearing liabilities of just under $AUD 10.5m, they are liable for just under $AUD 1.2m in interest payments per year. The total interest-bearing liabilities have dropped over the half year by $AUD 1.9m, owing to paid off debts. As AISC drop below $US 900/ounce, there is little concern that Kingsrose will be capable of paying off its debts.
Restructuring of $6.37m worth of loans from Beaurama and Great Golden Investment, and a deferral of payments for six months (with no penalty) was completed to assist with cash flow for the related capital expenditures. Of note is the director of Beaurama, J Phillips, is also a non-executive director of Kingsrose. Further, Michael Andrews, the second counterparty to the loans is an ex-director of the company. Both men cumulatively own over 10% of the enterprise. The 10% to 10.5%, plus LIBOR, plus withholding tax, loans may seem overpriced and a conflict of interest given current circumstances. However, the loans were provided in July 2015 when the company was making large net and operating losses, having difficulty ramping up, and the gold price was sitting below $US 1,100/ounce.
Current Assets -As of December 2015, the company was sitting on net current assets of $AUD 14.8m. Assets included $AUD 4m of gold bullion, and cash reserves of $1.4m, and a $5.2m loan to the minority shareholder of the 85% owned project - a requirement of Kingsrose' Contract Of Work (NYSEARCA:COW) with the Indonesian government preventing foreign entities from owning more than 85%. This loan is repaid from a majority portion (80%) of the dividends from the subsidiary company.
Liquidity Concerns -KRM will continue to make a substantial operating profit throughout the year. As we will discuss in the next section, I foresee AISC, of which I have capitalized all costs of the entire company, to drop below $900/ounce. This is net of interest payments, royalties, salaries, director fees, tax, administration, and capital expenditures -justified in my view as this is a single mine operation, with seemingly little liquidity outside of operating cash flow. Directors of the company have stepped up in the past to provide emergency lending to the group, and as gold prices continue to rise while production costs drop, the liquidity concerns will quickly alleviate.
4 - Talang Santo Mine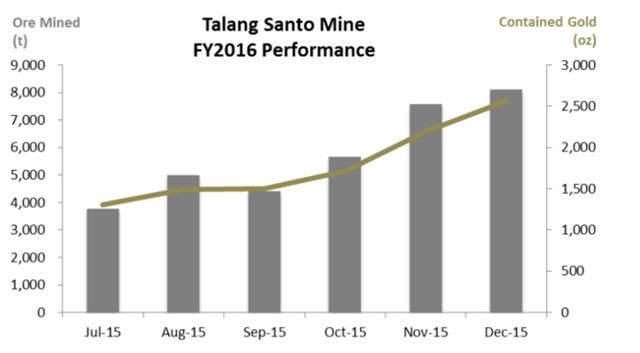 Click to enlarge
Mined Ore -The March quarter numbers will revolve heavily around mined ore. To reach provided guidance of 6,800 to 8,500 ounces of gold per quarter, Kingsrose will need to beat its recent quarter and average over 8,000 tonnes/month. Luckily, if numbers from December come to roost for the March quarter, I expect Kingsrose to put out more than 24,000 tonnes for the quarter.
There is plenty of spare capacity for increased throughput as well. With an installed 140 Ktpa processing plant, it is possible to increase throughput to 35,000 tonnes of ore per quarter, well above current processing rates. If the ore grades hold up at a minimum of 9 g/t Au and 25 g/t Ag, numbers that have both been exceeded quite regularly, production could exceed 9,500 ounces of gold and 25,000 ounces of silver using recent recovery rates.
Mined Grades - Talang Santos has an exceptionally high ore grade as previously discussed. The mine average is 8.9 g/ton of gold. However, due to the concentration of the mined veins, they are capable of outputting much higher grades over short periods of time when found. We can see these numbers in the average ore mined each quarter of the past year.
Over the last quarter, Kingsrose installed a 200 kW pumping system for removing water from the depths of the mine. As this is now online, we can expect the company to have more preferential access to higher gold grades as a result. This will be compounded by higher mined ore weights from an installed 5 level shaft, and will work together to drive significant gold production in the March quarter.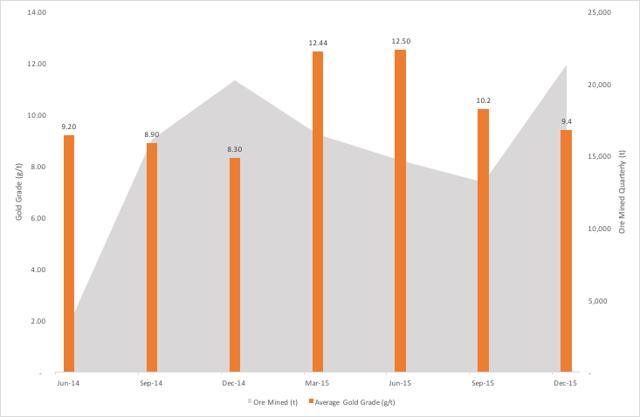 Click to enlarge
Source : Kingsrose Mining Quarterly Reports and Authors Work
Dropping Costs -Throughout the first half of the financial year (July 2015-June-2016), higher capital costs were a direct contributor to elevated AISC. The company was constructing a five level haulage shaft to transport ore from the lower levels of the mine. With the installation of the shaft came the associated installation of pumps and generators, driving up expenses. As we move into the second half of the financial year, and the completion of this capital expenditure in the second quarter, we can expect costs to drop $500k to $750k per quarter, taking AISC down with them.
In calculating reconciled AISC, I took the safe route and capitalized all exploration, administration, and finance costs of mine production. While this inevitably leads to higher calculated costs, it provides insight into the actual operating capacity of the company (aka - at which point does the company become illiquid). This was done by taking the gold produced in the quarter, and dividing it by revenue (inclusive of silver credits) minus net cash outflows for the quarter. Prone to error to be sure due to changes in receivable/payables, but provides a more realistic view of the company nonetheless.
Note in the below chart that AISC were arbitrarily high in the September quarter to do the impingement of an aquifer on the mine and corresponding reduced mining activities.
Saddled with the projections for next quarter of higher mined ore, higher grades, and reduced capital costs, Kingsrose is set for one of the best posted quarters that the company has seen of late. In projecting next quarter's costs, we can use the information available to determine cash costs, and the knowledge that capital expenses will be reduced.
From the information we have, we can expect the cash costs to be consistent with the lower end of costs when compared with production. I'll use $650/ounce cash costs, reduced capital costs of $1m, and will use the December quarterly admin, exploration and finance costs of $0.750m (In predicting this number, I've excluded the suspended payments to the financiers - this number is added back in the NPV calculation in the following section).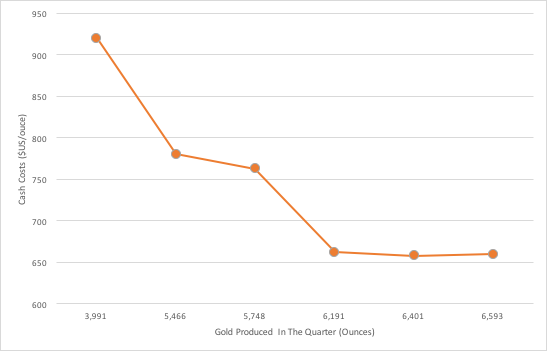 The resultant projected costs give us a profit range for the quarter between $US 2.2m and $US 4.0m, excluding sales of built up bullion from previous quarters. AISC range from a low of $US 836/ounce to a high of $US 907/ounce. The probability of these two incomes is skewed towards the higher end, but I expect my reconciled AISC to drop below $900/ounce. Kingsrose could also surprise with lower cash costs for the quarter from increasing ease of mining, higher grades, and smoother overall operation without capital projects occurring.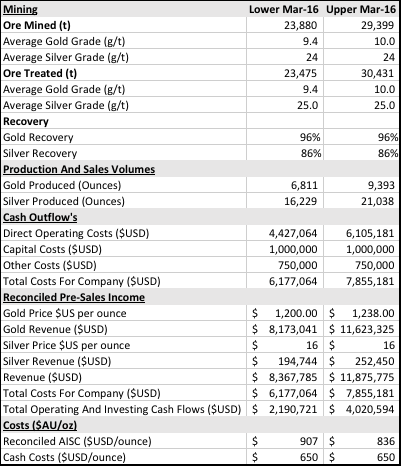 5 - Valuation
Due to higher ore rates from preferential ground conditions at depth, and the high ore grades found, I expect Kingsrose to be able to deliver the higher end of their production guidance from here on. I'll use 35,000 ounces per year for the next two years, and 27,000 ounces per year for the consecutive ten years afterwards, ending up with an approximate conversion of resources to reserves of 80%. The model assumes AISC, inclusive of all company expenses, exploration costs, administration costs, debt repayments, interest payments, royalties, and silver credits (constant at $US 16/ounce), of $US 900/ounce.
These assumptions produce un-discounted free cash flow of $US 119m over the next 12 years, equivalent to an NPV12 of $US 76m ($AUD 101m) at a discount rate of 10%. This free cash flow will allow for significant growth across the company's prospects, as well of dividends which the company has been proven to do in the past. This NPV12 assumes no further appreciation in the share price or currency exchanges. Fortunately for USD investors, an appreciation in the AUD is a certainty as commodity prices rise, which will provide a further tailwind for the investment.
Far from providing a complete valuation of the enterprise, this merely prescribes value as to what cash flow the company can bring it to expand upon the rest of the epithermal resource. Much more value exists in the region, and several possible new mines have already begun to take shape. There also exists a substantial resource at the previously abandoned Way Linggo mine, with remaining measured + indicated reserves of 235,000 gold ounces. If the company can determine a safe way of extracting the resource, cash flow would increase even further, as that mine had AISC below $500/ounce.
The remaining capacity of the 140 Ktpa processing plant and possible expansion of the processing plant to 200 Ktpa (at circa $2m) provide low capital cost, short term cash flow possibilities. I see a fair valuation for the current company at a minimum of $AUD 0.50/share (valuing the company at $US 131m / $AUD 175m), more than double the current price of $AUD 0.23/share (valuing the company at $US 61m / $AUD 81m). This valuation assumes one of the following happens:
Gold price rises above $US 1500/ounce
The abandoned Way Linggo mine reserves are accessed and the mine reopened
One additional high grade vein deposit is exploitable from the surrounding tenement
A combination of two or more of these outcomes would lead to even larger return for shareholders. U.S. shareholders could see AUD appreciation of more than 10-15% on the back of rising commodities, further boosting the return.
Exploration Properties -On the exploration frontier, Kingsrose is progressing activities across the entire permitted area. The most important discoveries so far, outside of Talang Santo and Way Linggo, have been the Mitra Jaya prospect and the Talang Toha prospect within the tenement. High-grade quarts veins have been found within Mitra Jaya, with gold grades found of 43, 33.5, and 16.7 g/t of gold in various assays. As drilling sections narrow, we can expect to find elevated levels of precipitated quarts, and along with it, high concentrations of gold and silver.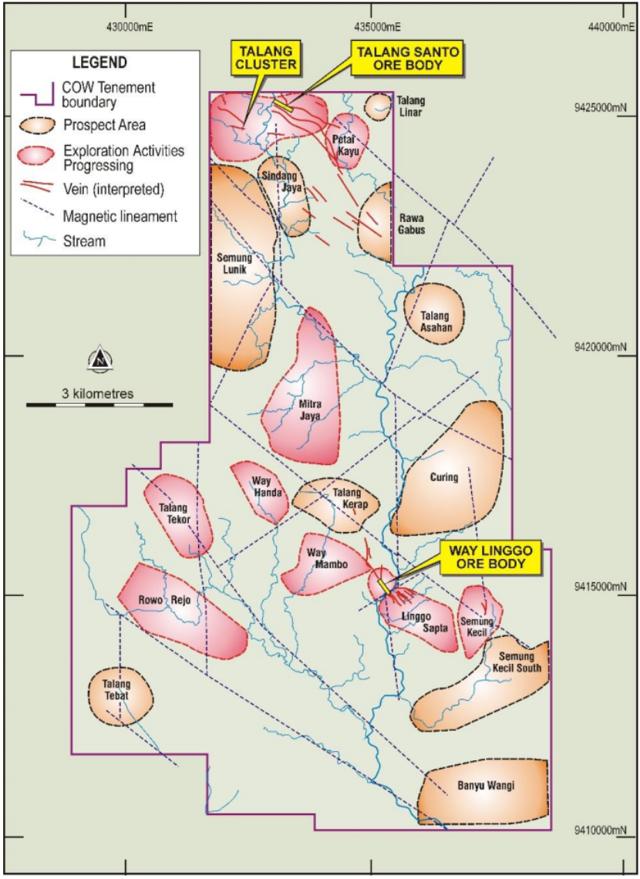 Click to enlarge
6 - Why Is Kingsrose Undervalued?
In September 2014, an unfortunate mining accident resulted in the death of an employee at the Talang Santo mine. This led to suspension of activities. As time moved forward, uncertainty beget investors as the startup and ramp up of operations at the mine seem plagued from startup. The most recent quarter was the first quarter of seemingly stable production. However, the company's cash flow statements have not provided an accurate view of the company's production costs and sales as bullion on hand grew and dropped drastically from quarter to quarter, skewing the cash burn. As cash flow turned continually negative, the share price has bounded around with extreme volatility, showing investors uncertainty in the stock.
These issues were compounded by the macro picture for gold before the recent surge. Gold prices were languishing from its highs, and plenty of concern abounded for gold price projections. Buyers and sellers found themselves exhausted in the stock and volume all but disappeared. At present, volume in the stock has picked up substantially. Since hitting at a bottom of 17c/share in late November, the stock ticked precariously higher reaching heights of 28c/share in early March.
Throughout this period, Kingsrose management team lost confidence of investors. CEO Scott Huffadine made his intentions to leave the company in November and finished his tenure sometime in late January/early February. What this means for the company is uncertain, and provides even more doubt amongst investors with concerns.
Now appears the time for changing circumstances. Whether Kingsrose brings in a CEO with a vision to slash costs, expand exploration, or bring in a JV partner to unlock value within the permit is unknown. Time will tell, and who they find to replace the position will give investors a better idea of the future.
Risk Of CEO Change -In the absence of the CEO, John Morris, Kingsrose' Chairman has stepped in an executive capacity. As one of the major shareholders (also one if its debtors), John Morris has every incentive for the company to succeed. He has previously acted as executive chairman in the past and during one of the company's more prosperous years. The company runs a simple operation, using low-cost labor and very basic equipment. Kingsrose' specialty is in the geology, not a complex mining methodology. It keeps things simple, and due to that simplicity - cheap.
Country Risk -The mine is located in Indonesia. A large democracy that over the past 25 years has experienced relative stability and economic growth, mired in corruption. It produces a variety of commodities, a huge chunk of the world's nickel and bauxite market and a plethora of other globally traded commodities. Indonesia has also been on the hunt for foreign investment over the past few years in an attempt to spur growth. These trends are counterbalanced by rampant corruption and a poor business climate. Regional powers and federal powers have conflicting laws, those laws themselves are often vague, and everything about the bureaucracy makes business more difficult. It often takes more than a year for companies to receive VAT (Valued Added Tax) rebates, and hence the large carrying value of government rebates on Kingsrose' balance sheet.
In light of all this, and despite investors' widespread concerns with Indonesia, it has proven a relatively stable country within which to operate mines. While the laws are complex, they are at face value a limited risk to Kingsrose. The divestment laws would require Kingsrose to divest an additional 15% of its ownership stake in the operating company, taking its entire operating ownership down to 70%, at some "fair market value". Historically these have come at those prescribed "fair values", often using the current market price. However, as Kingsrose is such a small producer, and the option for government is just that, I doubt that the option will be taken up. If it is, the impact is not substantial as Kingsrose will receive cash for the stake, and the significant discount to intrinsic value will continue to hold for current prices (albeit slightly reduced). Finally, Kingsrose' is unaffected by the concentrate export ban (which appears to be delayed soon).
7 - Imminent Catalysts
Gold Price -Gold is on a swift movement north, from well under $1,100/oz to over $1,250/oz since January. As prices have dwindled over the past few years in the gold bear market, so has supply. Now we see a resurgence of demand amongst a concern regarding the global market. As volatility continues to rise, market makers are pushed out, and elevated demand from Asia for a non-currency store of value increases, prices will likely continue their ascent. However, the gold market is fickle, I don't pretend to forecast it, but I view global uncertainty and volatility as a new normal state of affairs. Perhaps it is gold's turn to shine once again.
March Quarterly Report -As discussed above, the stock has been hit with uncertainty. The value of the company is evident, and unlocking that value is fundamental to the investment thesis. My analysis shows that AISC will be reduced to the lowest Talang Santo has seen in its year of operation, ore mined will be the highest, ore grades could exceed 10 g/t, and as a result, gold production will outperform investors' expectations. My view is that the coming quarterly report will manage the concerns of the market, and the increased volume of late will drive the share price to a value closer to its intrinsic value.
Exploration Success -There is substantial room for exploration upside that could come to call in the weeks and months ahead. To date, there has been little excitement for Kingsrose' findings. This again ties back to the theme of investor uncertainty. Uncertainty that I believe will be largely depleted with the coming quarterly report. Once investors start to trust management once again, and the gold prices continue to rise, exploration will be the catalyst to send prices even higher.
Investor Wrap-Up
Kingsrose' is by many standards, a value trap. It has consistently over promised and under delivered and is hindered by abundant uncertainty. Many concerns holding back the stock will be addressed in the coming quarters. Time will see falling costs, rising gold prices, and elevated profits bringing investors back to the bid. I see many of the concerns regarding the Talang Santo mine being removed, and the political concerns regarding Indonesia are often overblown. Corruption will continue to be a part of business in Indonesia, I have no doubts that this is not changing anytime soon, but it has not proven to be the type of corruption that shuts business down. As an operating company with all permits in place, Kingsrose has a substantially lower political risk than a virgin miner. It has proven its ability to navigate local circumstances by opening its second mine in the same permit amongst a challenging backdrop. Kingsrose has little debt, is backed by its creditors, and has a bright future of exploration in the high-grade epithermal resource it explores. It is not without risk; however, investor views of risk are often skewed from reality. Kingsrose makes an attractive addition to any gold investors' portfolio.
Disclosure: I am/we are long ASX:KRM.
I wrote this article myself, and it expresses my own opinions. I am not receiving compensation for it (other than from Seeking Alpha). I have no business relationship with any company whose stock is mentioned in this article.
Additional disclosure: Many of the assumptions are opinion based or inferred based on available information. This article is not, and should not be considered as, financial advice or an accurate view for investment purposes.
Editor's Note: This article covers one or more stocks trading at less than $1 per share and/or with less than a $100 million market cap. Please be aware of the risks associated with these stocks.