I've written constructively about Aflac Inc (NYSE:AFL) stock each year since 2013. I believe the company is arguably best-of-breed, and certainly one of the best-managed in the insurance industry. Aflac is a Dividend Aristocrat, having increased the cash dividend for 33 consecutive years.
The company enjoys a wide moat, clear vision, sound operations, and is well-capitalized. This investment contains the hallmarks of a fine long-term holding. Personally, I initiated a long position back in 2012, earning a decent long-term capital gain plus dividends.
Yet, I'm beginning to distribute my shares.
What's Wrong?
Valuation and share performance is what's wrong. For years, I've considered the stock undervalued. Now I'm not so sure; or better put, I'm unsure what it will take to unlock chronically depressed valuation multiples.
I lay out my case below.
AFLAC Antithesis
As noted earlier, I have no qualms about management (superior), the business model (wide moat), the investment portfolio (shored up and strong), or senior leadership's commitment to shareholders (unquestionable). I remain positive on all these matters.
Nor do Yen-to-Dollar exchange rate woes bother me. Frankly, I believe it's overblown. Forex is transient. Furthermore, Aflac doesn't convert all that many Yen to Dollars, anyway.
No, my problem lies with chronic stock underperformance and under-valuation.
First, here's an AFL performance summary: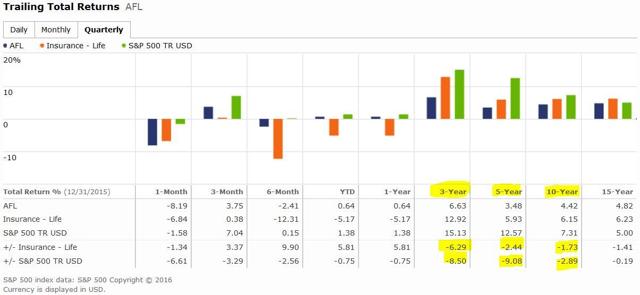 Click to enlarge
source: morningstar.com
I've yellow-highlighted Aflac stock 3-year, 5-year and 10-year performance. Indeed, I'm no short-term swing trader.
We see AFL has lagged both the S&P 500 TR and Insurance industry benchmarks for all 3 periods.
Second, let's check valuation using Price-to-Earnings and Price-to-Book analysis:
We will start with a 15-year F.A.S.T. graph.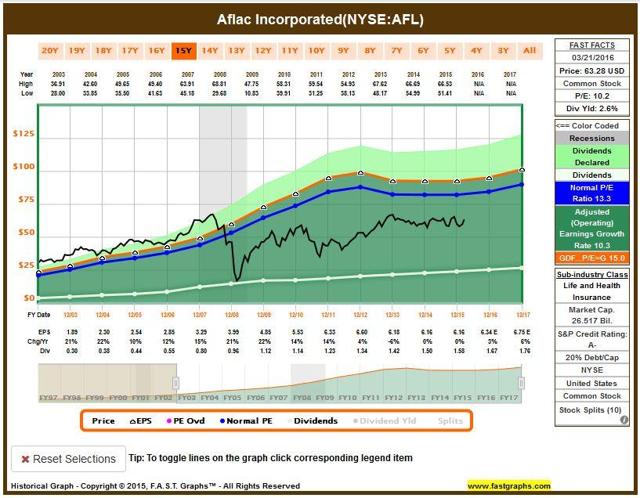 Click to enlarge
Over the period, the average normalized price-to-earnings ratio has been 13.3x (represented by the blue line). In isolation, when compared with share price (the black line) the stock appears undervalued.
However, shorten the time frame to post-Great Recession: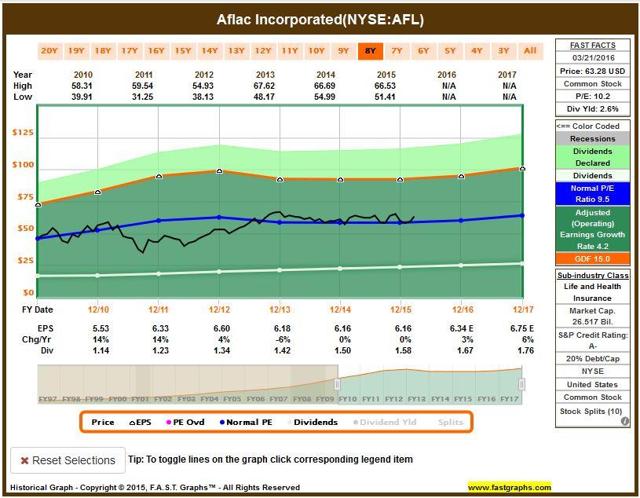 Click to enlarge
A much different pattern emerges. Since 2009, Aflac's average multiple comepressed to 9.5x. Looking through this lens, the shares aren't undervalued at all. A recent $63.40 bid indicates the stock is trading about Fair Value.
Resetting the F.A.S.T. graph for the 1999 to 2007 period (a cool feature within the software suite), we see normalized P/E was significantly higher prior to the financial crisis.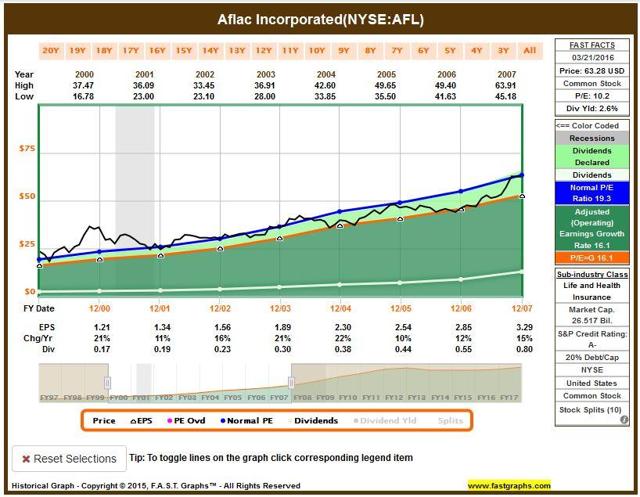 Click to enlarge
In the 8 years before the Great Recession, the average P/E was 19.3x (see the blue box on the right hand side of the chart).
Third, turning to Price-to-Book, another F.A.S.T. graph illustrates the annual P/B ratio since 1999: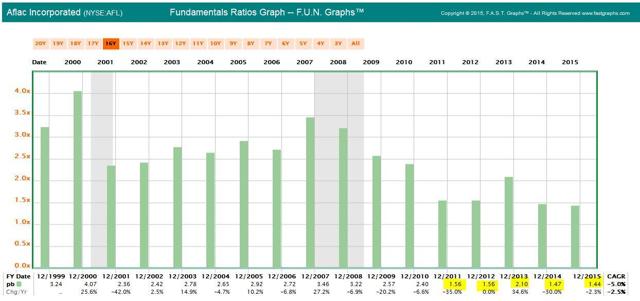 Click to enlarge
We find a similar, "squashed down" pattern emerges.
Post-recession, a ~1.5x P/B multiple has been the recent norm. I've highlighted this in yellow. Prior to the Great Recession (1999 to 2007), Aflac generally earned P/B ratios between 2.5x and 3.0x.
Fourth, let's compare Aflac with other large, insurance industry peers:

Click to enlarge
Despite compressed multiples, side-by-side valuation metrics versus peers don't indicate AFL is especially cheap, either. The Operating Price-to-Earnings ratio is towards the higher end of the group. AFL shares have been awarded the very highest Price-to-Book multiple.
Prudential Financial (NYSE:PRU) trades at a much lower multiple, while Metlife Inc (NYSE:MET) and Prudential shares command approximately half the P/B ratio.
Yet with the exception of Allstate Corp (NYSE:ALL), Aflac's dividend yield is the lowest of the group. I thought I could take solace given the Dividend Aristocrat status; however I uncovered the 5-year dividend growth rate was the worst of peers. Specifically, Prudential and Principal Financial Group (NYSE:PFG) sport much higher growth rates.
Finally, a sequence of post-recession F.A.S.T. graphs for each peer group stock helps to round out the exercise.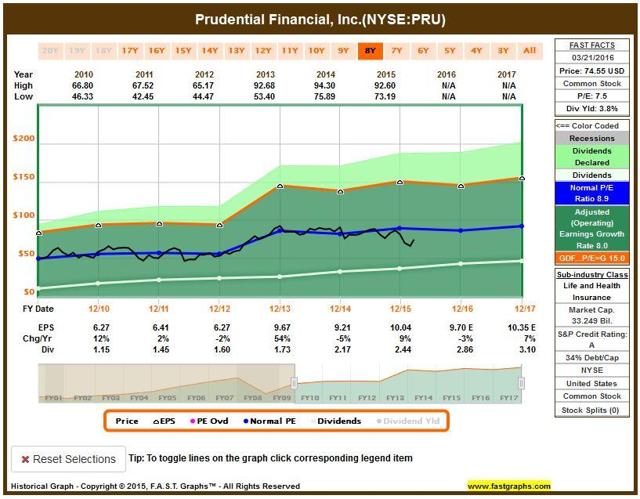 Click to enlarge
Prudential's pre-recession average P/E was 15.4x. PRU shares have experienced serious post-recession multiple compression.
The S&P credit rating is slightly better than Aflac.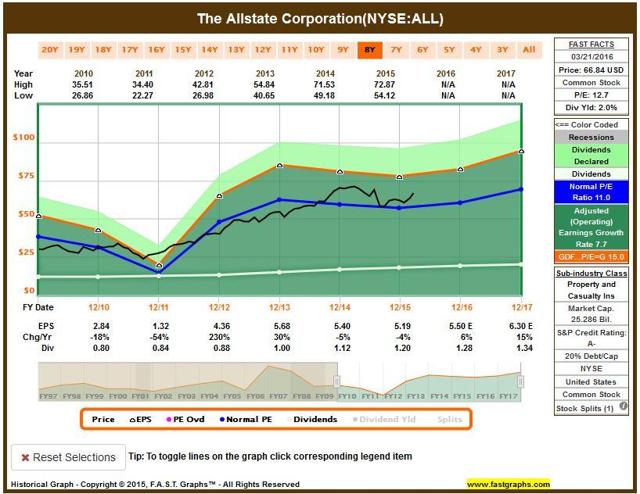 Click to enlarge
Allstate's pre-recession normalized P/E was 12.0x. After the financial crisis, the stock experienced P/E compression, but too badly. Nonetheless, the multiple remains low on an absolute basis; ALL is forecast to grow earnings nearly 10% a year through 2017.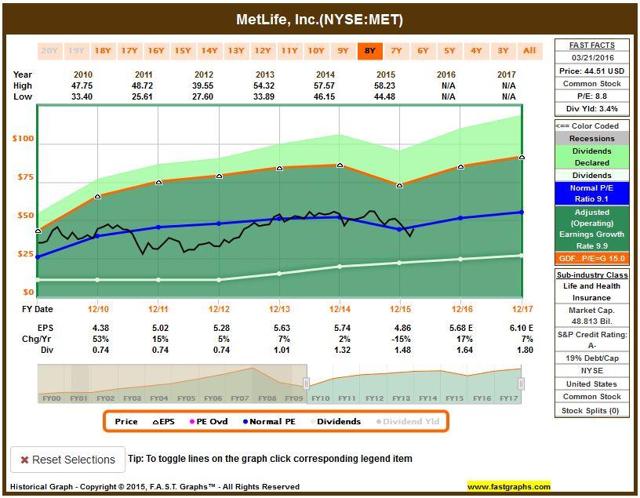 Click to enlarge
Metlife Inc sported a pre-recession normalized 12.1x P/E. It's been averaging 9.1x post-recession. That's 25% multiple compression. MET is another well-run company. Forward EPS growth prospects are stronger than peers.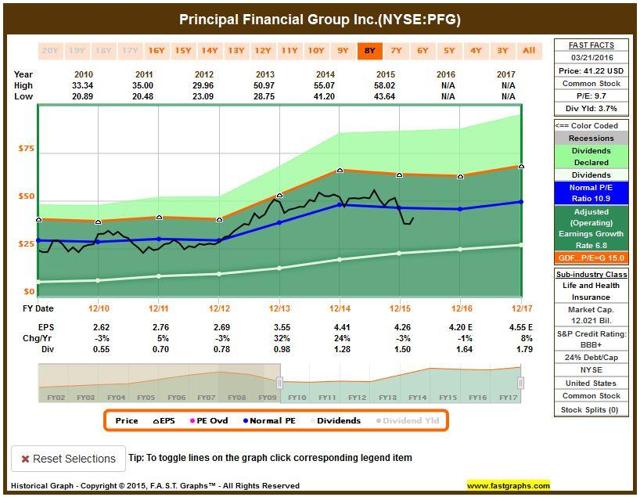 Click to enlarge
Principal Financial Group took a big post-2009 P/E hit, too. Prior to the Great Recession, the average P/E was 15.6x. Since 2009, it's only 10.9x.
Adding It Up
The facts:
Over longer-term periods, Aflac share performance has lagged the S&P 500, and insurance industry peers by considerable margins
As measured by pre-and-post Great Recession P/E and P/B ratios, AFL stock has experienced significant multiple compression; it has yet to recover
Despite its Dividend Aristocrat status, Aflac shares offer investors neither high dividend yield nor strong dividend growth versus the selected peer group; to the contrary, the dividend yield and growth rates have been notably weaker
On balance, post-recession peer group valuation metrics indicate P/E and P/B multiples are as attractive or more attractive than AFL
None of the peer group, including Aflac, appear to be trading significantly below Fair Value; though Prudential and Principal Financial shares are bid at more attractive valuations than AFL
With the exception of Allstate, all of the peers have experienced considerable post-recession P/E compression; none have enjoyed post-recession P/E expansion
AFLAC Fair Value Estimate
At a recent $63.40 bid, I suggest AFL stock is near its Fair Value.
The post-recession average 9.5x multiple on estimated 2016 operating EPS of $6.34 suggests a $60 FVE.
The YE 2015 Book Value was $40.96. A 1.5x multiple on that yields a $61 FVE.
Just to cover more bases, using a modified Graham formula,
P/E = (9 + 0.5g) x 4.4 / y
where, g is projected growth rate, and y is 10-year T-note yield;
then inserting 4.7% for g, 3.8% for y,
we obtain a theoretical or expected 13.2x P / E.
Applying estimated 2016 EPS, an $84 Fair Value Estimate is derived.
However, the following 10-year AFL chart is instructive. Perhaps more bluntly, it throws cold water on the aforementioned resultant.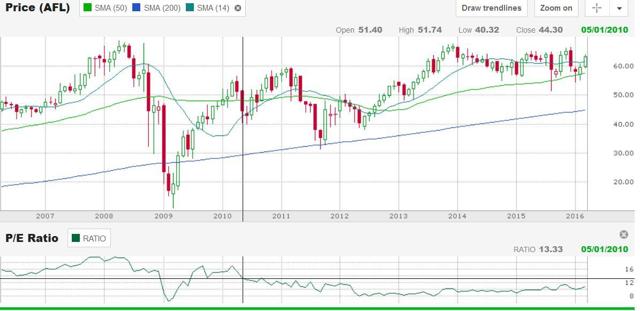 Click to enlarge
source: ameritrade.com
The lower indicator is a continuous P/E reading. The horizontal cross hair is set at 13.3x P/E. We see the last time Aflac stock commanded >13x P/E was in 2010. Subsequently, the marker drifted downward; rising to a 5-year high of 11.4x only briefly in 2015. Aflac's ttm P/E closed today at 10.3x. I contend the probability is low AFL shares will attain the theoretical Graham formula 13.3x P/E anytime soon.
Conclusions
Insurance industry stocks have experienced significant and persistent post-recession compressed multiples. Low interest rates may be a culprit.
Within the group, Aflac is somewhat unique. The company does three-quarters of its business in Japan. Despite, the heavy overseas tilt and resultant strong forex headwinds, Aflac stock tends to enjoy richer valuation metrics than peers. This suggests the JPY/USD currency conversion is not the major reason behind compressed P/E and P/B multiples.
Curiously, Aflac's post-recession operating earnings growth rate has been lower than peers. One might expect sustained lower earnings growth would translate into weaker, not stronger valuation ratios. Nor do current Street (or corporate) 2016 and 2017 earnings estimates indicate AFL will generate EPS growth any greater than industry competitors.
Looking ahead, it appears investors need to develop a thesis that explains under what set of circumstances may Aflac earnings growth accelerate; or more to the point, what will trigger a breakout from persistently low post-recession P/E and P/B multiples.
This investor has no snappy answers on either front.
I question if interest rate margins, whether Fed-induced or spurred by other non-U.S. major central bankers, are poised to widen materially anytime soon. Very modest CB rate hikes, coupled with anemic economic growth in Europe, Japan, and the United States appear unlikely to insurance industry investment margins appreciably. Indeed, some central banks (like Japan) have instituted, or are considering negative short rates.
In the meantime, the shares appear to be trading at Fair Value. I struggle to find catalysts capable of creating significant upward momentum.
For those wishing to stake an investment on higher interest rates, there are a number of good U.S. banking stocks that offer better line-of-sight in a higher rate scenario, arguably with better earnings growth prospects, and higher dividend yields.
Even if one elected to invest within the Insurance industry, there appear to be several other large, well-capitalized insurance stocks that offer at least equally-attractive valuation metrics, better EPS growth, higher dividend yields, and superior dividend growth.
I am in no hurry to sell out my long-term position. My approach is to distribute shares incrementally via covered call strategies or pre-set limit orders. This affords time to re-calibrate my investment antithesis and adjust, if new facts or catalysts develop.
Please do your own careful due diligence before making any investment decision. This article is not a recommendation to buy or sell any stock. Good luck with all your 2016 investments.
Disclosure: I am/we are long AFL.
I wrote this article myself, and it expresses my own opinions. I am not receiving compensation for it (other than from Seeking Alpha). I have no business relationship with any company whose stock is mentioned in this article.