Background
Nordic American Offshore (NYSE:NAO) owns and operates platform supply vessels (PSVs) in the North Sea. At the time of this analysis, the company operated a fleet of eight PSVs with two more under construction for delivery in April and June 2016.
As of this writing, NAO's stock price was $4.66 -- above its 52 week low of $3.23 with a negative current P/E, a negative forward P/E, a market capitalization of $105.13 million, and a forward dividend yield of 9.74%.
This analysis is based on information from NAO public SEC filings and press releases from the period 1Q14 through 4Q15.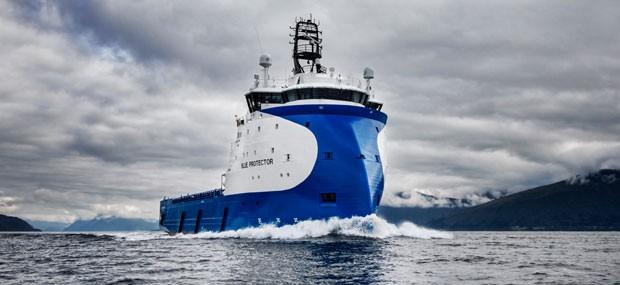 History
Nordic American Tankers (NYSE:NAT) established NAO in November 2013 with the intention of capitalizing on the fragmented PSV market through a private placement of 16.7 million shares at $15.00 a share on the Norwegian OTC exchange. NAT purchased 4.3 million of these shares to support NAO and to capitalize on expected dividend payments from NAO. Proceeds from this placement funded NAO's purchase of eight PSVs with an additional two to be delivered in April and June 2016.
At the time of the private placement, NAT was the largest shareholder in NAO with 26 % of the outstanding shares.
In June 2014 NAO completed an IPO on the NYSE and subsequently transferred the shares from the Norwegian OTC to the NYSE.
Compelling Fundamentals
Current Dividend Yield of 9.74%
Even after a recent dividend cut, the dividend is still yielding close to 10%. The company has paid a consistent dividend since the IPO. The table below details the dividend history to date.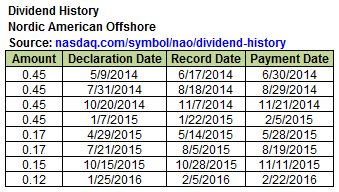 In addition, the company is focused on maintaining this dividend as noted by Executive Chairman Herbjørn Hansson in the Feb 4, 2016 press release:
The main elements on which NAO's strategy is based, are the same fundamentals as those of Nordic American Tankers Limited, including quarterly dividends, low debt, low G&A costs, high liquidity in the stock and full transparency.

We believe that our dividend policy will continue to enable us to achieve a competitively priced risk adjusted cash yield and a positive total return over time compared with that of other companies.

NAO is firmly committed to protecting its underlying earnings, dividend potential and strong balance sheet.

Our Company is well positioned for the future. We shall endeavor to safeguard and further strengthen the position for our shareholders in a deliberate, predictable and transparent way.
Finally, NAO does not currently have operations in the USA and is domiciled in the Marshall Islands. These factors exempt the company from the double taxation of dividends that are imposed on US-domiciled companies.
Book Value is More Than Double the Current Market Value
NAO has a small amount of debt relative to its assets, resulting in a book value that is more than double its stock price. The depressed stock price may be an indication the market has little faith in the earnings growth or profitability of the company. The table below illustrates the increasing disparity between book value and market value.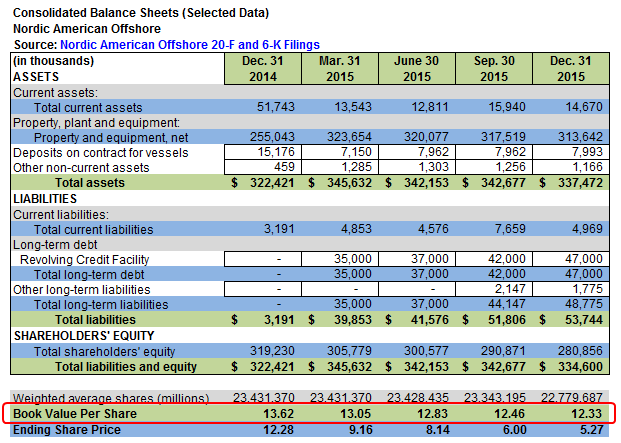 In addition, NAO carries no intangibles on their balance sheet and the vessels were built in 2012 or later.
Having a transparent balance sheet void of somewhat subjective balances such as intangibles provides greater evidence to the overlooked underlying value of the assets noted.
Operations are Predominately in Norwegian Kroner and British Pounds
NAO currently operates exclusively in the North Sea and therefore revenues are generated in either kroner or pounds. While currently a hindrance in a strong USD environment, it may become an added benefit if the USD begins to decline against other currencies. This is a distinct possibility if the Federal Reserve does not raise interest rates and/or begins another round of money printing.
In addition, the tax penalties for repatriating money into the US and into USD are simply not applicable for NAO. US-domiciled companies competing in the North Sea are forced to either retain money in their foreign subsidiaries or repatriate at a 35% tax penalty.
A good example of this was when GulfMark Offshore (NYSE:GLF) repatriated $200 million in 2015 that resulted in a $70 million non-cash tax charge. I discussed further possibilities in this article.
Reduced Disclosure Requirements
As a possible offset to the attributes noted above, it should be noted that NAO has certain traits that may be deterring investor interest.
For example, as NAO currently earns less than $1 billion in revenues per year, it is exempted from certain reporting requirements per the US JOBS act. These exemptions continue for 5 years from the IPO date unless NAO earns more than $1 billion in a fiscal year.
The exemptions include, but are not limited to, the attestation of internal controls over financial reporting and new or revised accounting standards.
In addition, investors may appreciate if the company provided more data concerning day rates and utilization in their periodic filings. This would provide more transparency into the operational performance of the company as well as to provide a comparison to other operators in the region.
Nordic American Tankers is a Major Shareholder
NAO announced on Feb. 18, 2016 that NAT had acquired an additional 1.6 million shares in NAO, increasing their stake to 27%. The founder and CEO of NAT (as well as Executive Chairman of NAO), Herbjørn Hansson, also purchased an additional 100,000 shares. Mr. Hansson's stake can be estimated to be at least 250,000 shares based on disclosures he has made in prior press releases.
In addition, Mr. Hansson is very retail-shareholder friendly as evidenced in this article and claimed to be in the business of "wealth creation" in a recent interview. He also believes in a solid balance sheet with little debt and consistent dividends. This has led to a premium valuation placed on NAT that has yet to occur for NAO.
It is also likely given Mr. Hansson's reputation not only with shareholders, but in the shipping industry, he will be in search of opportunities to create additional shareholder value in this segment such as through additional acquisitions where asset valuations are out of alignment with market perception. He has also been able to obtain higher than market rates for NAO vessels, as the following release notes.
Conclusion
NAO presents several interesting characteristics that may warrant attention from an income-hungry or value-oriented investor. Although currently struggling operationally as a consequence of the downturn in commodity prices, NAO will likely flourish in the long run due to low debt and supportive sponsor(s) in NAT/Mr. Hansson.
Even if the dividend is cut again, NAO is still trading at a significant discount to book value and this may result in additional equity purchases from NAT. In addition, Mr. Hansson's recent purchases indicate he recognizes value in NAO that other investors do not.
The PSV market is highly fragmented and competitive. The companies that have experienced leadership and sufficient capital as well as established connections will be the survivors.
Disclosure: I/we have no positions in any stocks mentioned, and no plans to initiate any positions within the next 72 hours.
I wrote this article myself, and it expresses my own opinions. I am not receiving compensation for it (other than from Seeking Alpha). I have no business relationship with any company whose stock is mentioned in this article.