The shocking terrorist attacks in Brussels are raising concern about Europe, firing up relative dollar strength, and turning back oil prices - that is enough to stop the nascent stock market rally. I'm suggesting investors raise cash, buy volatility hedges and seek safety in utilities.
Critics may refer to my recent report discussing the Fed meeting and its impact on stocks as a contradiction of opinion to this report, but something important has happened since the Fed meeting - Brussels. Furthermore, in my post Fed meeting report I warned that because of a Fed credibility issue, markets would be even more data dependent and volatile than ever. Within that report, I also stated that oil would continue to matter, along with the dollar and overseas data… and then Brussels happened. While foreign capital will seek safety in U.S. assets, including some stocks, I'm concerned that dollar strength and oil price decline will rekindle general market decline domestically.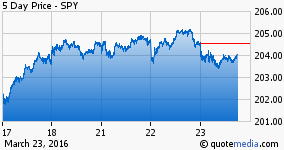 5-Day Chart of SPY at Seeking Alpha
On the day of the events in Brussels, equities in the U.S. seemed to brush it off. However, it has become apparent to me that the courage of U.S. equity holders could be lost if oil declines near-term as I suspect it will. Here's what I see happening.
Terrorism and concern about more of it in Europe will increasingly raise concern about the economic impact to Europe. It's a real issue, especially if attacks continue. Governments and businesses will have to increase spending on security, and customer and tourist traffic will decrease and impact business sales and government receipts. This serves to penalize the euro versus other currencies and especially the dollar. Also, the flight of capital to safety in the U.S. serves that same purpose.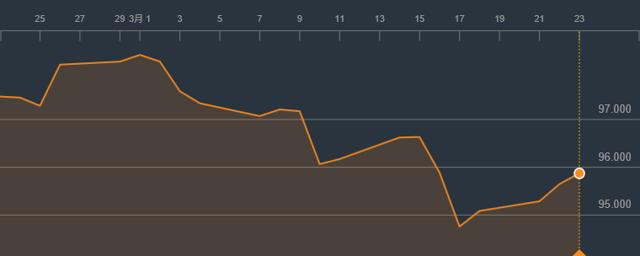 Click to enlarge
1-Month Chart of Dollar Index at Bloomberg
The one-month chart of the Dollar Index only barely shows the latest move up in the dollar spurred by the events in Brussels. A two-day chart would help you better understand why gold is declining in a manner many would consider counterintuitive. Gold is declining because of the dollar surge, as it is the #1 destination in a flight to safety for foreign capital on events overseas.
But that dollar surge weighs on American multinationals, as we all know. More importantly, though, it factors in the price of oil. That dollar impact on oil prices and the issue of a detrimental impact on global energy demand due to an economic impact on Europe by these events (and concern about more of them), is why I'm concerned oil prices could finally be turned back around. And given that the Saudi Oil Minister has effectively pulled the OPEC put from under our feet with his dismissal of the possibility of oil production cuts, oil prices could fall precipitously.
I suspect an oil price decline would rekindle bad memories for equity investors domestically. And despite capital flowing from Europe, I expect it will seek specific safety as U.S. investors sell stocks broadly. Deeply discounted value stocks with company specific stories like Apple (NASDAQ: AAPL), for instance, might present some safety along with utilities and cash. Obviously Apple's latest run higher may put some fresh gains at risk there. But energy shares would certainly be threatened, and probably financials again if oil declines enough, despite favor I see for the discounted group later this year.
| | |
| --- | --- |
| Security Sector | 03-23-16 Late PM |
| SPDR S&P 500 (NYSE: SPY) | -0.7% |
| SPDR Dow Jones (NYSE: DIA) | -0.5% |
| PowerShares QQQ (NASDAQ: QQQ) | -0.9% |
| iShares Russell 2000 (NYSE: IWM) | -1.5% |
| Vanguard Total Stock Market (NYSE: VTI) | -0.8% |
| Financial Select Sector SPDR (NYSE: XLF) | -0.6% |
| Technology Select Sector SPDR (NASDAQ: XLK) | -0.6% |
| Energy Select Sector SPDR (NYSE: XLE) | -2.3% |
| Health Care Select Sector SPDR (NYSE: XLV) | -0.7% |
| Consumer Discretionary Select Sector SPDR (NYSE: XLY) | -0.7% |
| Consumer Staples Select Sector SPDR (NYSE: XLP) | -0.0% |
| Utilities Select Sector SPDR (NYSE: XLU) | +0.7% |
| Materials Select Sector SPDR (NYSE: XLB) | -1.4% |
| Industrial Select Sector SPDR (NYSE: XLI) | -0.7% |
| iPath S&P 500 VIX ST Futures (NYSE: VXX) | +4.2% |
| SPDR Gold Trust (NYSE: GLD) | -2.1% |
| United States Oil (NYSE: USO) | -4.2% |
U.S. equities and commodities were better reflecting the risk I speak of today. Unfortunately, I believe this will gain steam as the issues of concern I have discussed here become more broadly understood. As a result, readers and followers here have an opportunity to get ahead of the herd and take risk off the table. I think it's time to hem in risk by raising cash and moving some capital to safety in utilities and volatility hedges, which fortunately, are cheap again. For my regular analysis of the market, I invite relative interests to follow my financial column here at Seeking Alpha.
Disclosure: I am/we are long AAPL.
I wrote this article myself, and it expresses my own opinions. I am not receiving compensation for it (other than from Seeking Alpha). I have no business relationship with any company whose stock is mentioned in this article.