A couple of weeks ago, I detailed how investors in Advanced Micro Devices (NASDAQ:AMD) should be cautious about the recent rally given weakness in Q1 PC sales. With a number of data points pointing to soft demand, not the Windows 10 bump many were hoping for, chipmakers were likely in for some weakness. Since my article, we've seen increasing bearishness regarding Intel (NASDAQ:INTC), thanks to the PC business, which could limit upside for the chip giant's shares.
Just in the past couple of days, we've seen multiple negative notes regarding Intel, which can be seen here. Bernstein downgraded shares to Underperform, Deutsche Bank trimmed their estimates, and UBS cut its price target. Many of these notes referenced soft PC sales during the first few months of 2016. So far this week, we've seen the average revenue estimate for Q1 come down by about $50 million, currently at $13.94 billion. Intel guided to revenues of $14 billion, plus or minus $500 million, which means analysts are within the range, but below the midpoint.
We still have roughly three weeks until the earnings report, so there is more time for analysts to cut their numbers. I could see this happening if we get early April reports from research firms like IDC and Gartner detailing a weak Q1. In my article on AMD linked to above, I detailed how IDC has already reduced its full-year 2016 PC forecast. Additionally, AMD's quarter revenue estimate has come down a few tenths of a percentage point in the past week.
The item that worries me most about Intel if PCs are this weak is that the company ended Q4 2015 with more inventory than normal. In fact, if we look at the quarterly report, inventories were up about 21% over the prior-year period. However, the company's guidance implies Q1 revenue growth, excluding Altera, of about 6.4%. PC weakness could leave Intel with excess inventories moving forward, which would pressure gross margins a little. For the full year, analysts have cut their EPS average by 4 cents in the past two months.
Last year, the Client Computing Group, which includes the PC business, represented about 58% of Intel's revenues and operating profit. The Data Center Group is showing growth, with an added boost from the Altera acquisition, but it is likely that the CCG will still represent over 50% of Intel revenues this year. Intel can still show solid revenue growth this year, helped by Altera and a 53-week year, but PC weakness could limit potential growth. If PC weakness continues throughout 2016, the company is likely to see mid-single digit revenue growth, the lower end of its yearly forecast.
As you can see in the chart below, Intel shares are currently almost two dollars above their 50-day moving average. If we get more negative news out of analysts, or the company does in fact report a weak Q1 next month, it's possible that the shares could pull back to this key technical level.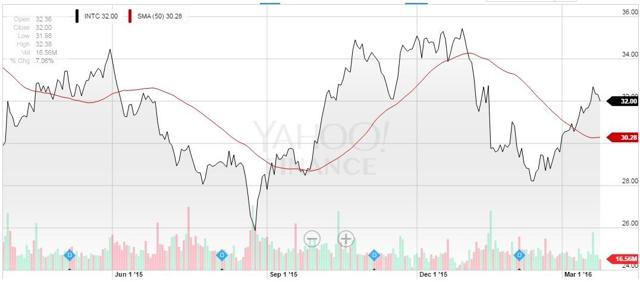 Click to enlarge
(Source: Yahoo Finance)
Disclosure: I/we have no positions in any stocks mentioned, and no plans to initiate any positions within the next 72 hours.
I wrote this article myself, and it expresses my own opinions. I am not receiving compensation for it (other than from Seeking Alpha). I have no business relationship with any company whose stock is mentioned in this article.
Additional disclosure: Investors are always reminded that before making any investment, you should do your own proper due diligence on any name directly or indirectly mentioned in this article. Investors should also consider seeking advice from a broker or financial adviser before making any investment decisions. Any material in this article should be considered general information, and not relied on as a formal investment recommendation.