Under Armour (NYSE:UA) is one of the fastest-growing apparel companies in the world. The company was founded in 1996, and is one year younger than I am. UA has never had a year with contraction, and is currently valued at 18.6 billion USD.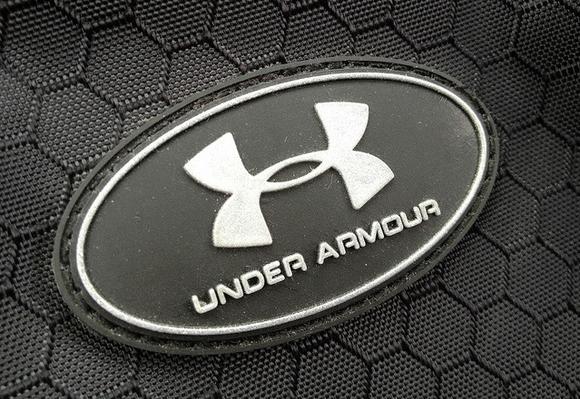 Source: Fool.com
The company is currently trading at 81 times earnings. The highest multiple in the apparel sector. This PE ratio is only acceptable if the growth forecast is high. Currently, Under Armour is expected to grow 25% over the coming five years. Quite amazing, but still too less; it gives UA a PEG ratio of 3.3, the highest among its peers.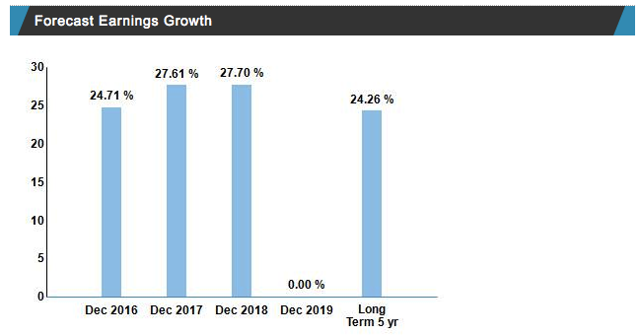 Click to enlarge
Source: NASDAQ
In other words, you pay for earnings that will (hopefully) be achieved more than five years from now.
First of all, we take a look at the historical growth and Under Armour's returns and margins. If you want to pay up to 3.3 times future growth, you need to make sure that the company is growing steadily and is maintaining high margins. A problem that many companies are facing is a high PEG multiple and costs that are getting out of control. Worsening financial performance will make it nearly impossible to exceed or even meet high expectations.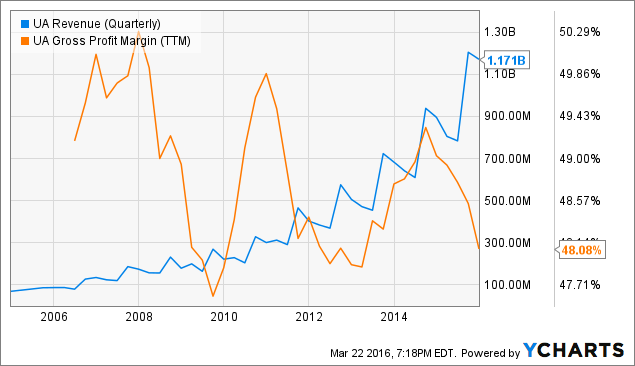 UA Revenue (Quarterly) data by YCharts
Under Armour's top-line growth is fascinating. Every single year the company was able to increase sales. Margins however are back to 2009 levels. Mainly because of a strong USD and higher transportation costs according to the latest earnings call.
Note that Under Armour has an 82.5% sales exposure in the US, down from 86.6% in 2014. The good news is that the company is expanding its international business. The bad news is that UA is increasingly more dependent on a weak USD to support its international sales.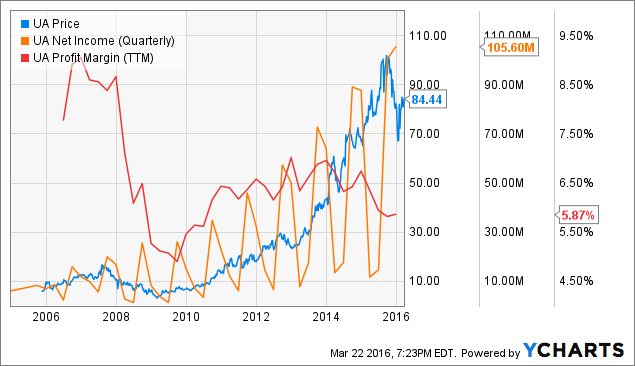 UA data by YCharts
The company's bottom line is way more volatile, but shows the same pattern. Every single year is delivering growth to shareholders. Net margins started to top a little earlier than gross margins, but looks like it is bottoming.
Important to add to that, is that Under Armour is working on its inventory system. Inventories are going to become more professional and efficient in order to get the inventory growth below sales growth. Under Armour is expected to achieve this goal in the second half of 2016.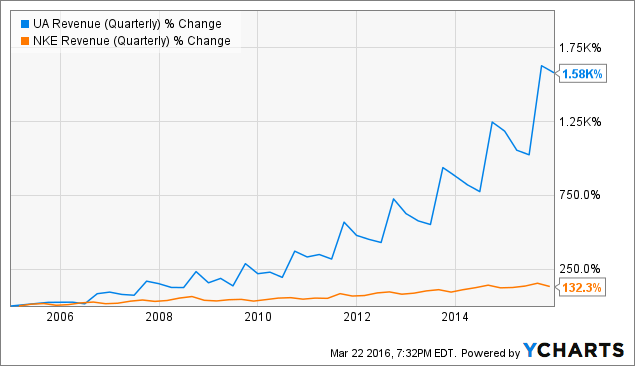 UA Revenue (Quarterly) data by YCharts
Nike (NYSE:NKE) is one of the strongest apparel stocks, but has been beaten badly by Under Armour. Since 2005, the spread between UA's and NKE's earnings is almost 1,500%. If you had shorted NKE (one of the strongest stocks) while buying Under Armour, you would have made a killing while hedging the market risk(!).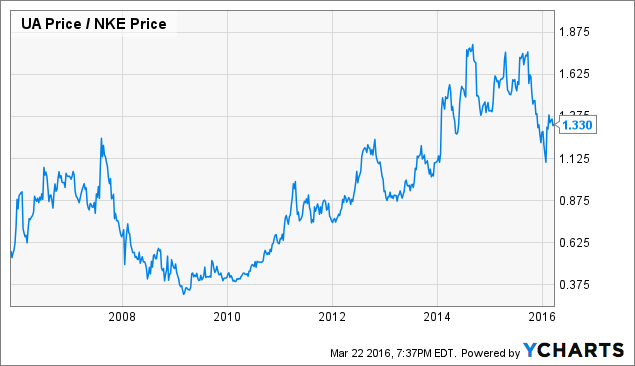 Fundamental chart data by YCharts
When it comes to profitability and returns versus its peers, Under Armour is close to average. However, that is not a worry. Margins are not crashing, and future growth is overshadowing the fact that UA is (not yet) the most efficient stock among its peers.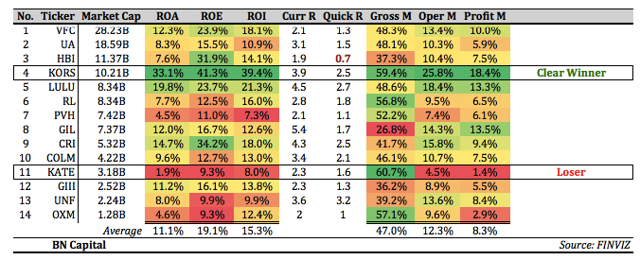 Click to enlarge
To conclude this article, I want to congratulate everyone who bought this stock a while ago. However, investors who are not long or thinking about should wait till the stock comes down. Market and economic risks are way too high to buy a 3.3 times future earnings stock. As much as I respect Under Armour, I think better prices will come and provide a nice entry point for a long-term investment.
Disclosure: I/we have no positions in any stocks mentioned, and no plans to initiate any positions within the next 72 hours.
I wrote this article myself, and it expresses my own opinions. I am not receiving compensation for it (other than from Seeking Alpha). I have no business relationship with any company whose stock is mentioned in this article.