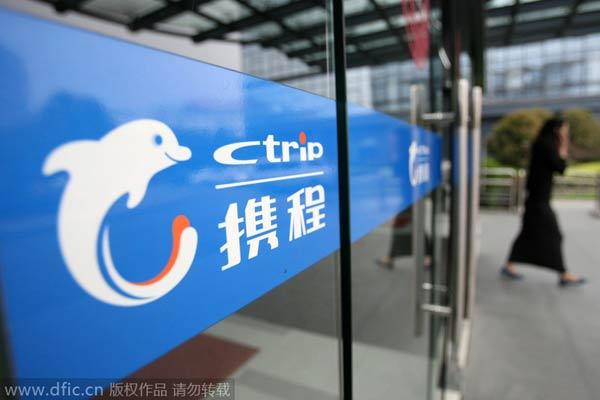 Image source: ChinaDaily USA
Ctrip (NASDAQ:CTRP) has behaved quite well since I initiated coverage in October 2014. The stock is up more than 60%, a great achievement considering the performance of most Chinese ADRs and the performance of the Shanghai composite over the last 12 months. I was a bit concerned about the competitive landscape back in late 2014, but the situation has taken a turn in Ctrip's favor and the company managed to get a 45% Qunar (NASDAQ:QUNR) stake - which was one of its most aggressive competitors. Continued industry consolidation and margin recovery should positively affect Ctrip's top and bottom line growth in the following years. I am reiterating my bullish view on Ctrip and assigning a new year-end price target of $62 per share. The stock also has a good chance to double over the next two to three years.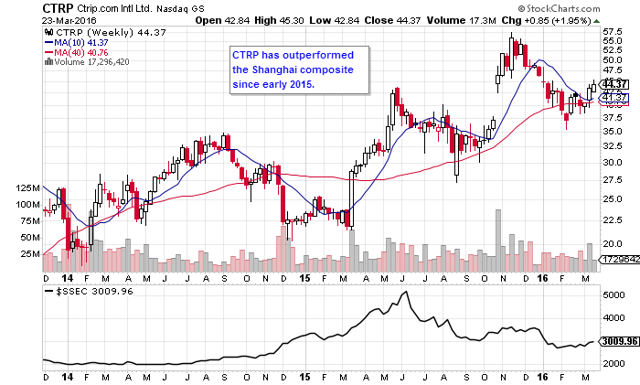 Click to enlarge
Source: Stockcharts.com
Market disappointment with Q1 2016 revenue guidance was short-lived
The market's disappointment with Ctrip's Q1 2016 revenue guidance was short-lived. The company expects Q1 revenue growth in the 75% to 80% range on a consolidated basis, which includes Qunar's contribution. The guidance came short of the analyst consensus and implies lower growth in Q1 for either Qunar or Ctrip (or both). Qunar might be the culprit for the lower guidance since it is at war with airlines. However, since the dispute is already a known fact, I believe that the market is already pricing in the weakness at this point and that we may even see some upside to growth expectations if a favorable resolution is reached.
The company also has a history of providing conservative guidance - it has missed the mid-point of the revenue guidance in two of the last 16 quarters and has never reported below the low end of the range.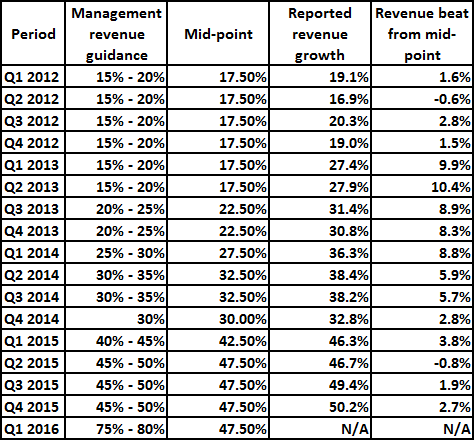 Source: Ctrip earnings reports
Long-term growth outlook has improved
The underlying growth trends remain strong and the company has either reiterated or raised its long-term goals:
The company's previous 2020 goal for annual GMV was RMB700 billion. Ctrip was half-way there in 2015 as it generated more than RMB350 billion in annual GMV. The company now expects to reach RMB1.2 trillion to RMB1.4 trillion by 2020.
Long-term CAGR of around 30%.
Mid to long-term non-GAAP operating margin between 20% and 30%, which should be a major improvement over 9% in 2015 and 5% in 2014.
Ctrip has just begun to scratch the surface when it comes to China's travel industry, which is expected to outgrow the overall economy. There are several growth trends the company is taking advantage of:
Online booking represents a small fraction of China's travel market and mobile is expected to take a major role going forward.
Ctrip is the dominant player in China, and the latest industry consolidation should have a positive effect on its bottom line growth in the following quarters. The price war is likely over and the overall competitive situation has changed in the company's favor, especially considering its control over Qunar.
New products should lead to increased cross-selling opportunities and increased customer retention.
Outbound travel is one of the most important growth drivers for the industry in the following years. Significant personal income growth will stimulate the Chinese to travel more abroad. Management noted on the Q4 call that "China's GDP per capita is gradually reaching $8,000, a tipping point beyond which outbound travel will start to pick up. We saw such trends in countries like South Korea and Japan many years ago. At this point, Chinese outbound travelers account for less than 10% of total population, a share that is much lower than those seen in the U.S. and in South Korea markets." This leaves room for significant improvements going forward.
A look at historical valuation trends
The favorable long-term growth outlook should continue to support Ctrip's historical valuation trends. Ctrip has mostly traded in a TTM P/S ratio range of 6 to 10 and considering the Qunar consolidation and the strong revenue growth expectations for the next few years, I expect the valuation range to stay more or less the same in 2016 and beyond. My new price target is $62 and is based on a 2016 P/S ratio of 8, which represents the middle of the historical range. I expect the downside to be limited to a TTM P/S ratio of 6, which translates into a downside price target of around $36.
I have calculated the P/S ratio which includes the Qunar stake since late October 2015 and which I believe to represent a better way to look at Ctrip's valuation.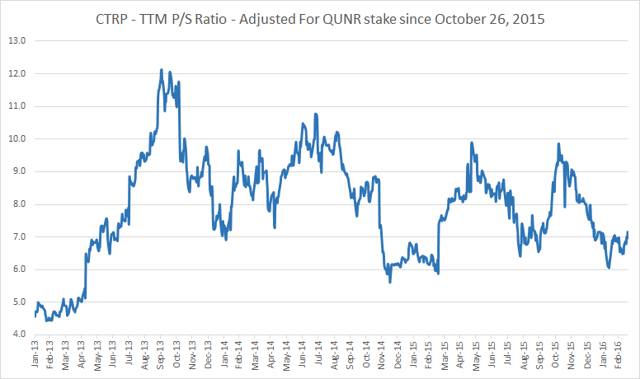 Click to enlarge
Source: Yahoo Finance, Ctrip earnings reports, Qunar earnings reports
Priceline's (NASDAQ:PCLN) valuation in the last five years was more or less the same as Ctrip's. The major difference between the two companies is Priceline's much better margin profile while Ctrip has countered this with a much stronger growth profile. If Ctrip manages to get its operating margin to the guided range of 20% to 30% in the mid-term or the long-term, I believe that Ctrip will enjoy a premium valuation over Priceline (when looking at the P/S ratio).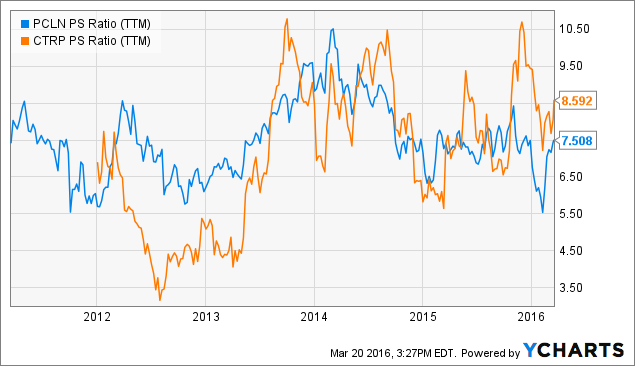 Source: Ycharts.com
Conclusion
Ctrip's long case is much stronger than it was 18 months ago despite a 60% rise in its share price. The company has managed to consolidate the Chinese online travel industry and establish a stake in one of its most aggressive rivals. The long-term GMV CAGR and operating margin outlook point to significant long-term upside potential. The potential upside to my year-end price target is around 40% while the downside should be limited to approximately 20%. If the company manages to grow as expected and if it stays in its historical valuation range, the potential upside over the next two to three years could be in the triple digits.
Disclosure: I am/we are long CTRP.
I wrote this article myself, and it expresses my own opinions. I am not receiving compensation for it (other than from Seeking Alpha). I have no business relationship with any company whose stock is mentioned in this article.
Additional disclosure: This article reflects the author's personal opinion and should not be regarded as a buy or sell recommendation or investment advice in any way.