As we previewed in our article linked here, Nike's (NYSE:NKE) quarterly results were actually quite good, but the stock has fallen mostly because future estimates were too bullish and the valuation was too rich. While we are fans of the secular growth story at Nike, so is everyone else, and this does not make for a very profitable trade or investment when the stock is trading at such a rich valuation. From these levels, we do not see Nike as a market-outperformer.
By most metrics, the quarter was phenomenal. Revenue was up double-digits in every geography, and this is very impressive for a company that has been the face of athletic apparel for some time now. North America revenues were up 14%, Western Europe was up 12%, Central and Eastern Europe revenues were up 29%, Emerging Markets were up 11%, and China continued be a growth behemoth with 27% revenue growth. Global Future Orders surged 17%, driven by a 10% increase in units sold and another 7 percentage points of growth from higher ASPs. All this growth was accompanied by some unhealthy inventory build in North America, but that is the result of some hangover supply chain issues that date back to West Coast port congestion. We do not think inventory build for a popular name-brand company like Nike that is seeing double-digit growth in every geography is a issue that will persist.
Gross margins were flat, but that is a FX headwind and inventory build weighed gross margin. As FX headwinds ease and the inventory levels normalize in North America, higher ASPs will drive higher gross margins.
While Converse continues to struggle, the Nike brand was very strong during the quarter. Nike brand revenue was up 15%, paced by 29% growth in DTC revenue, 56% growth in online sales, and a 10% in-store comp. We find the 10% in-store comp to be the most impressive because Nike stores aren't exactly new and a 10% comp anywhere in brick-and-mortar retail these days is exceptionally difficult to find.
While we are optimistic on multiple areas of growth for Nike, we are particularly bullish on the secular growth in the company's high-margin basketball business. Management provided some commentary that made it seem like basketball had yet another strong quarter. Jordan brand revenues were up double-digits yet again. More impressively, the "72-10" colorway of the Air Jordan 11 was the largest launch ever in the history of Nike.com, and we believe this can be seen as sign of basketball's growing international popularity. This is corroborated by tremendous sales of the Kyrie 2 and Kobe 11, the latter of which was surely helped by Kobe's coming retirement. We see basketball as a high-growth market for Nike in all of its geographies, and this is crucial because basketball footwear is a particularly high-margin business for the company.
The call got less optimistic when it came to the guidance. Management called for Q4 reported revenue to grow in the mid-single digit range, and for Fy17 reported revenue to grow in the high-single digit range. This is strong guidance, but shy of what analysts were looking for. It also makes the $50 billion revenue target by 2020 rather unlikely.
A 5% revenue growth rate in Q4 puts Q4 revenues around $8.2 billion (1.05 x $7.8b), and that would put Fy16 revenues at $32.3 billion. Growing those 8% in Fy17 (high-single digits) puts FY17 revenue at $34.9 million. That implies a nearly 13% revenue CAGR into Fy20 in order to get to $50 billion by 2020. This seems rather aggressive considering the FX neutral guidance in FY17 was, at-best, low double-digit revenue growth.
We have revised our revenue projections down accordingly, instead modeling for a 10% revenue CAGR into 2021. We have also upped our operating cash flow margins given strong ASP growth which will eventually spill into gross margin expansion. All told, we now think shares are fairly valued around $68 per share.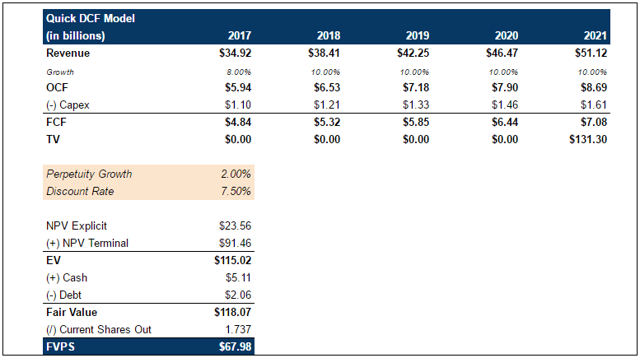 Click to enlarge
While our fair value is roughly 8-9% higher than the current market value, we do not think this is enough margin of safety to warrant a buy rating on the stock. There is certainly tons of growth ahead for Nike, but that growth is mostly baked into the stock and we do not think shares possess a compelling risk-reward profile here. We would very much like to buy the stock if it continues to fall post-earnings, but aren't terribly compelled to pull the buy trigger here.
Disclosure: I/we have no positions in any stocks mentioned, but may initiate a long position in NKE over the next 72 hours.
I wrote this article myself, and it expresses my own opinions. I am not receiving compensation for it (other than from Seeking Alpha). I have no business relationship with any company whose stock is mentioned in this article.