While increasing competition in the online video streaming industry is benefiting consumers, Netflix (NASDAQ:NFLX) has been forced onto a dangerous path. In order to stay competitive, Netflix has had to take out large amounts of debt in order to finance its content creation. This ongoing switch from a content provider to a content creator, while beneficial for user growth in the short term, has dangerous implications for the company in the future.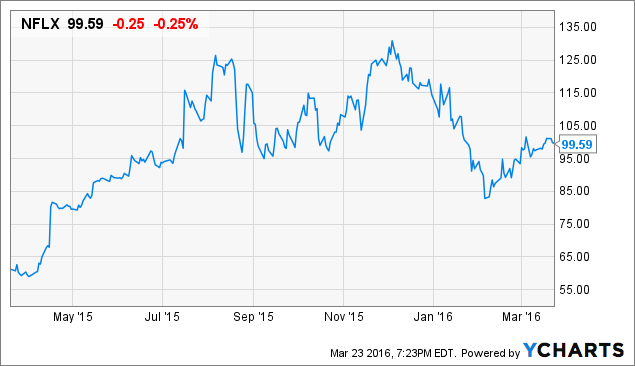 NFLX data by YCharts
Flaws of the Content Creation Model
Content creation will continue to compress margins, as Netflix plans to increase original content from 450 hours to 600 hours in 2016. This jump in original content should help grow the user base in the short term, but creates several new risks. Some examples would be:
Diminishing Benefit of New Content: The benefit of new content is often short lived. Many users tend to binge watch a full series, which has become known as "Netflixing" a show. In order to retain these users, Netflix has to continue providing content at a rapid pace in order to meet demand. By switching to a content production model, the price of content has dramatically risen, negatively affecting Netflix's bottom line.
International Content Creation Costs: As Netflix continues to expand internationally, it will need to expand its content creation model to suit new geographies and cultures. This specialization of content will continue to put further downward pressure on margins, well into the foreseeable future.
What is Netflix Worth Now?
In order to see how the content creation model affects Netflix's valuation, let's walk through the financial statements and the model we have built for them, to find out how much Netflix is worth.

Click to enlarge
US streaming revenue and user growth have been steadily increasing on a quarter by quarter and year-over-year basis. Our model predicts revenue and user growth to continue, but at a slowing pace as the domestic market becomes further saturated.

Click to enlarge
International streaming revenue and user growth, while currently not profitable, has been growing at a much faster rate than US growth. Our model forecasts international growth to continue at a faster rate than US growth and remain stronger for longer.

Click to enlarge
US streaming has accounted for the majority of total streaming revenue, but international streaming revenue is quickly gaining. Our model forecasts that International streaming revenue will overtake US revenue, and become the largest contributor to revenue in 2019.

Click to enlarge
DVD revenue has been falling consistently as users continue to switch to streaming. Our model sees DVD revenue continuing to fall at a rate of about 4% per quarter.

Click to enlarge
Our model forecasts Netflix's gross margins to remain around 30%, as content creation costs continue to negatively impact them. Operating margins are expected to remain low as Netflix increases targeted online advertising to help drive user growth. We are anticipating net margins to remain low, before beginning to start increasing slowly as efficiency increases. Netflix's effective tax rate is expected to remain on average at 25%. Our model's forecast for 2016 is based on the assumptions listed above, and the guidance provided from Netflix for 2016.

Click to enlarge
Above is the complete model forecast for Netflix's income. Revenue and the cost of revenue are expected to grow as the user base expands and new original content is added. The terminal growth after 2030 has been set to -2%, to be conservative and because we believe it's flawed to assume a company will continue to grow forever. The discount rate has been set to 8% to reflect the risks associated with Netflix's business model.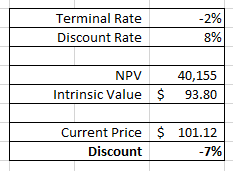 In conclusion, the net present value of Netflix, according to the model, is $40.155 billion or $93.80 a share. This means that Netflix shares are currently trading 7% over their intrinsic value. At this price point, we would rate Netflix as being fairly priced, and as a hold. We would not be in a rush to buy it at this price point, but we would not short it either, as I believe that there are better pure short and long plays currently available.
Here is a link to the model.
Disclosure: I/we have no positions in any stocks mentioned, and no plans to initiate any positions within the next 72 hours.
I wrote this article myself, and it expresses my own opinions. I am not receiving compensation for it (other than from Seeking Alpha). I have no business relationship with any company whose stock is mentioned in this article.