As some of my readers likely know, my firm's largest holding at this moment is Chicago Bridge & Iron (NYSE:CBI), a provider of construction-related and management services for energy infrastructure projects. As of the time of this writing, the company makes up more than 40% of my firm's AUM (Assets Under Management), meaning, quite literally, that we will live or die by its success. In what follows, I will dig into an undercovered aspect of CBI that investors in the company should be cognizant of, that provides no revenue at this time, and which has the potential to revolutionize not just the company but the world as well.
Say hello to NET Power
Among other things, CBI dabbles in side projects from time to time that generally require a more modest amount of capital and that have the potential, through their inclusion in the company's Technology segment, to generate a great deal of return for shareholders if deemed successful. One such project is NET Power. Founded a few years ago, NET Power is a venture between CBI, Exelon (NYSE:EXC), and 8 Rivers Capital that is dedicated toward generating power from natural gas with next to zero carbon emissions. While parts of this process, now known as the Allam Cycle (imaged below), have been avoided in the past due to high capital costs, technological innovations have now made (at least in this group's eyes) it a viable technology.

Click to enlarge
Generally speaking, when natural gas is processed in order to create electricity, it requires the use of steam. However, as part of this procedure, the steam must eventually be condensed back into water or the result will be a reversal of the process. When this takes place, NET Power estimates that between 30% and 40% of the energy created can be lost. One of the major negative consequences of the steam-based technology that is prevalent today in both natural gas electric facilities and coal ones is that, in an effort to recapture NOx and COx emissions, plants have to invest heavily in equipment that is geared toward reducing those emissions to within legal parameters, significantly increasing costs across the board.
The solution being developed by NET Power is the Allam Cycle which, instead of using steam, uses carbon dioxide. The benefit of this approach is that it allows the firm to keep cycling that carbon dioxide through its combustor multiple times and eventually turns it into a "working fluid" that is mostly high-pressured carbon dioxide. This, in turn, is believed to be "pipeline-ready" and can be sold to and used by firms that seek to engage in EOR (enhanced oil recovery) in an economical fashion.
According to the company, there are probably around 85 billion barrels of oil in the U.S. that can be extracted through the use of EOR techniques but the high-cost of doing so in the past has stifled growth in this space until recently. Furthermore, as you can see in the graph above, the technique results in strong efficiency rates compared to competing technologies, sporting an LHV target net efficiency rate of about 59% for natural gas and 52% for coal. On top of these benefits, their concept can actually become a net producer of water as opposed to a consumer of it, something that areas like California should welcome right now. This can be accomplished by switching to air cooling, which would decrease efficiency by 2.5%. However, this isn't material in my opinion, so some plants may make this decision.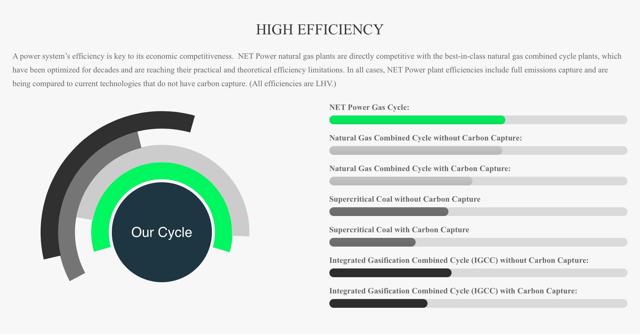 Click to enlarge
Another benefit to NET Power's goal is that it allows the average power plant to be far smaller than it has been in the past. This is due largely to the fact that steam isn't employed and that ancillary recapture technologies are no longer required. To illustrate this, the company provided the following image below, which shows how plants of the same capacity should compare to its new concept.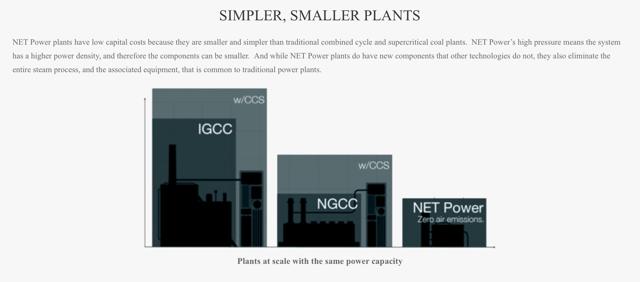 Click to enlarge
Takeaway
Right now, things seem to be moving along in a positive direction for CBI with NET Power. According to management, their demonstration plant broke ground for construction on March 9th and they expect to have it operational in 2017. If all goes according to plan, they believe it's likely the company will be awarded its first contract next year, with delivery expected in 2019. From a financing standpoint, CBI has committed $47.3 million for the creation of the technology and the plant construction, only $17.9 million of which has been handed over to the project.
For now, all we can do as investors is to sit back and wait and we don't quite know how valuable these projects will be to management but, if they can accomplish what they claim will happen, the reward for CBI, as well as for both Exelon and 8 Rivers Capital, will likely be quite large in the years to come
Disclosure: I am/we are long CBI.
I wrote this article myself, and it expresses my own opinions. I am not receiving compensation for it (other than from Seeking Alpha). I have no business relationship with any company whose stock is mentioned in this article.