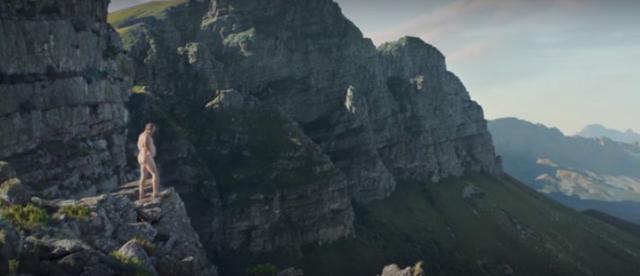 Click to enlarge
(Screenshot from Hornbach's latest commercial)
Three months ago, contrarian as always, I wrote a Q3 update titled "Hornbach: A solid long-term buy after short-sighted sell-off." In fact, in December 2015, the German DIY retailer Hornbach Baumarkt (OTC:HBAUF) - which is part of the larger Hornbach Holding (OTC:HBAPF) - had shocked the stock market with a profit warning, announcing EBIT for the 3-month period 43% below the prior-year result.
However, in a subsequent release, additional color was provided and in my analysis I could show that most of that decrease was due to non-recurring effects. This has now largely been confirmed by the preliminary 2015 results release.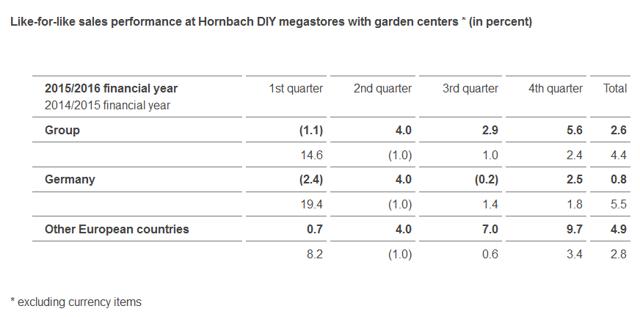 Click to enlarge
The company did not provide profit figures, but one thing is evident: Q3/15 definitely was an outlier. Q4/15 LFL sales increased 5.6% overall (2014: 2.4%) and most importantly, growth outside of Germany once again went through the roof. All countries except one posted LFL sales growth above 10%.
This is what I wrote 3 month ago:
Due to extremely positive sales growth (average LFL +10%, including currency effects) in countries outside of Germany where the group pays lower tax rates, the effect of the lower gross margins on net income was almost negligible in the 9 month period. Given that future sales growth is expected to come mostly from foreign markets (as the German home market is pretty much saturated) and gross margins are far higher abroad, this tax benefit will likely remain or even increase.
Investors should keep in mind these multiple beneficial effects of Hornbach's international expansion. International is now 41% of sales, but delivered 74% of EBIT in 2014!
According to another press release, despite an impairment requirement, profits for the full year should remain close to the forecasted range:
The impairment test also required at the HORNBACH Baumarkt AG subgroup resulted in an impairment loss requirement that nevertheless remained within the earnings forecast. The Board of Management still expects this subgroup's EBIT, including non-operating one-off items, to fall short of the previous year's figure of € 109.8 million by a maximum of 20%.
As the company continues to see the real market value of its real estate assets far above stated book value, this impairment loss should not be a concern. Pursuant to IFRS accounting requirements (IAS 36), it was simply triggered by the fact that Hornbach's stock market capitalization at the balance sheet date was below book value. Knowing how little management cares about smoothing earnings, I also suspect the write-down was actually welcomed to lower the company's tax rate.
While some pressure on profit margins will likely remain due to investments in online expansion and international, the construction of new distribution centers and tough competition in Germany, with the preliminary Q4 press release much of the uncertainty hovering over the stock has probably been eliminated. After posting negative LFL growth in Germany in Q3, the final quarter of the year delivered solid LFL growth of 2.5% (up from 1.8% in Q4/14), contradicting those who had seen the business on a rough path. And with the international outlook more favorable than ever, I expect the stock to recover soon.
Disclosure: I am/we are long HBAUF.
I wrote this article myself, and it expresses my own opinions. I am not receiving compensation for it (other than from Seeking Alpha). I have no business relationship with any company whose stock is mentioned in this article.
Editor's Note: This article discusses one or more securities that do not trade on a major U.S. exchange. Please be aware of the risks associated with these stocks.