When I first suggested investors consider volatility hedges last August before the stock market correction, the comment section of the article was full of criticism. I suppose that was understandable, given that the critics didn't foresee the correction I anticipated. Since last summer's event, the iPath S&P 500 VIX ST Futures ETN (NYSE: VXX) has mostly traded above where I first recommended it, though I told holders to sell it at a profit since. Volatility hedges like the VXX are indeed ironically risky instruments that are not to be held for the long-term. But today, I once again view them timely and appropriate tools for sophisticated investors to use for portfolio protection. Fortunately, they are also much more affordable than they were just a few weeks ago.
In the last couple days I've authored several important works on gold, oil and the stock market. Each of the pieces foresees disruption in those asset classes over the near-term. One option for investors to avoid such disruption, in case I'm right, is to sell risky assets, and in this case I believe gold is included among asset classes to be avoided. Another action to protect holdings is to use options to hedge risk in positions or the market broadly. And finally, the topic of this report, investors can hedge a portfolio against event risk by buying the iPath S&P 500 VIX ST Futures ETN . Simply put, it's a bet on volatility that tends to do well when stocks broadly run into serious trouble.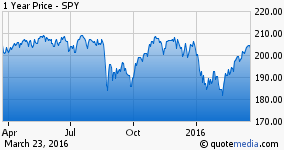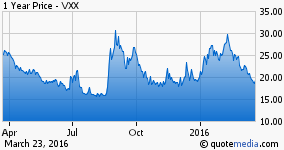 1-Year Charts of the SPY & VXX at Seeking Alpha
You'll note in the comparison of the 1-year charts of the SPDR S&P 500 (NYSE: SPY) and the iPath S&P 500 VIX ST Futures ETN that at the precise moments when equities collapsed over the past year, the VXX countered the collapse. That is because the VXX is designed to provide investors access to equity market volatility through CBOE Volatility Index futures.
I view the VXX appropriate again because of a cascade of catalysts that I believe will drive another correction in equities near-term, or at least a decent retracing of recently gained back ground. The events in Brussels, and intensifying concern about the potential for more of them across Europe, have begun a new surge in the dollar, especially versus the euro. The reason for that is justified for two reasons. First, because of an immediate flight to safety, with the #1 destination for European capital and other Europe employed capital being U.S. assets, including U.S. Treasuries and the dollar. Secondly, because terrorism is burdensome for an economy in that it raises the cost of operating for businesses and governments due to security spending. It also weighs on an economy via its impact on tourism and domestic customer traffic. As European economic growth comes into question, I expect capital flight to intensify.
As a result of the dollar's surge, which I expect to intensify, oil priced in dollars should decline in value. But oil should decline in value more so because of concern about energy demand, namely from Europe, where economic repercussions might be felt. Given that there is no longer an OPEC put in place to support a floor for oil prices, due to the outright dismissal of the idea of production cuts by the Saudi Oil Minister, oil could fall precipitously. As we know from our recent pain felt in equities on oil price scares to the downside, equities should again exhibit volatility if that happens.
I've suggested in my warning for stocks that investors raise cash by selling at-risk stocks, consider shifting capital into utilities, and consider volatility instruments for hedging purposes to protect portfolios from the risk I see near-term. But take note of the charts atop this article again, and see that sharp drops in equities tend to result in spikes in the VXX, which are followed by relatively quick recesses to more stable lower levels. I won't prove this with scientific data, but I operate under the assumption of a three-day window after a market correction, within which investors are best served liquidating the VXX to maximize profit. Of course, secondary events could lead to higher highs in the VXX, but those are even less common than the somewhat rare spikes in the VXX, and are not worth waiting for.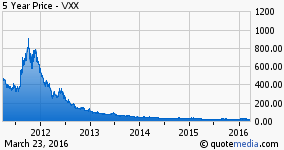 5-Year Chart of VXX
Please take care, as this security is not a long-term holding and cannot be forgotten within your portfolio once it is in place. The long-term chart of the VXX security shows that because of the market's tendency to rise on population and economic growth, and other investment capital specific factors, as well as because of the hefty costs of managing the security itself, it will shed value over the long-term. So I reiterate, it is not to be held long-term, and once the catalyst anticipated has dissipated or the situation has changed for the better for stocks, it should be divested. And in that case, it is better to be divested at a loss than at a greater loss. The security is not advised for the casual investor, because of risk of its misuse and the possibility of underestimating its risk. However, for those understanding the risk, I believe it makes sense now for use as portfolio protection.
It is quite fortunate that at the same time I find the security useful, it is also cheaper than it has been in about three months. That is the direct result of the nascent stock market rally to-date since the mid-February trough. So, I think now is the right time to add the VXX security to holdings for sophisticated investors. I will update followers with a divestiture recommendation for this security when I deem it appropriate and hopefully, as I expect, at higher level. To receive that report via email and all of my analysis and forecasts for markets, securities and asset classes, please do follow my financial column here at Seeking Alpha.
Disclosure: I/we have no positions in any stocks mentioned, but may initiate a long position in VXX over the next 72 hours.
I wrote this article myself, and it expresses my own opinions. I am not receiving compensation for it (other than from Seeking Alpha). I have no business relationship with any company whose stock is mentioned in this article.