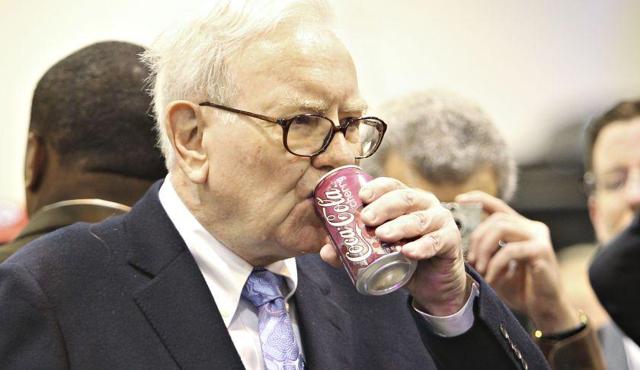 Photo Credit: Photograph by Daniel Acker/Getty Images
Coca-Cola: A Brief History
"Doc" John S. Pemberton, a respected pharmacist, chemist and former lieutenant colonel of the Confederate Army's Third Georgia Cavalry Battalion, never had much luck selling the drugs he manufactured, despite holding numerous patents. One such example is a patent medicine he created called French Wine Coca, an alcoholic beverage mixed with coca, kola nut and damiana. Pemberton claimed his drink would provide the customer with astounding medicinal properties - the beverage was advertised as a cure for nerve trouble, gastroparesis, dyspepsia, exhaustion, gastric irritability, wasting diseases, constipation, headache, neurasthenia and impotence, among others. Most notably, perhaps, it was suggested as a cure for morphine addiction, a common addiction after the Civil War that Pemberton himself was believed to suffer from.
Much to his displeasure, in 1886, the city of Atlanta, where he resided, enacted a legislation which brought about prohibition, dealing his product a deadly blow. Pemberton found himself scrambling to create a non-alcoholic version of his drink. Given the rise of popularity of soda fountains during the prohibition, he revised his formula, combing his syrup with carbonated water.
Frank M. Robinson, Dr. Pemberton's partner and bookkeeper, helped him trademark the product under the name "Coca-Cola." Together, they took out the very first newspaper ad for Coca-Cola in The Atlanta Journal, marketing it as "the new and popular soda fountain drink." During the first year, sales averaged only nine drinks per day at a nickel a glass.
With the repeal of Atlanta's prohibition law in 1887, Pemberton sold off large portions of his business and resurrected his French Wine Coca. He died a year later in 1888, his entire ownership in Coca-Cola liquidated to one of his employees, Asa Griggs Candler.
Candler aggressively marketed the product, expanding sales to soda foundations beyond Atlanta. The growth was rapid. In 1894, Joseph Biedenharn installed bottling machinery in the rear of his Mississippi soda fountain with the intent to make the beverage portable. He became the first man to put Coca-Cola in a bottle. In 1899, three businessmen - Benjamin Thomas, Joseph Whitehead and John Lupton - purchased the bottling rights from Candler for $1 and developed what would become the Coca-Cola worldwide bottling system.
A Legendary Story Of Growth
Today, an estimated 1.9 billion servings of Coca-Cola are sold each day worldwide, making it the world's #1 beverage brand. With such explosive growth over the company's storied 130-year history, Coca-Cola is considered to be one of the bluest blue chips in the entire stock market. It is so blue that between stock price appreciation, stock splits and dividend growth, a single $40 share purchased when the company went public in 1919, with dividends reinvested, would be worth over $10M today. Even if you didn't reinvest those dividends, that single share would have split so many times, you would hold 9,216 shares of The Coca-Cola Company today. At Tuesday's closing price of $45.50/share, your $40 investment would be worth $419,328.00. That, ladies and gentlemen, highlights the power of compounding from reinvested dividends.
This exceptional performance has made The Coca-Cola Company (NYSE:KO) a legendary Dividend Aristocrat. It has paid a quarterly dividend since 1920, and has increased dividends in each of the last 54 years.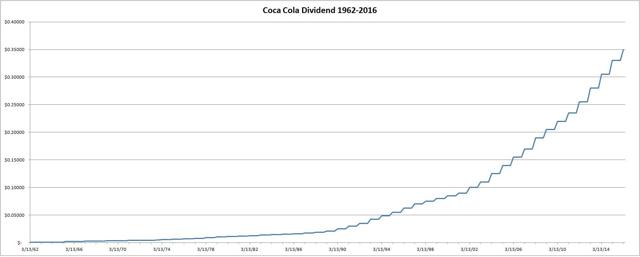 Coca-Cola Today: An Empire In Jeopardy?
In recent times, things haven't been quite so positive for The Coca-Cola Company. Despite the stock trading at all-time highs, it has underperformed the market significantly over the past half decade.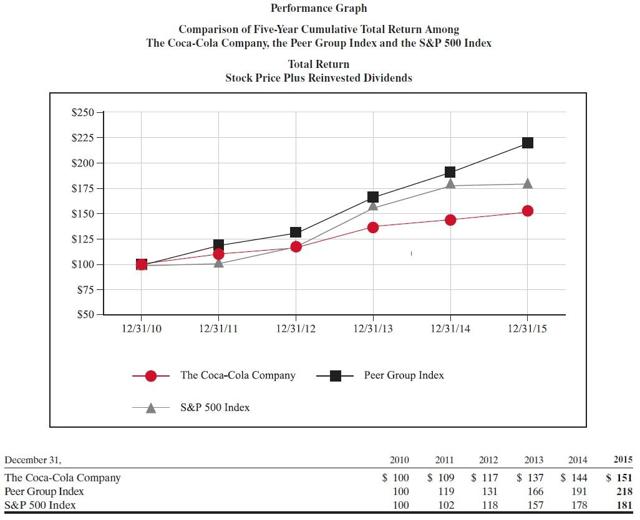 From the company's 2015 Annual Report:
*The total return assumes that dividends were reinvested daily and is based on a $100 investment on December 31, 2010.

**The Peer Group Index consists of the following companies: Altria Group, Inc., Archer Daniels Midland Company, B&G Foods, Inc., Brown-Forman Corporation, Bunge Limited, Campbell Soup Company, Coca-Cola Enterprises, Inc., ConAgra Foods, Inc., Constellation Brands, Inc., Darling Ingredients Inc., Dean Foods Company, Dr Pepper Snapple Group, Inc., Flowers Foods, Inc., General Mills, Inc., The Hain Celestial Group, Inc., Herbalife Ltd., The Hershey Company, Hormel Foods Corporation, Ingredion Incorporated, The J.M. Smucker Company, Kellogg Company, Keurig Green Mountain, Inc., The Kraft Heinz Company, Lancaster Colony Corporation, Leucadia National Corporation, McCormick & Company, Inc., Mead Johnson Nutrition Company, Molson Coors Brewing Company, Mondele-z International, Inc., Monster Beverage Corporation, PepsiCo, Inc., Philip Morris International Inc., Pinnacle Foods Inc., Post Holdings, Inc., Reynolds American Inc., TreeHouse Foods, Inc., Tyson Foods, Inc., and The WhiteWave Foods Company.
The company itself has been excluded from the Peer Group Index performance graph.
The Coca-Cola Company has lagged the S&P 500 (NYSEARCA:
SPY
) for a very good reason - the numbers are not encouraging.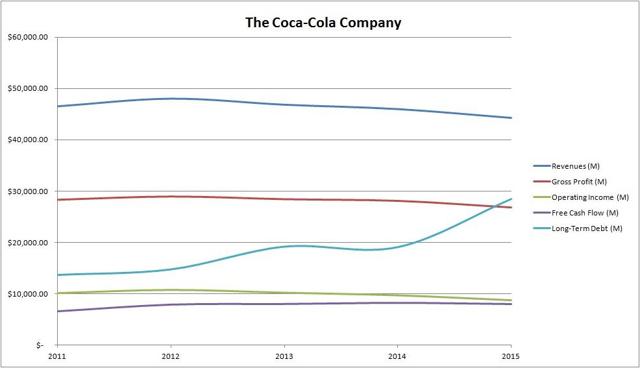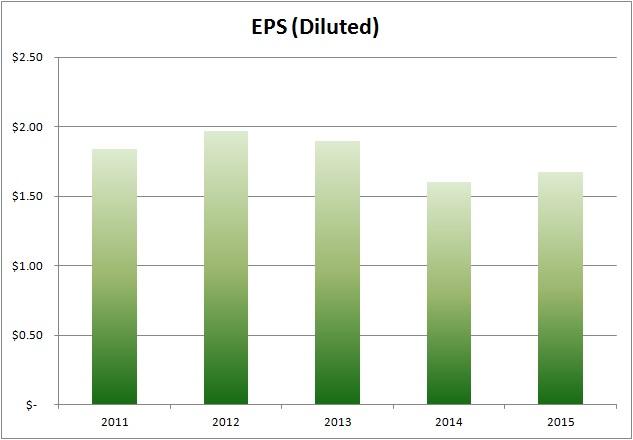 This has led a number of investors to believe the company's heyday is over. The sentiment is clear enough that Seeking Alpha is beginning to be populated with negative articles - something that has rarely happened for the likes of The Coca-Cola Company.
Much of this is attributed to a war on sugar in America. We are all well aware of the obesity crisis facing this country, and soft drinks are often demonized for their contribution to obesity, particularly in our nation's youth. According to CBS News, per-capita soda consumption rates have fallen to their lowest levels since about 1986, a sign that the relentless attack campaigns run by public health groups over the potential health risks posed by sugary drinks may be working.
The damage is not limited to the high-calorie, sugary sodas. Diet soda consumption is down as well, indicating there are growing health concerns about the potential side effects of commonly used artificial sweeteners.
The side effects of the anti-sugar movement are not limited to Coca-Cola. Soda sales in America have been dropping for more than a decade. PepsiCo Inc. (NYSE:PEP) is facing many of the same problems with soda sales, though its portfolio may be better equipped to handle the storm, since the company is heavily diversified in the snack food industry.
A Bleak Outlook
In one of the most scathing editorials I have read, Business Insider paints the bleakest outlook for the brand. Coca-Cola's downward trajectory is not sudden, and has been ongoing for many years. The brand has failed to grow since 2000, and the company has missed its own 3-4% annual volume growth target since 2013. In 2015, worldwide concentrate sales volume and unit case volume both grew only 2% compared to 2014. 2014 and 2013 yielded similar results.
Melbourne Business School associate professor of marketing, branding consultant and Marketing Week columnist Mark Ritson had this to say about Coca-Cola:
"Coke will always be the leading brand of cola until the end of time. But the value of that cola category is set to plummet over the next 20 years. It's no good being a big fish in an ever smaller pond. The days of Coke being the world's biggest brand are over forever...Natural products, organic ingredients, incredibly fresh origin, local provenance - these were initially the watchwords of small groups of maven consumers, but this movement has become more and more pronounced in the developed world in recent years. And it will only get stronger in the years to come. The very success and former dominance of Coca-Cola during the 20th century blinded them to the very different market conditions that the 21st century ushered in and left them suddenly vulnerable to change."
Ritson appears to be onto something. According to BrandZ™ Global Top 10, a ranking of the Top 10 most powerful brands, Coca-Cola has fallen out of favor.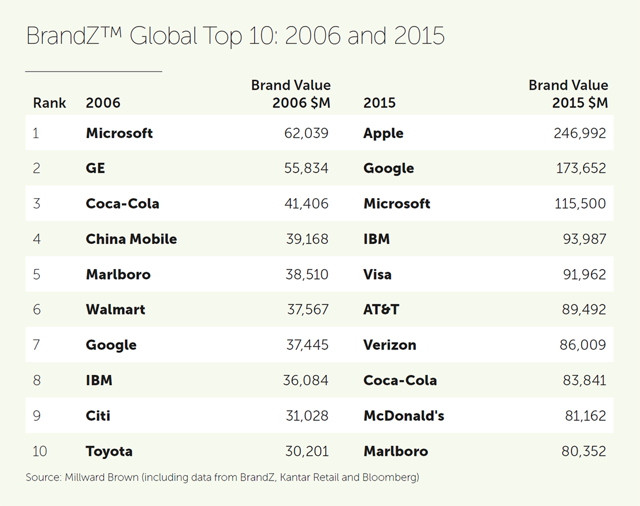 A Diversified Portfolio Of Brands
One thing the company has going for it is a highly diversified portfolio of beverages with brand names we all know.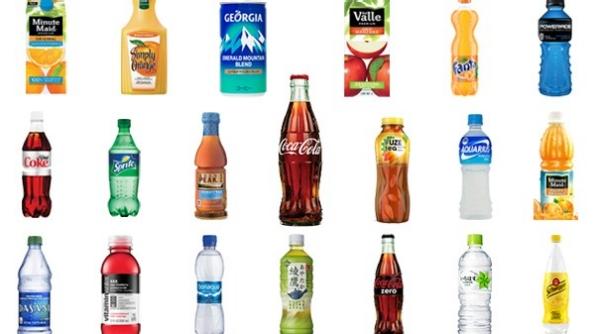 Coca-Cola has 20 individual brands under its umbrella that generate more than $1 billion USD in annual retail sales. These are:
Coca-Cola
Fanta
Sprite
Diet coke
Coca-Cola Zero
Minute Maid
Georgia Coffee
Powerade
Del Valle
Schweppes
Aquarius
Minute Maid Pulpy
Dasani
Simply
Glaceau
BonAqua
Gold Peak
Fuze Tea
Ice Dew
Smartwater
A complete list of all its brands is below: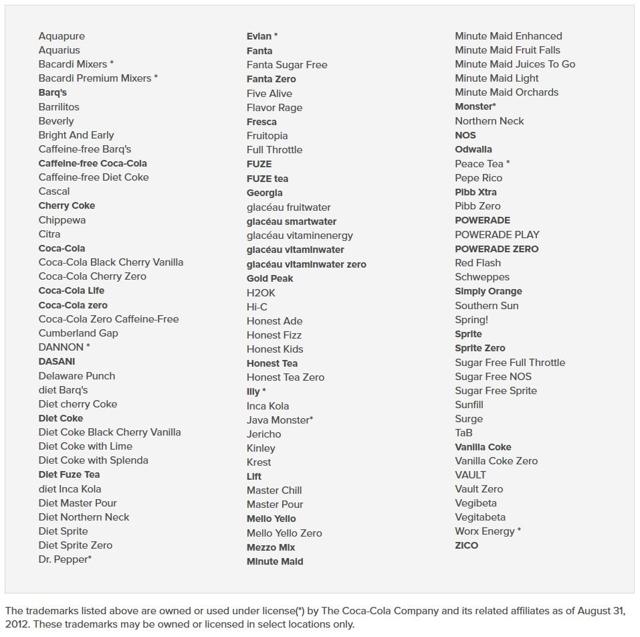 The Coca-Cola Company is far more than just a manufacturer of the famous Coca-Cola soda we all know, and for good reason - it just can't sell enough Coca-Cola to grow revenues YoY anymore.
Coca-Cola's 2020 Vision
Often-criticized CEO Muhtar Kent has had in place a vision for The Coca-Cola Company by 2020. The initiative is built around six global socio-economic trends that Kent says will "fundamentally reshape not only our industry but the world." The Coke 2020 Vision can be found in PDF format here.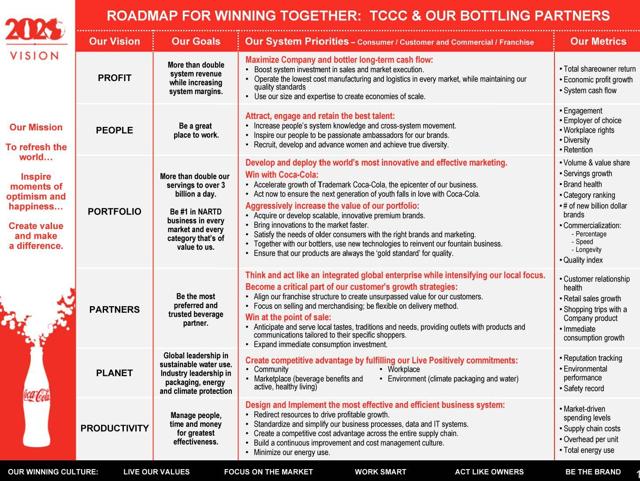 Coca-Cola's core targeted market is the emerging middle class, which the company believes will deliver between 800 million and a billion new customers by 2020, with 60% of that new wealth coming from emerging markets.
This information was released in 2011. It is now 2016. Since 2011, revenues have fallen -4.83%, from $46.54B to $44.29B, while EPS has fallen and long-term debt has increased at even faster rates. It is not 2020 yet, so the final effectiveness of the initiative cannot be graded. However, I feel it is safe to say that so far the program has been a failure. Perhaps this is why Kent and his management team is reviled as weak and overpaid? After a big raise in 2014, it looks like Kent may finally be getting a much-deserved pay cut.
Rejected From My Portfolio
I have been looking into adding The Coca-Cola Company to my portfolio since August 2015, when it dipped down in the $38/share range. It has been on my watchlist for years - this is one of the greatest American companies ever created, and one of the biggest growth stories in the entire world. You would be hard-pressed to find a single human being of speaking age in the developed world who has never heard of Coca-Cola. Still, I did not pull the trigger, even as the Dividend Aristocrat sported a thick dividend yield of 3.4% at the time. I just didn't like what I saw.
As revenues continue to fall, The Coca-Cola Company trades at a ttm P/E ratio of 27.5x. Forward P/E is around 22x, but for a company that has seen declining revenues and earnings for three years straight, I'll believe an EPS increase when I see it. Yes, I'm doubting management's ability and analyst growth projections. Even so, 22x is too high of a multiple for the marketplace that I see.
While The Coca-Cola Company deserves to carry a premium P/E ratio despite its mammoth size, given its stunning history, as a Millennial, I foresee permanent impairment of the Coca-Cola brand. Yes, I believe that Coca-Cola will, for the rest of my lifetime, be the #1 soda on Earth. However, being the largest fish in a shrinking pond is not good for an investor such as myself, with 30+ years remaining in my investment lifetime. There is one, inescapable truth: I refuse to drink Coca-Cola, because I know it is bad for me and I can't find any redeeming qualities in it.
And it's not just me. It is my friends, too. Very rarely do I see people my age drinking soda. It has an image similar to cigarettes - some people like it, but everybody knows it's bad, and as a result, people are doing it less and less over time. There is a growing stigma attached to it.
All Americans do not share this stigma. It is clearly worse in my circle of friends, who were privileged enough to attend private university in a gentrified urban area. But this kind of lifestyle is becoming "the new norm" that is permeating America. University, which was previously reserved for the most gifted Americans, is growing to become a fundamental right for all. This idea will eventually travel through the entire world. America's #1 export is "culture", for better or for worse, and as the internet is reaching the third world, so is the American lifestyle, our habits, our stereotypes, our loves and our prejudices.
My friends would rather pay $7 for a craft beer than $1 for any soda. Higher-end beers are associated with trendiness and small, independent businesses. There are scientifically viable studies that show positive health impacts from light alcohol consumption, and you may even get a little buzz from it. Redeeming qualities abound. But Coca-Cola? That symbolizes obesity, cavities, lower socioeconomic status and giant multi-national corporations with uber-rich CEOs. There are few positives with Coca-Cola. And the worst part is the less you drink it, the worse it tastes. It is so very sweet that once you lose a taste for sweetened beverages, it begins to taste... bad!
Make no mistake about it, The Coca-Cola Company is here to stay. But while it may make an excellent part of a retiree's portfolio that needs income today and in the immediate future, I see little value in this company as of this moment for a young person that needs it to be strong 30+ years from now. For example, Johnson & Johnson (NYSE:JNJ) has a similar yield to The Coca-Cola Company: - 2.80% versus 3.07%, respectively. According to the Bureau of Labor Statistics, the industries projected to grow the fastest by 2024 are dominated by healthcare. Johnson & Johnson, the largest umbrella healthcare/pharma company in the US, with an equally impressive dividend track record as Coke, has big tailwinds moving forward as the industry grows rapidly. Meanwhile, the growing health-awareness, all-natural, anti-GMO, locally sourced, farm-to-table and organic movements that are sweeping our culture are all decidedly anti Coca-Cola and will pose a massive headwind for the company moving forward. Why would I want to throw a single dollar into Coke when there is J&J just sitting there for the taking, and for a lower P/E ratio right this second? I can't make sense of it.
If the answer is "diversification," better value may be found in PepsiCo, which has a more diversified portfolio of brands not just limited to beverages, or the litany of other food manufacturers out there, such as Procter & Gamble (NYSE:PG), whose dividend status is almost as impressive as Coke's.
All is not lost for The Coca-Cola Company. Not by a long shot. There appears to be a shift in the game, with the company starting to better market the other brands in its portfolio, such as its new carbonated Smartwater. I believe future success for the company will heavily rely on other brands in its portfolio to bridge the gap as consumers all over the world demand healthier (or at least "perceived" healthier) products to drink. Until a clearer picture emerges, I believe there are far better investment opportunities in the market given Coke's nosebleed P/E multiple, its payout ratio approaching the danger zone, lack of revenue growth and long-term social headwinds the company's most popular products face.
Disclosure: I am/we are long JNJ, SPY.
I wrote this article myself, and it expresses my own opinions. I am not receiving compensation for it (other than from Seeking Alpha). I have no business relationship with any company whose stock is mentioned in this article.
Additional disclosure: All information found herein, including any ideas, opinions, views, predictions, commentaries, forecasts, suggestions or stock picks, expressed or implied, are for informational, entertainment or educational purposes only and should not be construed as personal investment advice. I am not a licensed investment adviser.