SunEdison (NYSE:SUNE) has experienced one of the most devastating solar company collapses over the past few quarters. In little over half a year, it went from being one of the industry's most valuable/respected companies to one of the most unstable/controversial. Its current woes are largely a result of an overly ambitious vision and reckless financing. Although The company is starting to make some major changes in its business, it may be too late for a recovery.
The termination of SunEdison's acquisition deal with Vivint Solar has been one of the few positives for the company in recent times. However, even this supposedly good news could turn out to be a massive headache for it if Vivint is successful in its lawsuit against SunEdison. Vivint Solar believes that SunEdison willfully breached the termination deal, and will likely do everything in its power to prove this. Regardless of how this specific case turns out, SunEdison still has much to worry about.
Business Model Viability
Over the past few years, SunEdison has devoted much of its time/energy acquiring companies and building out an extremely comprehensive renewable energy portfolio. In addition to growing a presence in nearly all the major solar markets, it also built a huge wind portfolio. Now that much of SunEdison's renewable energy ambitions have come crumbling down, the company is wisely refocusing on its core business of building and selling solar projects.
While this refocusing is likely the best move for SunEdison moving forward, the sustainability of even its core business is questionable at this point. As one of the most, if not the most, indebted solar companies in the world, it will likely have an extremely hard time attaining acceptable profit levels. The high interest rates associated with SunEdison's enormous debt load will prove to be problematic if the company cannot sell its projects at acceptable margins.
As SunEdison's current financial/market situation has decreased buyer interest for its large-scale projects, it is uncertain whether or not the company will be able to sell its projects at profitable levels. Decreasing interest for its large-scale projects was clearly shown when Hawaiian Electric (NYSE:HE) terminated a huge PPA agreement for three large-scale SunEdison projects worth $350 million. If interest in its projects were to continue declining, SunEdison will find itself in an untenable situation.
SunEdison will likely have a harder time selling projects in the current environment.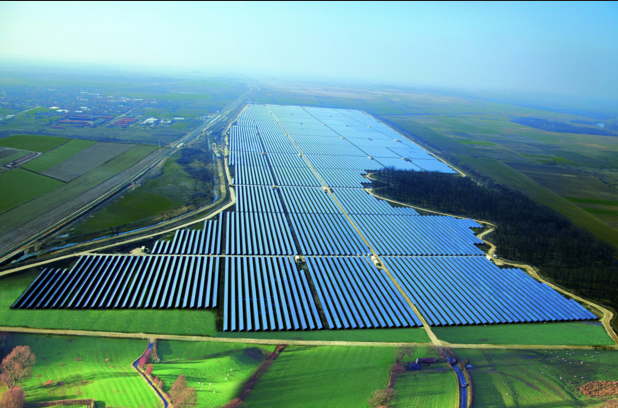 Source: SunEdison EMEA
The Market Shift Is Bad News for SunEdison
The market appears to be increasingly unforgiving of financially unstable solar companies. The model of taking on an enormous amount of debt to fund long-term growth is no longer as appealing as it once was. It is not surprising that more stable and conservative solar companies like First Solar (NASDAQ:FSLR) and SunPower (NASDAQ:SPWR) are starting to perform better than their high-growth peers. To make matters even worse for investors, there have been reports that SunEdison is in debtor-in-possession financing negotiations. Axiom Capital's Gordon Johnson stated that such a "negotiation means that the company has effectively run out of cash."
Its yieldcos have also plummeted in value over the past few quarters, which will make it even harder for the company to monetize its projects. SunEdison's yieldcos, Terraform Power (NASDAQ:TERP) and Terraform Global (NASDAQ:GLBL), will find it difficult to buy projects from the company at their current valuations. At such depressed valuations, these yieldcos will have a harder time using equity to buy SunEdison's projects.
Bad news keeps piling up on the company, and there is little indication that this trend will stop anytime soon given the current market environment. Moreover, competition from the likes of First Solar should make it even harder for SunEdison to reach acceptable margins for its large-scale solar projects. Whereas First Solar continues to break PV efficiency records and reach cost milestones, SunEdison is busy just trying to survive.
Termination of the Vivint Solar Acquisition
The termination of the company's Vivint Solar acquisition should relieve SunEdison of a huge burden. In fact, the news of the now canceled SunEdison-Vivint Solar acquisition was arguably the catalyst for SUNE's precipitous price. Investors were rightfully worried that Vivint Solar would only compound SunEdison's existing debt problems, given Vivint's financing-heavy model. Moreover, the different business cultures of the two companies would have likely created integration problems.
Now that SunEdison will no longer have to worry about integrating a massive residential solar company, it should be able to devote most of its time and resources to improving its balance sheet. Unfortunately, the company will likely continue to experience a downward spiral despite the termination of the Vivint Solar acquisition, as there are just far too many problems already plaguing SunEdison.
Conclusion
Despite the fact that it has lost approximately 95% of its market value since July, the company still has more downside at its current valuation of $450 million. SunEdison is finding it increasingly difficult to pay off its enormous debt and compete with other major solar companies. Although SunEdison's market capitalization could easily skyrocket if the company manages to overcome its current mess, such a scenario looks less likely by the day.
Disclosure: I am/we are long SPWR.
I wrote this article myself, and it expresses my own opinions. I am not receiving compensation for it (other than from Seeking Alpha). I have no business relationship with any company whose stock is mentioned in this article.