By Parke Shall
Macy's (NYSE:M) has been performing to our liking over the last couple of months, just as we suspected that it would when we called the bottom near $36 in several of our articles. The boldest of our articles this year came after Nordstrom (NYSE:JWN) reported a terrible quarter and dragged down Macy's, as well as other retailers, in the process.
But since mid-February, when JWN reported, both stock have been able to continue the uptrend they started right around the beginning of 2016. For Macy's, we're near certain that there's continued upside to come.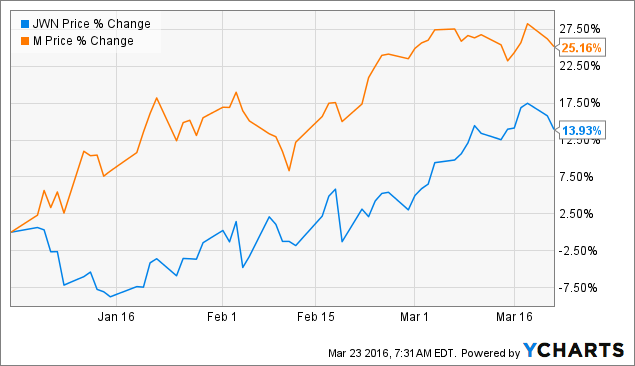 After JWN's report, we wrote an article as to why the public should actually by Macy's on Nordstrom's poor results, and Macy's is up between 10% and 15% since then. That article was called "Hold Your Nose and Buy Macy's After Nordstrom's Miss" and you can read it here.
We have long held that we have a minimum price target on Macy's of about $52, based on slight multiple expansion with a call option on the company unlocking some of its intrinsic value via strategic alternatives that would likely drive it much h.
In today's article, we want to create a small sense of urgency and let investors in on why we believe Macy's move of 20% plus to the upside could come in as soon as just a couple months.
Fundamental Turnaround With Bonus Potential
In many of our past articles, we took the same long thesis as newfound Macy's investor David Einhorn. We believe that with Macy's trading at only about 10X earnings, in the midst of continued buybacks and a restructuring and transition of the business, that significant value may come unlocked from a turnaround in the underlying business. As a backstop for that, we also believe that considerable intrinsic value could be released when Macy's enters into a series of transactions involving its real estate.
Macy's has already entered into a joint venture with one of its Brooklyn locations, and CEO Terry Lundgren said in last quarter's earnings disclosure that he has deals on his desk now for other properties. In addition, Macy's also hired a real estate investment bank and has created to senior executive positions to focus solely on the company's real estate.
The reason we want to create a small sense of urgency today is because we feel we are finally moving into the wheelhouse in terms of time necessary to complete due diligence on any type of merger, acquisition, or strategic alternative. As you can see from the below chart, Macy's did not start to fall into what we would consider dirt cheap territory (under $40) until November 2015.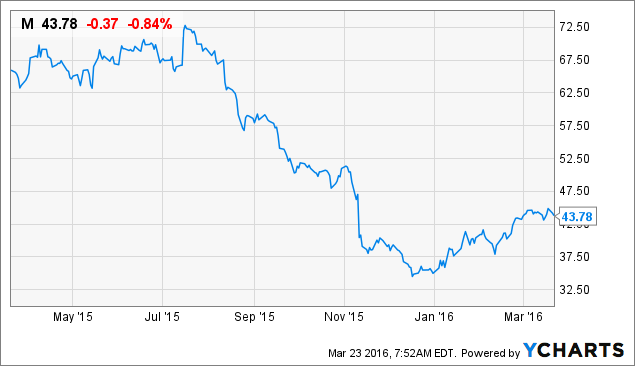 We may have been preemptive in calling for acquisitions or strategic alternatives as soon as this happened, because once a situation piques the interest of someone looking to enter into a material transaction with the company, it usually does takes 3 to 6 months of due diligence and lawyer speak before a deal gets done.
We are pretty sure this is what happened with Green Mountain. As you can see, the stock fell under $100 around mid 2015.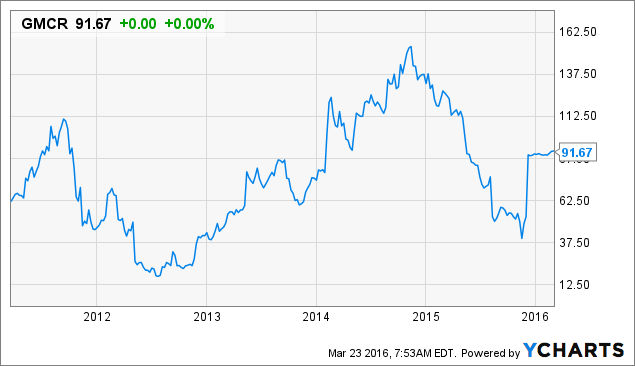 But it wasn't until the stock fell considerably more, ~6 months later, that a buyout was announced. We have to assume this buyout had already been in the works as the stock was falling in mid 2015, hence the crazy premium by the time a deal got done.
A great example of this backwards looking positive indicator is David Einhorn taking his position. He thought the stock looked cheap at around $45 per share. After that, the stock went as low as $36 per share, but has now rebounded. This shows that Mr. Einhorn is still not in the money today and believes that shares are worth considerably more than today's price.
As we move into the middle of 2016, we believe that we are entering into prime time for any deal that began in the late 2015 or early 2016 period to finally be disclosed. We think that something as simple as continued monetization of the company's real estate could help easily force shares higher towards our price target of $52.
Retail is such a beaten-down sector, and with the way the global economy looks, we are not sure that it is going to get too much better. Having said that, Macy's also has the catalyst of their current restructuring program, where they plan on cutting $400 million in SG&A over the next year. The company is also strategically closing stores as to optimize its "omnichannel" approach to its business. The company is looking at the idea of stores within a store and it is also looking at the idea of a neighborhood discount store, similar to Nordstrom Rack, that it can use to help fill in some of its consumer gaps. The company said last quarter that they are doing plenty of testing and taking their time in rolling out these initiatives. Our guess is they don't want to be J.C. Penney redux.
In addition to this, the company pays nearly a 3.3% dividend and is buying back significant amounts of stock.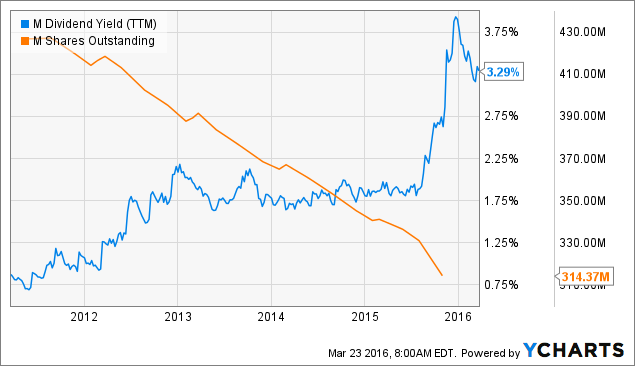 M Dividend Yield (NYSE:TTM) data by YCharts
Both of these are nice securities for waiting for what we believe to be fairly inevitable equity appreciation. The urgency with which Mr. Lundgren seems to be acting, as indicated by his statements at the end of the quarter, give us confidence.
Finally, the thesis of an outright go private offer or buyout also remains on the table. If the company doesn't want to monetize its assets, we are sure that there are several individuals in private equity that have likely looked at what scenario they can draw up by spinning off Macy's real estate and allowing the core business to continue operating. With an opportunity this large, we are certain that it is not just a group of small investors like us that see the potential for owning the equity in Macy's here.
Again, $52 per share is an extremely low ball conservative estimate to the upside. Real estate monetization efforts could easily push Macy's above $60 without an issue. Here are three key points we made in our last article,
Macy's has a strong foundation of assets in real estate that give the company, we believe, well in excess of $50 per share of value on their own accord.
Macy's trades at a multiple that is 33% lower the Nordstrom. If Macy's were to trade at JWN's multiple prior to their report this afternoon, it would be trading somewhere around $57.45 per share.
If Macy's traded at JWN's price to sales prior to today's report, it would be trading near $48. If it traded at nearly 6.8x book value like JWN does (which is a little high, we admit), it'd be trading somewhere near $80 per share. We think Macy's is still cheap relative to competition; and in general.
But we want to continue our conservative estimate of $52 per share based on improving fundamentals and multiple expansion to match peers like Nordstrom.
If you are buying the equity today, you are also getting a call option on any strategic initiatives the company may undertake going forward, and we believe the odds for a beneficial strategic alternatives going forward for Macy's are near 100%.
It's time to buy Macy's; we are long.
Disclosure: I am/we are long M.
I wrote this article myself, and it expresses my own opinions. I am not receiving compensation for it (other than from Seeking Alpha). I have no business relationship with any company whose stock is mentioned in this article.