MAG Silver Overview
MAG Silver Corporation (NYSEMKT:MVG) is the minority partner (44%) of a joint venture with Fresnillo PLC (OTCPK:FNLPF) which is exploring and developing the Valdecanas and Juanicipio silver veins within the Mexican Silver Belt in the Zacatecas State. The Juanicipio project is forecasted to be in production by 2018, while further exploration at Valdecanas is ongoing after several promising intercepts were drilled and reported in early 2015. In addition, MAG Silver owns 100% of the Cinco de Mayo property in the Chihuahua State and is currently working to regain surface access to the property.

Silver Market Trends
In November 2015, the Silver Institute and Thomson Reuters estimated total silver supply at year-end 2015 would be 1.0144 billion ounces with total physical demand being 1.0571 billion ounces, implying a physical deficit of (42.7) million ounces for the year. However, the net deficit for the year was forecast to be (21.3) million ounces, after factoring in a (17.1) million ounce ETF outflow and a (4.3) million ounce inventory drain.
For 2016, the Silver Institute estimates global mine supply will fall as much as 5% and silver scrap supply should continue its declining trend over the past few years. Global demand is estimated to grow during 2016 on the strength of coin demand, Indian silver demand, jewelry fabrication, and industrial demand.
The rise in gold spot prices during the first 2.5 months of 2016 combined with relatively stagnant silver prices, has created a spike in the gold to silver ratio. Last month, that ratio crossed above 80 for the first time since December 2008. Over the past 20 years, the ratio has climbed into the upper 70s only three other times. Each instance was followed by a precipitous decline in the ratio to the upper 40s. At current gold spot prices, this would imply a silver price of over $25/oz.
I currently estimate silver prices slightly rebound but overall remain subdued this year averaging $17/oz. I estimate in 2017 prices rebound to $22/oz and conservatively keep my long-term estimates for 2018 onward flat at $22/oz. While I remain conservative with my modeling estimates, I would not be surprised to see silver prices north of $25/oz, given the long-term market fundamentals.
Juanicipio Valuation
After the recent bought deal financing, including the $9 million over-allotment option, MAG Silver has $147 million in cash on its balance sheet, which is more than enough to cover its share of the remaining Juanicipio capital requirements or $121 million. In order to try and better evaluate the project, I have evaluated the project under three different scenarios, using a discounted cash flow approach. In every scenario, I assume the same production timeline, sustaining capital expenditures, tax, and discount rates.
In the base scenario, I assume silver prices of $22/oz and cash costs of $6.61/oz (ag-eq.). I use a discount rate of 8% and assume no growth rate. In the optimistic scenario, I assume silver prices of $30/oz and cash costs of $7.05/oz (ag-eq.). I use a discount rate of 8% and also assume a 1% growth rate to account for any exploration success which could extend mine life. In the cautious scenario, I assume silver prices of $18/oz and cash costs of $6.15/oz. I use a discount rate of 8%.
In the base scenario, I estimate MAG Silver's share of the project's net present value to be $425 million. In the optimistic scenario, I estimate MAG Silver's share to have a value of $1.018 billion. In the cautious scenario, I estimate MAG Silver's share of the project to have a value of $281 million. With the current market capitalization of MVG being around $760 million, this project could potentially have a value of over 125% of current market capitalization.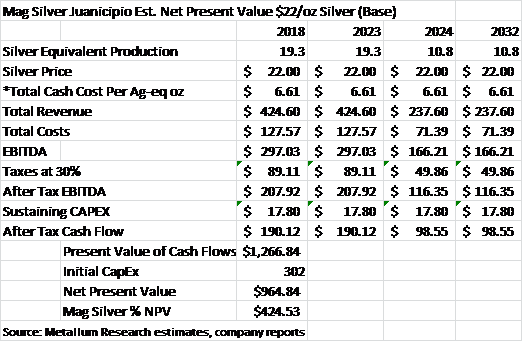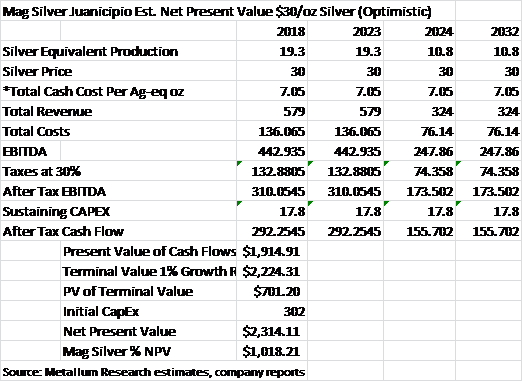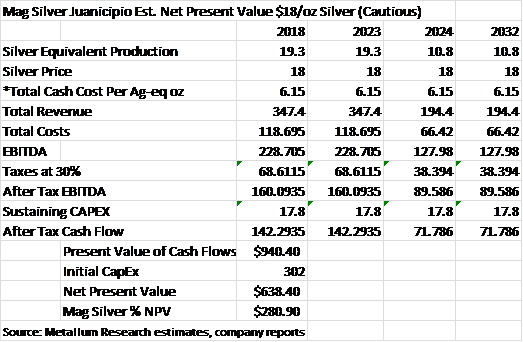 Exploration Success
In April 2015, MAG Silver reported the results of four drill hole intercepts located beneath the existing "deep zone," which significantly extended the width and depth of the previously defined Valdecanas Vein. The intercepts, P1-P4, had a width and grading of 11.7 meters at 103g/t Ag, 22.1 meters at 195g/t Ag, 26.5 meters at 405g/t Ag, and 32.1 meters at 137g/t Ag, respectively. Each of these intercepts also had significant gold, palladium, zinc, and copper grades.
This new extension of the Valdecanas Vein is part of the existing joint venture between MAG Silver and Fresnillo PLC, and is therefore 44% owned by MAG Silver. A more comprehensive drilling program for 2016 was agreed upon by both partners.
Takeover or Acquisition Potential
The successful drill results published in April 2015 that produced the widest intercepts to date, showed the Valdecanas Vein widens at depth and has significant exploration potential. Given that MAG Silver is already a minority partner in a joint venture with operator, Fresnillo PLC, I believe it would be in Fresnillo's best interest to acquire MAG Silver before further drilling unveils the full potential of the Valdecanas vein. Under the joint venture agreement, Fresnillo is unable to acquire MAG Silver through a hostile takeover. However, MAG Silver could be acquired through a friendly arrangement, which would most certainly result in a favorable offer for MVG shareholders. With $147 million in cash on its accounts and zero debt, MAG Silver would be an ideal takeover candidate.
Despite the current stock price near the 52-week high at $9.50/share, I still estimate a 30% upside for investors with a $12.50/share target price. With Juanicipio fully funded and moving closer to production and the exploration potential at Valdecanas, I think MVG is a sensible and attractive acquisition for Fresnillo. Since a hostile takeover is not an option, Fresnillo would have to offer a premium to MAG Silver shareholders to acquire the company on friendly terms.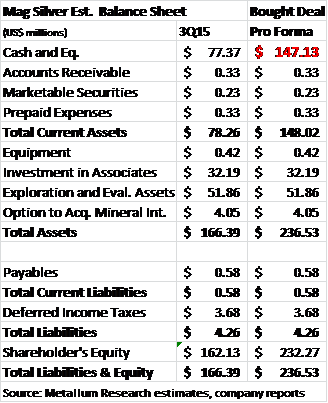 Risks to Shareholders
Potential risks to shareholders are mainly related to silver spot prices. If the price of silver remains around $15/oz, the Juanicipio project and any exploration successes become less valuable. However, lower spot prices will keep the market capitalization lower and make a potential takeover less costly for the acquirer. Additional risks for shareholders include geopolitical risk. With its main operations located on the Mexican Silver Belt, any instability in the region poses a risk to MAG Silver's operations. However, having Fresnillo, a much larger company, as operator mitigates some of that risk.
Disclosure: I/we have no positions in any stocks mentioned, and no plans to initiate any positions within the next 72 hours.
I wrote this article myself, and it expresses my own opinions. I am not receiving compensation for it (other than from Seeking Alpha). I have no business relationship with any company whose stock is mentioned in this article.
Editor's Note: This article discusses one or more securities that do not trade on a major U.S. exchange. Please be aware of the risks associated with these stocks.