The market remains quite dull heading into the holiday weekend. But Wednesday did bring at least one significant development. It's looking like the rally in commodities has ended.
The markets were down significantly for the first time in quite a while. The headline S&P 500 (NYSEARCA:SPY) dropped almost a percent, as did the Nasdaq (NASDAQ:QQQ). The Dow's (NYSEARCA:DIA) losses were more limited. At the other end of the spectrum, small caps (NYSEARCA:IWM) dropped more than 2%, their worst one-day showing in six weeks.
Small caps continue to be troubled by their high exposure to biotech. I regret saying anything nice about biotechs (NYSEARCA:XBI) in yesterday's Briefing. Any positive interpretation of its chart got destroyed in Wednesday's bloodbath: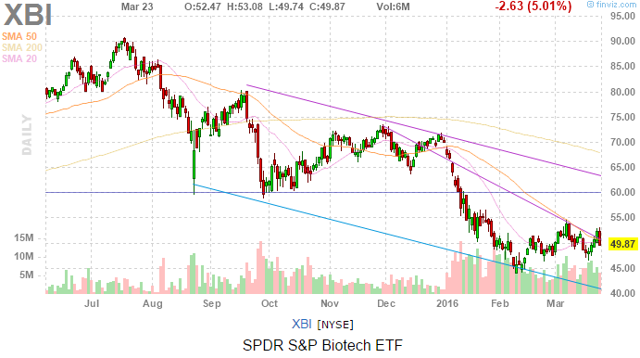 Click to enlarge
Commodities Taking The Heat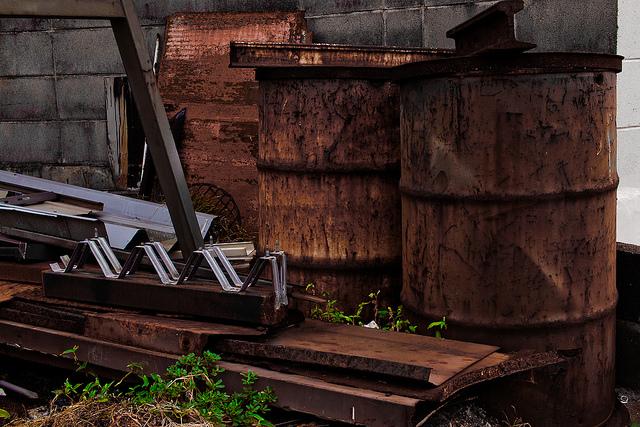 The biggest story of the day was commodities. Oil (NYSEARCA:USO) got crushed following a dreadful inventories report. Crude inventories were up almost 10 million barrels, against a fewer than 3 million barrel estimate. Gasoline stocks were down significantly, but this was mostly offset by a build in distillates, contrary to expectations of a significant draw.
The oil bulls are trying to play down the report by saying rising imports were to blame. However, that would be double counting. Some imports were said to be delayed recently, helping last week's report - it's only natural that those imports would show up this week.
Regardless of the minutiae, the fact remains that the world in awash in crude. And the talk of a cut or cap on OPEC production seems to be mostly hopeful rumors rather than anything grounded in solid information.
This run in oil in reminiscent of the pop at the end of last summer, when we went from the $30s to the low $50s virtually overnight. Then, the market abruptly reversed and ground lower, eventually finding new lows.
There haven't been any large shifts in either supply or demand that justify the recent rally. This run over $40 was a great opportunity to take some profits or hedge, but it's over now. If you're still long, make sure you have a sensible exit strategy. Things could get ugly in a hurry.
And it wasn't just oil. In fact, just about everything - including the stock market - remains correlated to oil. Just take a look at this heat map from Finviz: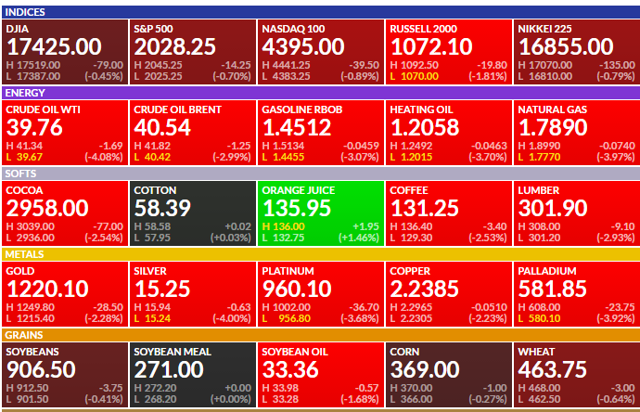 Click to enlarge
With the laudable exception of orange juice, just about everything in the commodity space got absolutely splattered. Natural gas (NYSEARCA:UNG) dove with oil. Soft commodities like coffee (NYSEARCA:JO) and cocoa suffered dramatic losses.
The metals fared almost as badly as oil did. Gold (NYSEARCA:GLD) dove $30/oz, and silver (NYSEARCA:SLV) got lit up for a 4% decline. Copper (NYSEARCA:JJC) also fell back sharply.
Some of this is attributable to more hawkish Fed commentary in addition to oil's sharp reversal. The same trends that caused the commodity meltdown in the first place haven't been alleviated.
Is China all fixed now? To the contrary, the sky continues to darken there. Has the oil glut been resolved? No, no it hasn't. Have other developed markets such as Europe and Japan started to move into a higher economic gear? Again, no.
If you want a solid reversal in commodities, you need an end buyer that has growing investment appetite. Until then, the commodity bear market drags on, sharp bear market rallies notwithstanding.
Gold: Traders Should Sell Now
To be clear, this is not commentary on gold as a long-term store of wealth. I own a few gold coins as part of my diversified bucket of alternative assets. I will keep holding these regardless of what the price of gold does in the near term.
With that out of the way, if you own gold for a trade, it's high time to ring the register and step aside. Gold's rally in 2016 has been one of the year's most puzzling events.
Yes, there was some logic to buying gold during the dark days in January, when investors suddenly became convinced we were in a bear market. But since then, things have calmed down, the S&P has moved 250 points higher and reasons to panic have subsided.
There was some move into gold as an anti-dollar trade. But the US dollar (NYSEARCA:UUP) held support and is now moving higher within its well-defined trading range. As far as interest rates go, the Fed is hiking less than previously projected, but with Europe and Japan going negative, there's still enough of a carry to keep the dollar elevated.
For gold to rise, you either need western traders to buy it as a fear or inflation hedge, or you need Chinese and Indian consumers to buy more. The Indian economy is alright, but China is in the doldrums - you're unlikely to see consumption surge overall from Asia. So then you're left hoping fickle western momentum traders will push demand higher.
Tuesday gave gold bulls a perfect opportunity. Belgium's terrorist attack was the sort of risk-off geopolitical event that can often make gold fly. Instead, gold moved politely higher for a couple hours, gave it back, and then proceeded to plunge lower the next day:

Click to enlarge
If gold were in the early stages of a new bull market, a major terrorist attack would have been a meaningful event to fuel the growing enthusiasm. Instead, the market shrugged.
Even worse were the gold miners (NYSEARCA:GDX). The sector has been on fire in 2016, but the rally is now in grave danger. Wednesday had the feel of a sudden run for the exits when all of those who were positioned wrong try to sell at the same moment. Liquidity disappears, and prices simply plummet: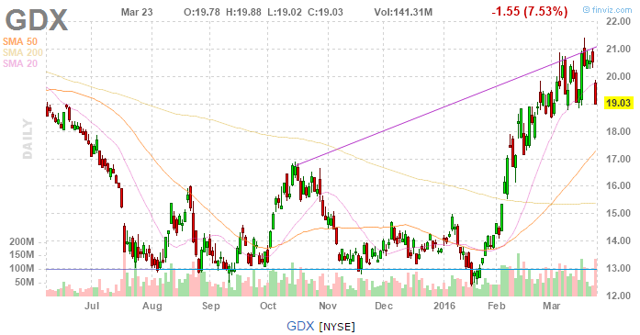 Click to enlarge
Miners can still claim support if they bounce back immediately; if they don't, the uptrend since January will be broken. For those who like technical analysis, I'd note gold miners broke the 20-day moving average with a gap down and continuation lower in October. They made the exact same move on Wednesday.
Given that the fundamental case for a major rally in gold here is very weak, most of the recent move has come from technical traders. Once trends break, this type of hot money disappears in a flash. Like with oil, gold and silver face the possibility of a big flush in coming weeks.
Disclosure: I/we have no positions in any stocks mentioned, and no plans to initiate any positions within the next 72 hours.
I wrote this article myself, and it expresses my own opinions. I am not receiving compensation for it (other than from Seeking Alpha). I have no business relationship with any company whose stock is mentioned in this article.