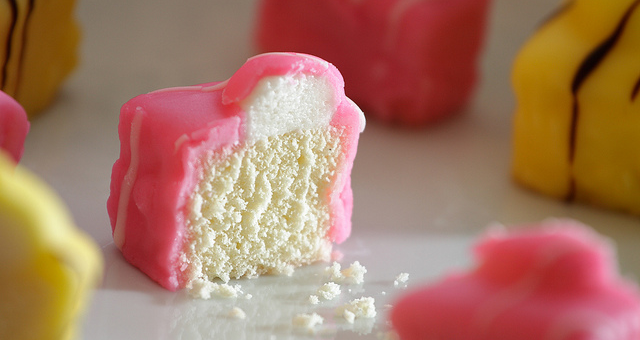 Food peers McCormick & Co (NYSE:MKC) and Premier Foods (OTCPK:PRRFY) have featured on my watchlist for some time. Premier Foods has not, however, seriously featured as an investment for a while as it has not paid a dividend since 2008 as the fall-out from the massive £1.2 billion Rank Hovis McDougall acquisition began to be felt. Yet I have always recognized that it has significant appeal for its brands even if the company itself remained under pressure.
McCormick, by contrast, featured again on my investment list when I reviewed it as part of my "Food Fight" series recently.
News that McCormick had made a couple of bids for Premier was therefore of interest. Yet it did catch me by surprise. What is it that McCormick found had moved it to make a bid at the moment? Let's take a look.
What's the Deal?
Well, actually, it was two deals. The first came on 12 February. According to Premier they received their first 52p per share proposed bid from McCormick then. Premier was then trading at just 31.75p on that day when the 52p bid was proposed.
McCormick returned on 14 March (when Premier was at 32p) with a sweetened deal. The 52p per share was hiked up to 60p per share. A 90% or so premium on its then current share price.
Despite this, Premier have unanimously rejected both bids because they "significantly undervalue" the company and its prospects. Premier's Chairman, David Beever, added that:
McCormick's Proposal represents an attempt to capture the upside value embedded in Premier's business that rightfully belongs to Premier's shareholders. The Proposal fails to recognize the value of Premier's performance to date and prospects for the future, including the strategic plans we have to accelerate growth.
The proposal seems generous. Yet their rejection is equally adamant. In response, McCormick stated that:
McCormick believes that an all cash offer at this level should be well received by Premier Foods' shareholders, employees, pensioners and other stakeholders, and would provide Premier Foods' shareholders with an attractive premium combined with the certainty of cash value now.
Clearly both think the deal is good for both sides of the equation. Certainly McCormick continues to see compelling value at the business. So, can both be right?
Is McCormick Making an Error?
There are plenty of reasons why Premier Foods would look less than appealing. In recent years they have struggled for revenue growth. Yet it should be stressed that much revenue has been lost from reported figures due to brand disposals (massive ones, unsurprisingly, occurred in 2012):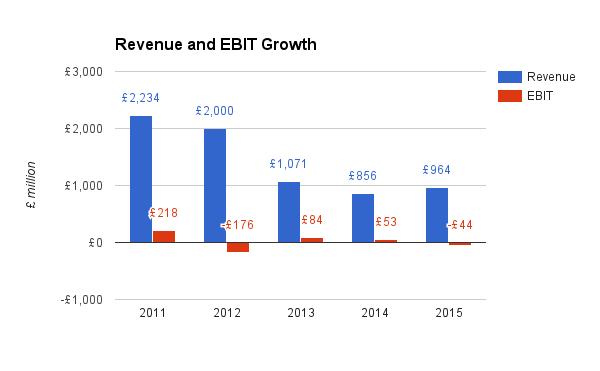 Nonetheless, the company has been struggling to keep its bottom line looking healthy in recent years.
Nor is the picture any better on the cash flow front: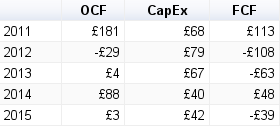 Premier has been undertaking a significant turnaround plan, however. Despite this, revenue did not look any better at first half results time, even when adjusted to a pro forma basis: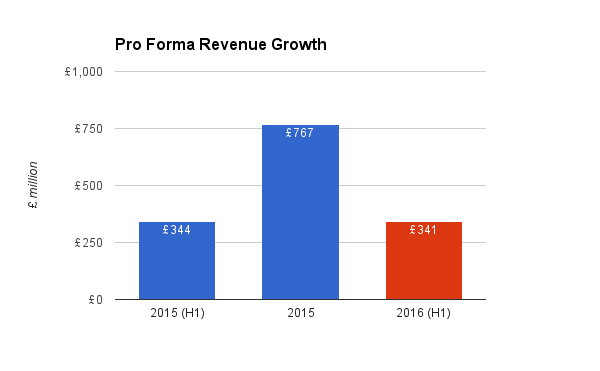 Continuing supermarket price wars and subsequent food price deflation has clearly kept a lid on any strong indications of revenue growth for the company at the moment.
Why Make a Bid for Premier Foods?
So why on earth is McCormick interested in Premier? Well, some green shoots have recently been emerging despite tough conditions. Operating income has seen a nice pop into the positive at H1 2016 time: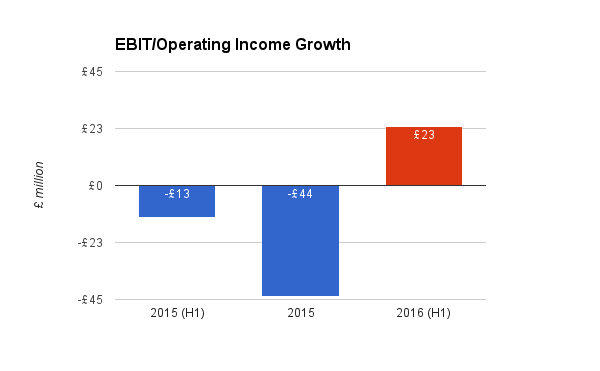 Looks much better doesn't it? Yet underlying this is the fact that exceptional items drove this change. H1 2015 saw a £16 million impairment charge, £6 million loss due to operations disposal and pension and administrative charges were £13.4 million in contrast to the £7 million of H1 2016. All told. Adjusting for these would have seen H1 2015 operating income sitting at £15.6 million rather than the -£12.8 million actually experienced. Still, clearly improvements are being seen which I would expect to see continue at the year's end.
Premier has also managed to chisel down their suffocating debt levels: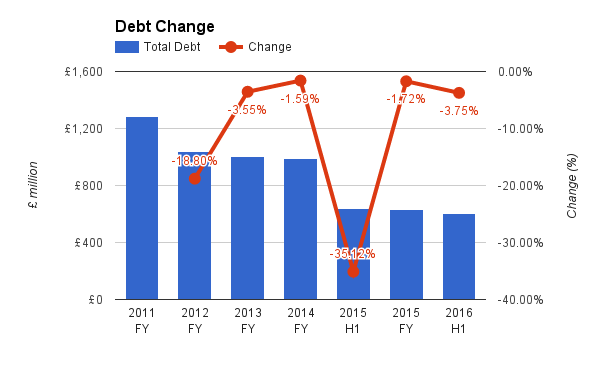 The thing is, Premier is clearly making progress after a long, hard slog of a turnaround. McCormick has clearly recognized this fact and tried to jump in opportunistically before the turnaround really gains traction and gets reflected in the share price.
Strong Brand Appeal
Consequently focus can turn to the value of the brands in their portfolio. And they are impressive: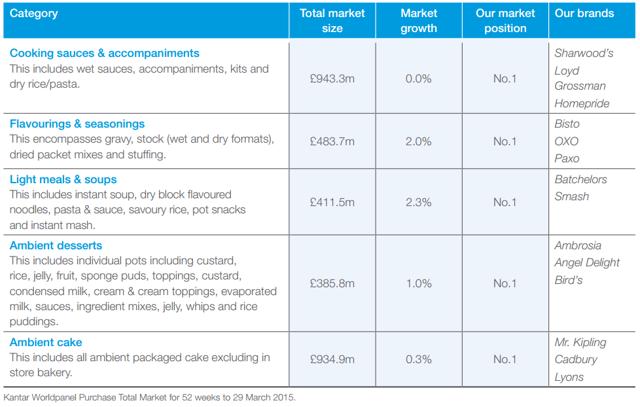 Click to enlarge
Premier has a dominant UK market share position in every segment in which they operate. Premier's brands are pretty much ubiquitous in UK households. 96% of all UK households have a Premier product somewhere in their house.
Premier's "grocery" segment (including all but the ambient cake category above) dominates their revenue at nearly 72% whilst "sweet treats" makes up the remaining revenue share. Their market positions reflect an underlying market share which is quite compelling: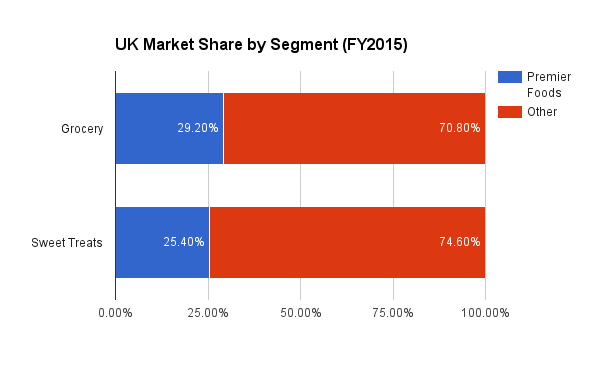 Premier's biggest market is by far the UK: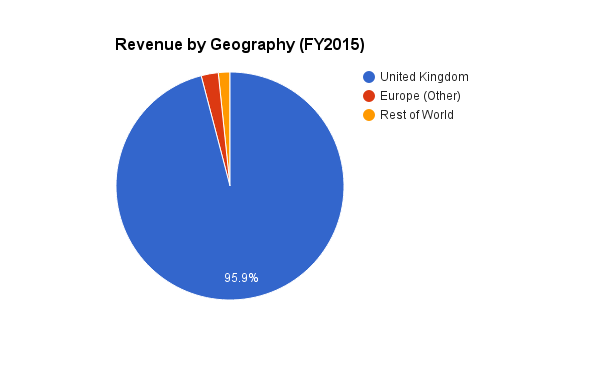 The company has been looking to move outside of the UK. Gavin Darby, Premier's CEO, noted in the 2015 Annual Report that:
There are potentially lots of growth opportunities for our brands beyond the UK. I think we're only scratching the surface at the moment. We're now investing in building a stronger International team, in a dedicated business unit, to go after these opportunities. Our longer-term strategic focus is on scale markets such as China, the United States and Australia. But there are plenty of near-term opportunities in other markets. For instance we are successfully building a stronger business in Ireland.
International moves are understandable.
Premier was hit hard by the particularly vicious supermarket price war in the UK stimulated by the rapid rise of the hard discounters such as Aldi and Lidl (a fact their annual report clearly recognizes):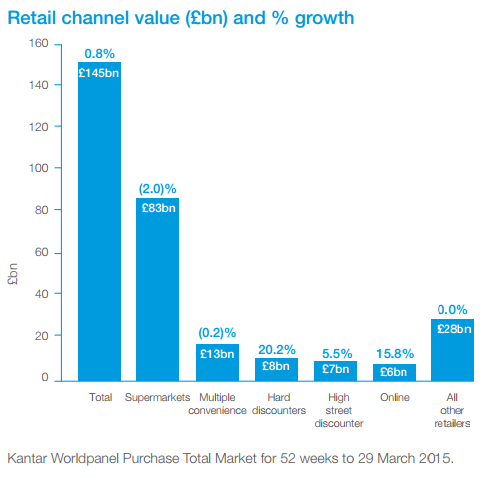 Yet their response has been solid. I often pop into local hard discounter branches to see how well "big brands" are holding up to the threat of discounters with their tendency to sometimes sail a little too close to "passing off" (or "misappropriation" in the US) of familiar brands. Premier brands are, actually, remarkably robust. They remain extremely prominent amongst the aisles of the discounters which is not universally true of other big UK brands. Nonetheless, moving out of such a huge dependence on the UK market is attractive.
Premier's brand are also powerful and have the potential to appeal to consumers outside of their home market. Individual brand margins remain compelling even if the business itself continues to face an uphill struggle.
Conclusion
Even without this international expansion, Premier is a compelling company. Its turnaround remains in it early phase. Premier is only just seeing these green shoots come through.
It is hard to conclude much at this point. Yet I have to agree with both McCormick and Premier on this. McCormick is right to have a go at trying to pick up Premier. It has a powerful set of brands with dominant market positions in the UK across a series of compelling and (mostly) complimentary food categories. The brands have strong margins and excellent potential for expansion outside of their home market.
Yet Premier is also, I think, right to oppose the 60p per share proposal. The company has brands which are, certainly, highly valuable. It has also made progress in its turnaround which is yet to (but hopefully about to) bear fruit for investors.
Will McCormick come back and make a formal offer? Maybe. Yet what is certainly true is that there is a lot of value in Premier for which I can fully understand McCormick's interest. As McCormick's management explained:
An acquisition of Premier Foods, one of the leading branded food companies in the United Kingdom, would be consistent with McCormick's long-term strategy and has the potential to create value for McCormick shareholders.
How best it is to be unlocked it is unclear: by Premier alone or under McCormick. Yet McCormick's belief that it could leverage its skills to help Premier's brands grow not only in their current but also international markets seems pretty compelling and correct. Yet the deal may have to been spiced up a little further to get all on board.
Notes
Unless otherwise stated, all graphs and the calculations contained within them were created by the author. Creative commons image reproduced from Flickr user 66720528@N04.
Disclosure: I/we have no positions in any stocks mentioned, and no plans to initiate any positions within the next 72 hours.
I wrote this article myself, and it expresses my own opinions. I am not receiving compensation for it (other than from Seeking Alpha). I have no business relationship with any company whose stock is mentioned in this article.
Editor's Note: This article discusses one or more securities that do not trade on a major U.S. exchange. Please be aware of the risks associated with these stocks.