Image source: Endo.com
Endo (NASDAQ:ENDP) is facing a perfect storm of negative events since September 2015. Valeant's (NYSE:VRX) problems spread like wildfire over the pharma sector over the last seven months. Price gouging, specialty pharmacies, debt-fueled M&A, excessive debt and accounting issues have brought Valeant's share price down almost 90% in less than a year, and the market has decided that Endo and its peers are guilty by association. Investors are selling first and asking questions later - and apparently, still not buying back their shares later.
While Endo might be having some problems that are similar to Valeant's, I believe that the latest selloff is an overreaction and that the company might come out stronger than it was. The company has several assets with strong growth prospects, and the weakness in some parts of the business should not have a profound effect on its ability to grow revenues and earnings and to pay down its debt in the following quarters. Lower full-year expectations for revenues and earnings are possible and even likely due to the earlier than expected generic competition for Voltaren gel, but the maximum impact on full-year revenues should be in the 2% to 3% range.
A lot of bad news over the last couple of months
I will now analyze the external and internal events that caused the 70% drop:
A flood of negative external events over the last 7 months came from Valeant. Price-gouging was the first issue raised back in September 2015 and has led to a massive selloff in pharma stocks. It has also changed industry dynamics. Pricing pressure, higher rebates, and regulatory scrutiny were the consequences and Valeant was hit with all three while Endo's product portfolio has also felt the impact - especially the generics segment since generics are the most affected by the price gouging rhetoric.
Another issue that was raised recently - Valeant's excessive debt and the possibility of the company going bankrupt. The aggressive debt-fueled M&A strategy is something Endo is also very familiar with, and the market has reacted to Valeant's problems by selling all the pharma stocks regardless of their financial health. Horizon Pharma (NASDAQ:HZNP), Depomed (NASDAQ:DEPO) and Mallinckrodt(NYSE:MNK) are Endo's and Valeant's closest peers, and they all fell more than 15% following the news that Valeant is facing a default if it does not file its 10-K on time. And while I am not following Mallinckrodt, I can shed some light on the potential difficulties Horizon, Depomed and Endo might have with their debt loads. In the table below, you can see the most important financial metrics for these four companies.

Click to enlarge
Source: Yahoo! Finance, Endo, Mallinckrodt, Horizon (2015 debt/EBITDA ratios adjusted for Crealta acquisition), and Depomed financial reports
The company with the estimated best financial health is on top and the most troubling is at the bottom (based on my opinion). Horizon has the strongest financial profile - low tax rate, diversified product portfolio (but concentrated enough) and a strong and growing focus on orphan products, significant free cash flow and the lowest net debt/EBITDA ratio. Depomed is second but relies too much on Nucynta (more than 50% of total revenues). Mallinckrodt is last due to its reliance on Achtar (a third of revenues and more than a third of profits) and has the lowest growth profile along with an unfavorable net debt/EBITDA ratio. Endo is third and its strengths are diversification and ownership of some promising assets (more on that later) while the major weakness is the perceived debt problem (I will talk about other potential weaknesses in a moment). Endo's net debt/EBITDA ratio at the end of 2015 was 4.37 and the company expects to de-lever back to a range of 3 to 4 by the second half of 2016. The company had $273 million in unrestricted cash at the end of 2015, which could be considered low for a company with more than $8 billion in debt. However, Endo should generate strong free cash flow in the following quarters - management expects it to be in line with adjusted earnings, which means free cash flow in 2016 should be around $1.2 billion, which should help bring down the net debt/EBITDA ratio to the targeted 3 to 4 range in 2H 2016. I am targeting a net debt/EBITDA ratio of around 3 by the end of 2016 and believe that the company will have no trouble in this area.
Endo was also forced to increase the vaginal mesh product liability pre-tax accrual by $834 million in Q4. Endo said on the Q4 2015 conference call that: "The environment around mesh product liability has evolved rapidly, with an influx of claims having been presented to the company in late 2015. We believe these additional claims are primarily the result of increased advertising by plaintiffs' attorneys, a lack of meaningful settlements by other mesh manufacturers, and higher-value verdicts awarded against other manufacturers. That said, we've taken the approach to strategically settle higher value and quality case inventories with key plaintiffs' lawyers in certain individual cases." The mesh problem is not gone yet but it is getting closer to an end. Endo has also decided to shut down Astora Women's Health business, which will reduce the potential for product liability related to future mesh implants - which were likely to happen if Endo sold it instead of winding it down.
Endo guided for Q1 revenues and earnings below the analyst consensus. This was not a major surprise since the company did say that revenue and EPS contribution in Q1 should be the lowest and that the revenue and earnings growth will be back-end loaded this year due to increased investments related to the Belbuca launch in 1H 2016.
Earlier than expected generic competition for Voltaren Gel. Endo's guidance for 2016 assumed no material impact from generics on Voltaren Gel. It now appears that a generic competitor will enter the market sooner than expected which will likely negatively impact Voltaren's revenues in the second half of the year. Voltaren generated around 6% of Endo's total revenues in 2015 and the impact on the company as a whole should not be significant. The worst-case scenario should be a 2% to 3% impact on total revenues for 2016. The company plans to provide additional details regarding the potential impact no later than its Q1 earnings in early May.
Given all the negativity, a 70% decline in less than a year is not that surprising. However, I think that the market has overreacted and that Endo is worth more. I am not dismissive of any of these issues but believe that they are more than priced in at this point.
Endo has several promising assets, which should drive double-digit revenue and earnings growth in the following years
Endo has several assets with significant growth potential:
1. The company launched Belbuca a few weeks ago and management expects the product to contribute significantly in the following years. The pain sales force was significantly expanded and Endo expects Belbuca's revenues north of $250 million by 2019. It is too early to know how successful this launch will be, but coverage and reimbursement will be an issue early in the launch and Belbuca's growth should really pick up in 2017 and beyond. Longer term, Belbuca's annual revenues could reach $500 million. I covered this subject extensively in my previous article on Endo.
2. Xiaflex is already an important asset for Endo. It has generated around 5% of total revenues in 2015 and the company is expanding the physician base and is working on increasing awareness. The broad DTC campaigns, including a program with celebrity spokesperson Dr. Jerry Punch, have kicked off in March. However, Xiaflex also has a robust pipeline with several indications that could drive revenues to $1 billion in the long term.
3. The generics business was transformed with last year's acquisition of Par Pharmaceuticals. The acquisition has expanded the higher barrier to entry and alternative dosage product portfolios and has tripled Endo's R&D pipeline. And while generics generally have a lower gross margin than branded products, the growth in 2016 and beyond should come from highest value categories with higher margins and will positively affect Endo's overall margins. Endo also expects some high profile generic launches later this year, including Seroquel XR and Zetia.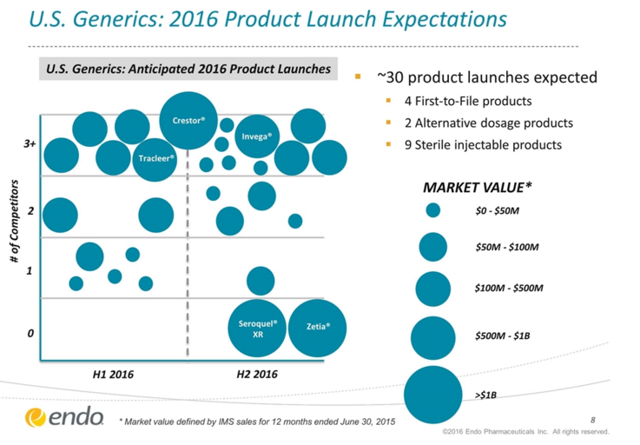 Click to enlarge
Source: Endo investor presentation
Overall, Endo expects mid-to-high teens revenue growth for the generics business in 2016 and significant long-term growth given Par's very deep pipeline with more than 100 potential product launches through 2019, which include 20 first-to-file products.
These growth drivers should offset the pricing pressure in the generics business and the headwinds in the branded segment. The company is diversified enough to withstand the potential pressure from generic Voltaren Gel and the strong free cash flow this year should strengthen the balance sheet and reduce the debt load.
What the valuation could look like in normal and good times
I already discussed this subject in my previous article, but I think it is worth repeating. The sector pressure has brought Endo's valuation to levels not seen for a very long time. The adjusted TTM P/E ratio is even lower than it was back in 2014, when the company was much weaker than it is today and when earnings and revenues were falling. The situation is much better today from a fundamental perspective and the company is well positioned to deliver double-digit top and bottom line growth over the next few years.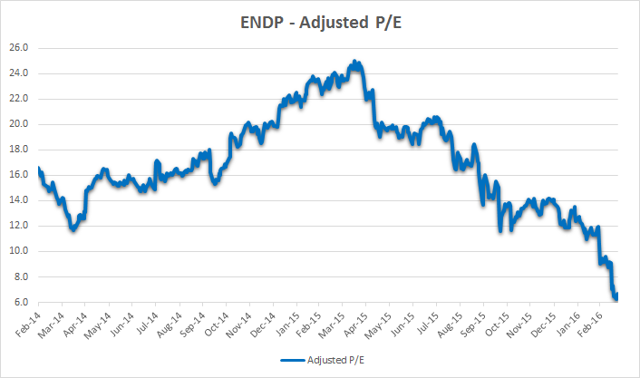 Click to enlarge
Source: Endo earnings reports, Yahoo! Finance
Once the situation in the sector stabilizes, Endo could rally 50% or more. In normal times and in bull markets, Endo's TTM P/E could easily claw back to a range of 15 to 20, which translates into a share price range of $90 to $120 by early 2017 based on the current 2016 EPS consensus, but I would be satisfied if the stock goes back to a TTM P/E of around 10 for now, which translates into a year-end price target of $60.
The analyst median target is $66 but is likely subject to downward revisions given the latest developments. There is a risk that Endo will fail to deliver on its guidance due to the above-mentioned headwinds, but if the company can deliver EPS of around $1 in its weakest quarter of the year - Q1, I think that the adjusted EPS can, at least, be $5.50 this year as opposed to the company's guidance for $5.80 to $6.20.
Conclusion
Endo is significantly undervalued. The negative developments seem more than priced in and the company is expected to deliver solid long-term revenue and earnings growth. Belbuca and Xiaflex should be the main branded growth drivers in the following years while more than 100 generic launches through 2019 should lead to the segment's double-digit revenue growth over the next few years. The debt burden is manageable and the net debt/EBITDA ratio should return to a range of 3 to 4 by the end of 2016 helped by solid free cash flow. A return to a historically normal valuation range would result in significant gains over the next two to three years.
Disclosure: I am/we are long HZNP.
I wrote this article myself, and it expresses my own opinions. I am not receiving compensation for it (other than from Seeking Alpha). I have no business relationship with any company whose stock is mentioned in this article.
Additional disclosure: This article reflects the author's personal opinion and should not be regarded as a buy or sell recommendation or investment advice in any way.