Action: Initiate Position
As of today, March 23, 2016, YRC Worldwide (NASDAQ:YRCW) will be considered for the Lean Short-Term Growth Portfolio, LSGP. This portfolio has been created to take advantage of short-term growth opportunities. The portfolio's primary goal is to buy companies with upside potential within an immediate 12-month time frame.
In the event a company's fundamentals improve meriting longer-term consideration, the holding will be transferred to the Lean Long-Term Growth Portfolio, LLGP. Current holdings for the LLGP can be reviewed here. Based on the LSGP objectives, YRC Worldwide is a suitable initial candidate. Due to the shorter-term nature of the LSGP, higher risk/reward opportunities will be considered more frequently than in the LLGP.
Fundamental positives for YRC Worldwide include a significant less-than-truckload, LTL market presence, second only to FedEx (NYSE:FDX) by tonnage, as well as, the fact that the company has taken steps to restructure and reduce debt and extend its union contracts out to 2019. Both of these items have provided a clear path towards improved adjusted EBITDA, diluted EPS, and free cash flow.
The near-term opportunity is that during 2016, diluted EPS should increase substantially from the $0.02/share earned during 2015. The knock on the company has been the downward revisions of diluted EPS over the past year, including downward revisions for 2016 with March 2016 estimates currently at a negative $0.38/share.
The chart below provides an illustration of YRC Worldwide's deviation from its peer group once its earnings results became public. This provides investors with a clear risk side perspective, as the earnings miss during the fourth quarter of 2015 drove the stock price down over 30 percent in one day.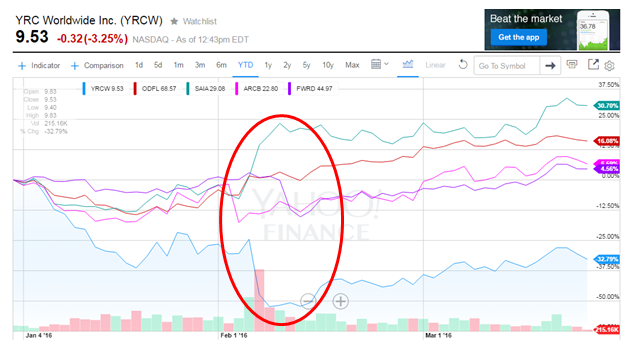 Source: Yahoo! Finance
Despite this, average analyst target prices are near $18/share supporting the upside thesis. From today's level, this represents a potential return greater than 85 percent. Additionally, the company's stock price trend has gotten back in line with its peers since mid-February. This indicates that the market is willing and eager to see a positive outcome for the year.
Realistically, the company needs to generate a perception that it can and will execute on delivering diluted EPS closer to the $1.00/share level to drive the stock price higher. The biggest concern for analysts and investors is the current uncertainty surrounding the company's estimates. If the company were able to guide and perform at a level missing today's $1.25/share estimate by 30 percent, it would still translate to a 4,500 percent improvement from 2015 and give the company a P/E near 10 times earnings. Meeting estimates despite a lower level, would translate to stock price growth.
To make improvements during 2016, management has taken steps to reduce tonnage contracts in order to improve yields. During 2015, there was evidence of improvement to both revenue/hundredweight and revenue/shipment, with revenue/shipment being up for the year. Tonnage was down around 4 percent for the year with shipment declines outpacing tonnage. This was contrary to most of YRC Worldwide's peers who witnessed lesser declines in shipments versus tonnage, Old Dominion Freight (NASDAQ:ODFL) and FedEx being the exceptions with positive growth.
Investors should continue to monitor this progression as in the event tonnage and/or shipment yields decline; this could signal that the strategy is not moving along as preferred. Additionally, investors should be tracking analyst revisions to diluted EPS and revenue estimates. If further downward revisions are still missed, the stock price will most likely repeat to some degree the February sell-off.
The company has a current free cash flow yield of 17 percent today as operating cash flow has substantially improved with the lack of net income losses during 2015. The company was able to grow its capex by 56 percent as well which should lead to a growth in depreciation and amortization. Combined with further improved net income, this should continue to drive free cash flow further during 2016.
The company will be expected to pay down debt based on this. As assets grow and debt is paid down (most likely around $50-75 million in any given year), the company's equity should begin to approach positive levels. As this occurs, leverage ratios should improve. If 2016 begins to display progress towards these events, this should serve as a catalyst lifting the stock price towards analyst targets.
This is obviously a high risk/reward opportunity. For this reason, the stock price may move quickly and the company's risks may warrant taking profits quickly as a result. The SLGP will consider adding an initial position beginning today, with the goal of maximizing short-term returns and/or considering the company's long-term prospects as the fundamentals change during the course of the year.
Disclosure: I/we have no positions in any stocks mentioned, but may initiate a long position in YRCW over the next 72 hours.
I wrote this article myself, and it expresses my own opinions. I am not receiving compensation for it (other than from Seeking Alpha). I have no business relationship with any company whose stock is mentioned in this article.