2016 was the worst start for stocks on record, and real estate investment trusts did not fare much better than business development companies, or auto makers. That being said, though, the market slide in the first two months of the year was followed by a strong recovery rally in the second half of February and in March that lifted up most stocks, including those of high-yield income vehicles. Robust job gains and a low unemployment rate, as well as the Federal Reserve's decision to not move interest rates last week, have further supported stock prices.
Bargain and yield hunters were indeed in an enviable spot in February, and those who had the guts to make a bold call and buy stocks during the market meltdown, are now laughing all the way to the bank. Take real estate investment trust VEREIT, Inc. (NYSE:VER), formerly known as American Realty Capital Properties, for instance: The REIT is up nine percent for the year after dropping in both January and February to $7. VEREIT effectively gained ~29 percent (!) since falling to a 52-week low of $6.68 on January 20, 2016.
Not a bad rebound, is it?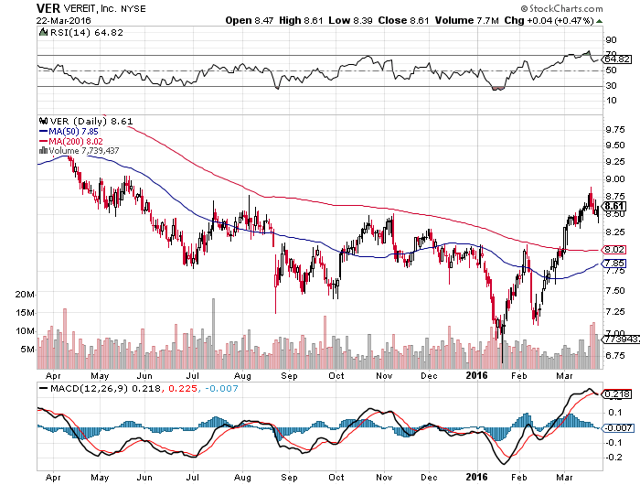 Click to enlarge
While VEREIT has recovered all of the losses sustained in 2016, and then some, the real estate investment trust is everything but expensive at this point. Granted, VEREIT is much more expensive than two months ago when investors ran for shelter and the REIT was really kicked into the bargain, but on an adjusted funds from operations basis VEREIT is still quite a steal.
Despite Latest Recovery Rally, VEREIT Is Not Too Expensive
VEREIT guided for $0.75-$0.80/share in adjusted funds from operations, or AFFO, in 2016, which by the way handsomely covers the REIT's $0.55 dividend payout (paid quarterly at a rate of $0.1375/share). Since VEREIT changes hands for $8.61 at the time of writing, investors are required to pay ~11.1x estimated 2016 AFFO for a REIT that has no problems paying its dividend. Though VEREIT is a 'higher risk' REIT than Realty Income (NYSE:O), for instance, VEREIT is not too expensive yet.
Realty Income, an income investor and Wall Street darling, sells for more than $60 a share, or ~21.2x projected 2016 AFFO. While Realty Income deserves to trade at a higher valuation thanks to its consistent dividend growth, VEREIT is nonetheless WAY too cheap on an AFFO basis. VEREIT, therefore, is in a position to command a higher market valuation while income investors get paid to wait. VEREIT's dividend coverage and stable cash flows from its property portfolio make a dividend cut very unlikely.
Your Takeaway
VEREIT has rallied in the last couple of weeks, and the real estate investment trust is now solidly in positive territory for the year: VER is up ~9 percent. Despite the recent recovery gains, VEREIT is not too expensive at ~11.1x AFFO. VER sells for a 6.39 percent yield at the time of writing while its dividend is handsomely covered by the REIT's cash flow.
Disclosure: I am/we are long O.
I wrote this article myself, and it expresses my own opinions. I am not receiving compensation for it (other than from Seeking Alpha). I have no business relationship with any company whose stock is mentioned in this article.