There has been a new sheriff in town at the land development company Forestar Group (NYSE:FOR) since September 2015, when Phil Weber took over the role of CEO from James DeCosmo, a move perhaps related to changes sought by some activist investors at Spring Owl Associates and Cove Street Capital. He has wasted little time selling off anything deemed a non-core asset, cutting SG&A and headcount, and focusing the business tightly around single-family residential community development. The market has responded well to the results and guidance on this new strategy announced earlier in March, with the stock now trading up for the year over 15%.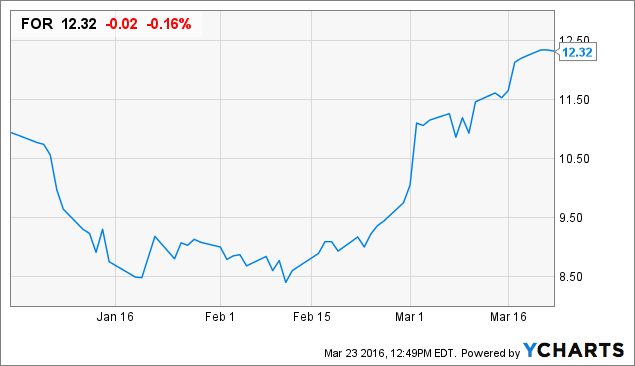 Under DeCosmo, the company was playing a few games at once: residential developments for both single and multi-family units, minerals and timber rights, oil and gas, and even water. Back in 2011, Forestar began to bet fairly big on oil and gas, going a debt binge to acquire oil and gas properties around the United States; the balance sheet changes between 2011 and today are fairly eye-popping. Total debt in Q4 2011 stood at $221M, while oil and gas (O&G) assets were valued at $4.5M. Over the next four years, the debt would balloon to over $400M, corresponding to O&G assets at a peak of $278M in Q1 2015. In the three quarters that have followed, between impairments taken on those assets and selling them off, Forestar Group has $81M in O&G assets as of year end 2015, while still carrying $390M in debt.
While it appears in hindsight the company took on too much O&G exposure, management maintained in the most recent earnings call that these assets were cash-flow positive for the year to the tune of $7.5 million, and their 10-k reports an average price per barrel of $42 in 2015 (10-k, page 40). Even with oil slumping further so far in 2016, the prospects of oil and gas being a drag on cash basis should be minimal, and Forestar's other resource businesses ended 2015 pretty well break even.
The real question is long-term viability of being exclusively a residential community developer, which appears to be the absolute focus for the moment. In the current American economic environment, for those who accept the theory that the Federal Reserve is slowly but surely moving to higher interest rates, then a company like Forestar could be doubly impacted - its own cost of capital would rise, and the conditions for selling its residential properties would become tighter at the same time. By their own calculations, interest rate increases on their existing variable rate debt would have negligible impact - even a 200 basis point increase would amount to only an annual $700,000 decrease in pre-tax income (10-k, page 54), but the real risk would be in the accumulation of new debt under higher rates and even tighter conditions for mortgage borrowing.
The data for new housing starts since the Great Recession is already not that great - most of the good news in housing figures has been driven by sales of existing homes. According to this Business Insider article, existing home sales have recovered to pre-crisis levels, while new homes are lagging still considerably, somewhere around 50% of pre-crisis figures. At the same time, rents are rising, just as Forestar has announced it will be exiting the multi-family segment (10-k, page 36), although it still has a reasonable portfolio. Residential real estate obviously varies from market to market, and Forestar is heavily concentrated in the suburbs of southern cities - properties in Charlotte, Atlanta and Nashville, along with Tucson represent some of their new acquisitions; multiple other communities are spread around Texas, where the company is based.
While this might mean there is plenty of room to run in new housing, if rates are headed up then it would seem likely new housing is not going to catch up anytime soon. For Forestar, this could become a real problem. Revenue from residential real estate was down $32M in 2015 YoY, a fact attributed largely to weather conditions; at the same time, Michael Quinley, the company's head of Community Development, reported on the call that in 2015 they ended up with "more new inventory than we sold." While he sees this as a positive, it may suggest that demand is creeping down, a trend that would only be exaggerated with higher rates.
Given the direction of broad trends, I cannot say I love the community development strategy that Forestar has decided to pursue, even though they are giving forward guidance that suggests improved conditions in 2016 in terms of volume of lot sales and a stable market. However, since the close of Q4 2015, the company has sold off $21M in oil and gas assets, and is in the process of closing on a $130M sale of the Radisson Hotel and Suites in Austin, so by 2Q of 2016, the cash position would be expected to be double or more what it was at the end of 2015. With activist investors still on board, I expect management to really be looking for ways to deliver favorable shareholder returns, and I suspect some stock buybacks could be forthcoming.
Conclusion:
If you are dovish on the Fed and think rates will not rise, then Forestar could be a good buy since management seems dedicated to providing strong returns and has improved the cash position.
If you are more hawkish on the Fed, then steer clear for now, as the risks of generating strong cash flow over the long-term in residential housing development is getting riskier.
Disclosure: I/we have no positions in any stocks mentioned, and no plans to initiate any positions within the next 72 hours.
I wrote this article myself, and it expresses my own opinions. I am not receiving compensation for it (other than from Seeking Alpha). I have no business relationship with any company whose stock is mentioned in this article.