Trading at a current P/E ratio of 80, Under Armour (NYSE:UA) does not look cheap especially when compared to Nike (NYSE:NKE), Adidas (NYSE:ADS), and Lululemon Athletica (NASDAQ: LULU) which all trade near 30 P/E. While UA has experienced 21 consecutive quarters of growth, the stock price has risen almost tenfold in the last decade.
UA management have forecast revenues to hit $7.5 billion by 2018 translating to roughly 23.7 percent compound annual growth. This will be driven by continued expansion in the largest category: apparel sales as well as a target CAGR of 40 percent in footwear and 50 percent in international markets. Despite UA's high valuations and meteoric rise in share price, I believe that the company shows tremendous potential with its lucrative sponsorship deals, innovative products, and rising brand awareness and thus consider UA to be a long-term buy and hold.
Curry Factor
Stephen Curry, the reigning MVP and the leading contender for the 2015-16 MVP title, is arguably UA's most prized sponsorship. Curry helped guide the Golden State Warriors to a NBA championship last season and is currently leading the quest for a record breaking season seeking to top the 72 wins set by the Michael Jordan led Chicago Bulls in the 1995-1996 season.
Curry signed with UA in 2013 after NKE failed to match a deal worth less than $4 million. Though at the time, Curry had been plagued with ankle issues, UA considered him to be a risk worth taking as they sought to expand their footwear line. While he has undoubtedly surpassed all expectations, it was UA's foresight and tremendous luck to form a relationship with Curry prior to his breakout years.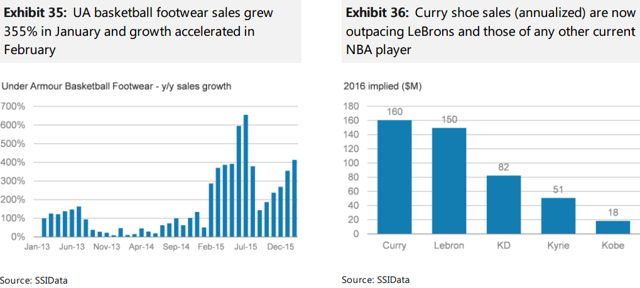 Click to enlarge
Source: Financial Times; SSIData
In the previous quarter, footwear sales surged 95 percent to $167 million, driven by an expanded running shoe line and Curry's signature basketball shoe line. While the footwear sales currently make up only 14 percent of revenues, UA has forecasted footwear sales to make up 22 percent of projected $7.5 billion in sales by 2018 as Curry's popularity continues to soar. Curry currently has the highest selling NBA jersey and even his pre-game sessions have become a must-see for basketball fans.
Though Curry's signature shoes are currently no match for Air Jordan's mass appeal, Curry 2 are outselling LeBron James' signature shoe line and Curry's future successes will only increase awareness and footwear sales. Last year, Curry renewed his contract with UA through 2024 and has received ownership in the company. Though NKE has deeper pockets, the company does not offer stock ownership as compensation perhaps given its breath of sponsorships. I feel however Curry's ownership in UA highlights his commitment and belief in the company's future successes.
Other Notable Sponsorship Endorsements
While Curry is a high-profile brand name, UA also boasts sponsorships with a number of other leading athletes.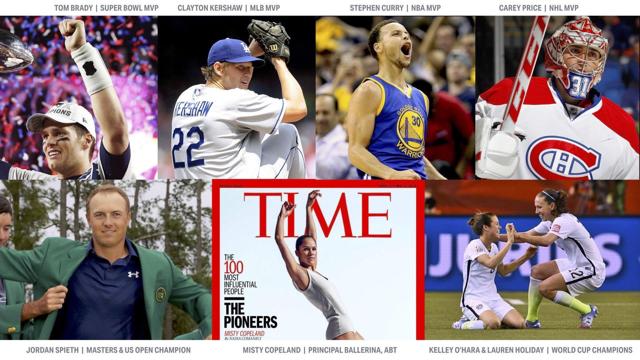 Click to enlarge
Source: Company Presentation
Cam Newton, the NFL regular season MVP, is considered by many to be the future of the sport. Though he was criticized for his recent Super Bowl performance as well as leaving a press conference mid-way, at the age of 26, he will likely have other opportunities to impress. In addition, most of his critics are likely not in UA's target demographic. With Newton's dabbing celebrations becoming a national dance craze, UA will likely continue to see strong sales from their investment.
Jordan Spieth, currently ranked number one in golf, signed a 10 year deal with UA in 2015 guaranteeing he will only wear UA apparel head to toe including golf shoes. The Spieth golf shoe line will go on sale on April 4 ahead of 2016 Masters tournament where Spieth will look to defend his title. UA signed both Newton and Spieth early in their careers thus establishing a relationship early and capitalizing on their ongoing career successes.
International Expansion
Though international net revenues made up only 11 percent of 2015 total sales, the segment is increasingly becoming more important. In the previous quarter, international net revenues grew 70 percent year on year and by 2018 are forecast to represent 18 percent of total sales. The upcoming Summer Olympics look to be a prime time for UA to further its brand reach.
Besides its sponsorship of Michael Phelps, the most decorated Olympian, UA is also working with 32 countries including USA, Canada, Mexico, Great Britain and Japan in a spectrum of sports including gymnastics, boxing and rugby. UA recently unveiled red, white, and blue uniforms for the USA men and women gymnastic teams designed for greater mobility and extra compression.
While UA had initially been blamed for Team USA's poor showing in speed skating at the Sochi Olympics, the renewal of team sponsorship till 2022 seemed to vindicate the company. In addition to the summer Olympics, UA's partnerships with Tottenham Hotspur F.C. (currently second in the English Premier League), Colo-Colo, São Paulo FC, and Cruz Azul will continue to raise brand awareness.
Connected Fitness And 3-D Shoes
UA recently debuted its limited-edition 3D trainer Architech designed to provide stability, cushioning and flexibility for athletes to switch sports without changing shoes. UA ultimately expects 3D technology to allow for customization of footwear according to athletes' height, weight, and other needs.
The company has also made significant strides in connected fitness by embarking on $700 million spending spree in health and fitness apps. The company acquired MapMyFitness (app that uses phone's GPS to log workouts), Endomondo (fitness tracking app) and MyFitnessPal (food-logging app) and expanded from 20 engineers to 350 engineers in the past three years.
Close to 160 million users logged in more than 2 billion workouts and 8 billion foods across UA's apps providing the company with a wealth of data. UA has partnered with IBM Watson to study data trends and provide insights to consumers on nutrition, sleep and fitness habits and thus create an engaged fitness community.
UA has also unveiled a pair of smart sneakers, Speed Form 2 Gemini sneakers, as well as Health Box, an integrated fitness system, comprised of a heart rate strap, wearable fitness band, and connected fitness scale which is powered by UA's fitness app. While Health Box received mixed reviews, connected fitness is currently only 1 percent of UA's total revenues and as the company continues to innovate there will be ample room for improvement in revenues.
According to the IDC's latest reseach report, a total of 111.1 million wearable units will be shipped in 2016, a 44.4 percent rise from 2015 shipments and by 2019, total shipments will reach 214.6 million units resulting in a five-year CAGR of 28%. This area looks to provide a healthy addition to UA's core businesses.
Marathon Not Sprint
The consensus estimate for earnings in Q1 2016 is $0.05 per share. If UA fails to meet this target, share prices are likely to fall and could be a good buying opportunity. One point to note is UA's operating margins might decrease due to the promotional spending for Spieth's shoe line which will only retail in April.
In the second quarter, footwear revenues should receive a boost driven by golf and basketball shoes. While some of this performance may depend on the successes of Spieth and Curry in the Masters tournament and NBA playoffs respectively, both athletes have a strong following to warrant a bump in sales.
UA's apparel sales should continue to show strong growth of near 20 percent. The company unveiled the official movie gear for the Batman vs Superman: Dawn of Justice film though superhero fatigue is a possibility. As the Summer Olympics approach, UA will likely disclose more details on their new compression technology and this should further boost apparel sales.
In the second half of 2016, UA's international sales will be under the spotlight. The company will need to show a post-Olympics boost as it strives to achieve its target of 50 percent CAGR. The company will also need to show some strides in connected fitness given its spending spree of $700 million.
Though UA is likely to experience some price fluctuations, I consider the company to be a long-term buy as it boasts sponsorships of top-level, highly marketable athletes and has ample of room to grow especially in footwear sales and internationally. Apparel sales are consistently strong and though the connected fitness may need a few iterations, it does show promise.
Disclosure: I/we have no positions in any stocks mentioned, but may initiate a long position in UA over the next 72 hours.
I wrote this article myself, and it expresses my own opinions. I am not receiving compensation for it (other than from Seeking Alpha). I have no business relationship with any company whose stock is mentioned in this article.