Earnings Reporter
My goal in this segment is to unlock both short-term and long-term growth in stocks that have just reported earnings. These stocks are specifically subject to enormous volatility, as earnings is seen (and rightfully so) as a huge aspect of a company's progression. What I offer you is an analysis of the economic well-being of the company, and whether I think the stock is a Buy, Hold, or Sell for either (or both) the short term or long term. If you are interested in unlocking more immediate growth opportunities, give me a follow! After an extensive look at numerous authors' and experts' analysis of Krispy Kreme Doughnuts (KKD), I have ranked the company as a BUY for the short term.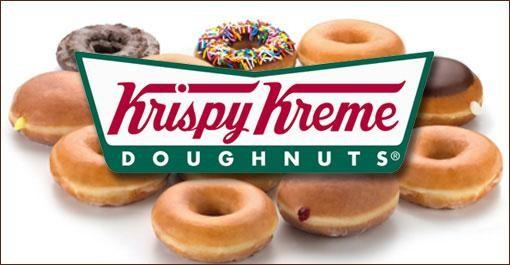 That Polarizing Q4 Report
Who would have thought an earnings surprise on the bottom line of over 4.5% would cause a stock price to tank? Sure, Krispy Kreme may have missed on revenue (barely), but there is no justification based off of the earnings report to drop this stock into the trenches.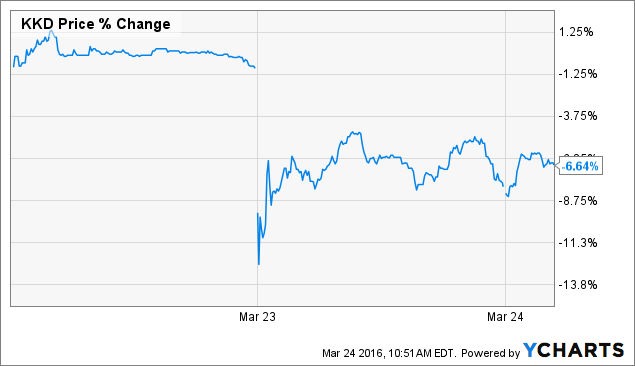 KKD Price data by YCharts
Earnings per share came in at $.22, beating the $.21 estimate.
Revenue came in at $130.4 Million, missing estimates by a meager $2.6 Million. Yeah, let's freak out about missing by just over $2.5 Million, and disregard the 4% year-over-year increase in sales. That seems rational.
Net income came in at $8.2 Million, beating last year by $1.7 Million, over a 25% increase. Domestic same-store sales actually rose, beating last year's Q4 by 1.6%, and rose by an even larger figure, 3.9%, for 2015.
Why Does All This Matter? Expansion
A great indicator of a company's operating performance is its continued investment in expanding its business. For those worried about how Krispy Kreme missed on its international segment, you should be comforted by the whopping increase in store count of 13.6%. Store count now lies at 1,121 shops. How was Krispy Kreme able to expand itself so well despite what was perceived as a "poor" performance? It raised operating income by 8%, and generated nearly $80 Million in cash from operating activities, crushing last year's $62.9 Million figure. What's even more amazing is that the company bought back nearly 3 million shares, paying $50 Million for the deal. The buyback doesn't end there; there is now $143 Million left that is authorized for share buybacks. The company announced the increase of $100 Million to the program earlier this week, and this is a fantastic sign for investors. Krispy Kreme is clearly impressed with its operations, and will "put its money where its mouth is". CEO Tony Thomson had a few comments on the report, one being:
During the year, we increased total revenue by almost 6%, adjusted earnings per share by 14%, operating cash flow by 26% and expanded our worldwide store count by 14% to over 1,100 stores. Systemwide domestic same store sales also rose nearly 4% as we had our seventh consecutive year of positive same store sales at Company stores. We thank our entire team and our franchise partners for their contributions to our ongoing success
Company stores contribution margin was up as a whole, showing a 60 basis point increase. So what's got everyone up in arms? Guidance.
Is Guidance Really That Poor
No. It's not. While it's true that the tax rate is expected to be much higher for FY2017, and that the company had a sizable tax credit this year, earnings are still expected to grow by a respectable amount. Sorry to the analysts who placed extremely high expectations for a $.92 figure, and were inexplicably upset when the company offered a figure between $.87 and $.91 as guidance. I'm sorry, but I think that a 7% drop based off of that exact reason is absurd, and recommend investors immediately take advantage. The company is actually expecting to do better than most investors think. Due to the 40% expected tax rate, that earnings range of $.8-.91 is actually extremely impressive, and is a testament to management's confidence in operational efficiency. The company plans to add around another 130 worldwide stores, another fantastic thing to hear.
Conclusion
Krispy Kreme had a great 2015, and 2016 promises to be great as well. It is irrational to freak about earnings, especially when one considers the large tax rate KKD is anticipating. It essentially makes it a bold expectation to anticipate such earnings growth despite a 40% tax rate prediction. Investors have much to take advantage of here.
Disclosure: I/we have no positions in any stocks mentioned, and no plans to initiate any positions within the next 72 hours.
I wrote this article myself, and it expresses my own opinions. I am not receiving compensation for it (other than from Seeking Alpha). I have no business relationship with any company whose stock is mentioned in this article.