These days, there appears to be a continued flight to quality in commercial real estate - especially the triple net sector. Due to the risk-aligned fundamentals of the single-tenant assets, the triple net sector provides investors with a sound vehicle in which to intelligently bear risk for profit. Unlike the other asset sectors, the triple net model is distinguished by a well-balanced platform of sustainability that is also the essence of the brand differentiation.
Conversely, it is the uninterrupted income characteristics that draw investors towards the triple net REIT sector. One of the most persuasive tests of high-quality is an uninterrupted dividend supported by consistent profits and earnings. Realty Income (NYSE:O) and National Retail Properties (NYSE:NNN) have provided decades of sustained income performance with a combined forty years of consistent and increased dividends paid. That remarkable record of repetition is best explained by Chris Zook and James Allen in co-authors latest book, Repeatability:
The more precise your understanding of your model and what leads to success, and the simpler your differentiation is, the more precisely you can focus innovation resources on those areas where threats and change are greatest. This is why a well-defined core differentiation, and a clear and well-articulated activity system to support and replicate it, are at the center of our first design principle - without uniqueness, you can't succeed long in the market, and without sharp self-awareness of each element, you can't easily target innovation resources.
The triple net REITs have matured into unique operating platforms that have been sustained by competitive superiority over the less repetitive peer group. Realty Income and National Retail Properties have been branded as the "gold standard" for such reliable dividend performance as compared with other equity REITs. Perhaps that is why Albert Einstein cited compound interest as the most powerful force in the universe.
The New Triple Net Threat
This week, American Realty Capital Trust, Inc. (NASDAQ: ARCT) will list as a publicly-traded REIT, almost four years to the day since the REIT was launched as a non-traded publicly-listed security. At the same time, the New York-based REIT will conduct a secondary offering to raise an additional $50 to $100 million. Simultaneously the triple net REIT will make a tender offer to all outstanding shareholders for $250 million (or so) now priced between $10.50 and $11.00 per share.
The ARCT portfolio (as of January 31, 2012) is 100% occupied and consists of 485 single tenant, free- standing properties, located in 43 states and Puerto Rico, with over 15.6 million leasable square feet leased to 61 different commercial enterprises doing business in 20 different industries. The portfolio includes a diversely well-balanced geographic profile: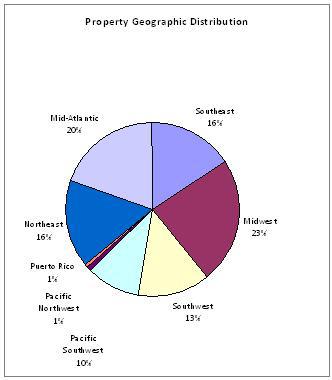 In addition, the ARCT portfolio has an exceptionally diverse and high-quality portfolio. The triple net REIT is differentiated by its high-credit quality with 92% of the tenants rated and 71% of the tenants considered investment grade rated. The sustainably attractive REIT has a portfolio that includes many "best-in-class" names with durable rent checks measured by consistent earnings generated by the strategically acquired facilities. The top 10 tenants are 85% investment grade rated and represent 56% of the portfolio: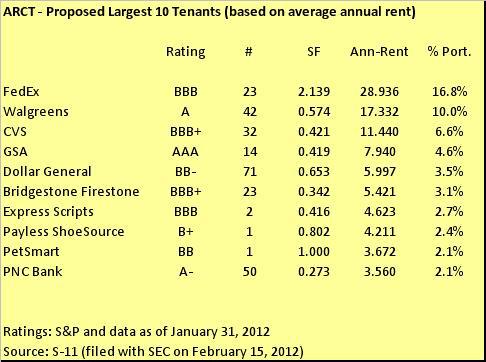 ARCT is distinguished by its "bond alternative" portfolio and risk-aligned credit distribution: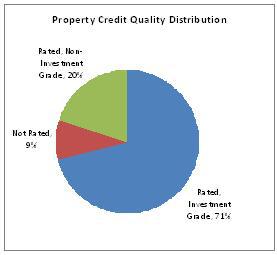 ARCT is one of the first "investment grade focused" triple net REITs and because all of the assets were originated over the last four year period, the portfolio has an exceptionally sound risk-management profile. The average remaining primary lease term is 13.4 years (as of January 31, 2012) and the average property age is 5.3 years. The portfolio has minimal short-term lease expirations making the risk profile "legacy free" with increased NOI growth (72% of the leases have fixed annual rent bums). The low age and modern amenities of the properties make them attractive to tenants, and result in higher current rents, lower vacancies and a higher number of alternative uses.
The high-quality properties and long-term leases result in strong predictability of cash flows. The following is a summary of ARCT's lease expirations over the next ten years as of January 31, 2012: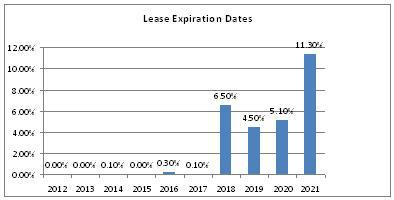 The Sharp Shooters
ARCT's executive management team and the Chairman of the Board possess substantial expertise in all aspects of net leased property acquisition, leasing, management, and finance. Nicholas S. Schorsch, the company's co-founder and Chairman, and William M. Kahane, the co-founder and President and CEO, have been actively involved in the acquisition of all 485 net leased properties, with more than 61 credit tenants. Both have substantial public REIT operating experience and collectively have over 70 years of commercial real estate experience and collectively have over 20 years experience focused on the net-lease real estate sector.
The Great Repeatable Triple Net Threat
In previous Seeking Alpha articles I have written about Realty Income and National Retail and I have referred to both as "great repeatable dividend models". In Repeatability, Chris Zook and James Allen explain that there is more than one dominant business model:
A Great Repeatable Model will dominate non-Great non-Repeatable Models. But that doesn't mean that there's only one possible Great Repeatable Model in an industry…there are multiple Great Repeatable Models in almost any industry…which reinforces the finding that performance is more about managerial decisions than the business you happen to be in.
Zook and Allen have authored an exceptional book (I plan to write a Seeking Alpha book review later this week) and the triple net REITs are clearly built around extraordinary repeatable dividend performance. Conversely, each of the triple net REITs deploys unique operating strategies with innovatively successful risk-control fundamentals - all differentiated by sound portfolio management. Time will tell as to ARCT's success as a stalwart dividend performer and its comparison to the all-star team including Realty Income, National Retail, Federal Realty (NYSE:FRT), and Washington Realty (NYSE:WRE), and Tanger Outlets (NYSE:SKT).
ARCT will soon add value to the public REIT sector and the listing of the exceptionally risk-aligned portfolio will bring a deliberately well-executed value proposition to the current investors and the proposed new investors. The public listing will provide shareholder liquidity while also providing current shareholders with options to redeploy capital. The secondary offering is priced for 6.6 million shares targeted at $11 to $12 per share and an anticipated market capitalization of around $2.7 billion. Utilizing a mid-point range, the ARCT dividend yield is projected to be around 6% (paid monthly) - making this a competitively risk-aligned "sleep well at night" REIT.
Disclosure: I have no positions in any stocks mentioned, and no plans to initiate any positions within the next 72 hours.