"There is nothing new in Wall Street. There can't be because speculation is as old as the hills. Whatever happens in the stock market today has happened before and will happen again."
- Jessie Livermore
"To buy when others are despondently selling and to sell when others are avidly buying requires the greatest fortitude and pays the greatest ultimate rewards."
- Sir John Templeton - 1958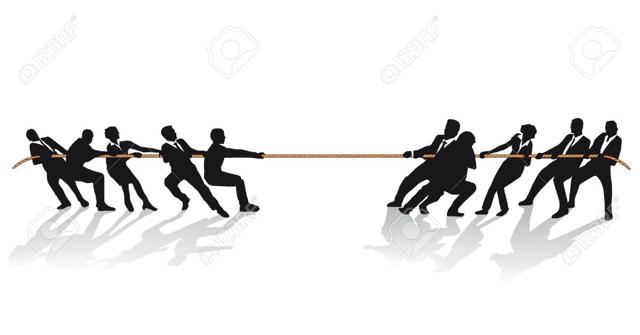 Click to enlarge
Introduction
For a majority of my professional career, the U.S. stock market has been in a secular bear market that began in March of 2000. The secular bear market has not been a one-way affair as powerful bull markets have been interwoven into the secular bear quilt. And, depending on your perspective, the secular bear market might have already ended and transitioned to a new secular bull market. To summarize, the roller coaster ride over the past 20 years has taken market participants, across the globe, through some of the most unique peaks and valleys in modern financial history.
The machinations of the Federal Reserve, and the other prominent central banks, have shepherded investors and speculators to an inflection point that has the financial system stretched to its limits. Will capitalism and the free market be allowed to cleanse the excesses? If so, will deflation or inflation grind down the accumulated debt of an overindulgent generation?
Thesis
Debt levels have reached a tipping point and must be resolved through a deflationary bust or an inflationary environment where debt today becomes less burdensome in the future.
Debt Is The Problem, Not The Solution
The bull market in the bond markets has continued, with brief aberrations, for more than 30 years. The resulting low yields, and even negative yields now, are representative of a world of savers who are starved for growth opportunities, and merely seek a return of most of their principal. Importantly, investors are now willing to tolerate losses on their principal, as shown by the negative yields in ten-year Japanese sovereign bonds.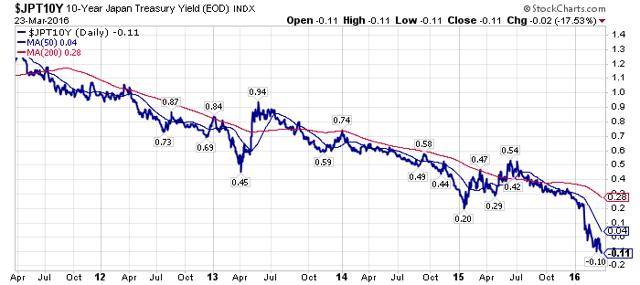 Click to enlarge
Yields in 10-Year Treasury Bonds in Germany, the United Kingdom and the United States have followed a similar trajectory.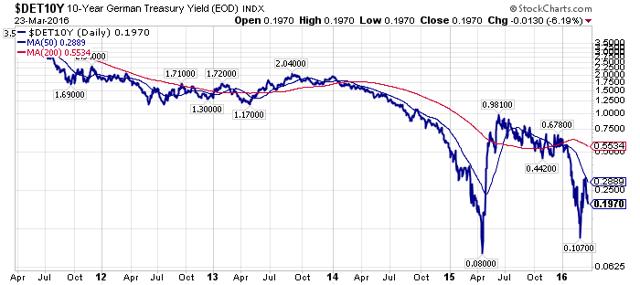 Click to enlarge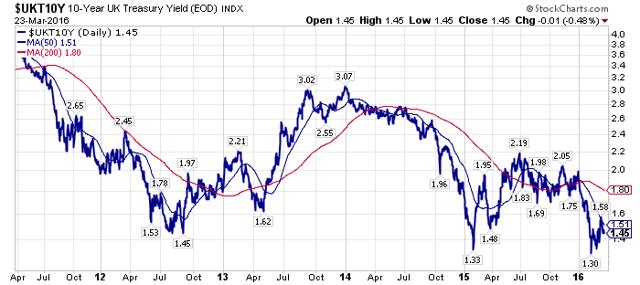 Click to enlarge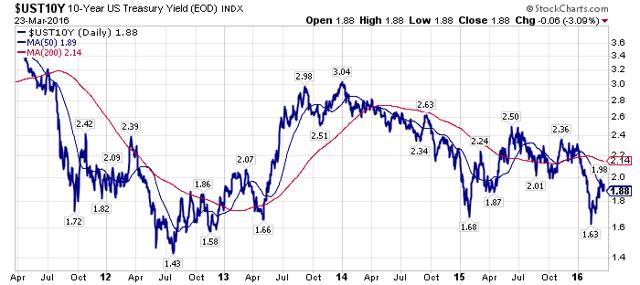 Click to enlarge
As investors in Japan and Germany grapple with negative interest rates, and zero-bound interest rates respectively, will the tidal wave of global money continue to drive U.K. and U.S. interest rates lower?
Earnings Estimates Continue To Decline
With bond yields indicting a low-growth to no growth environment, earnings estimates for the S&P 500 Index continue to move lower. Below, I have put together two tables, one for 2015 earnings estimates, to show the decline in expectations over time, and one for 2016 earnings estimates.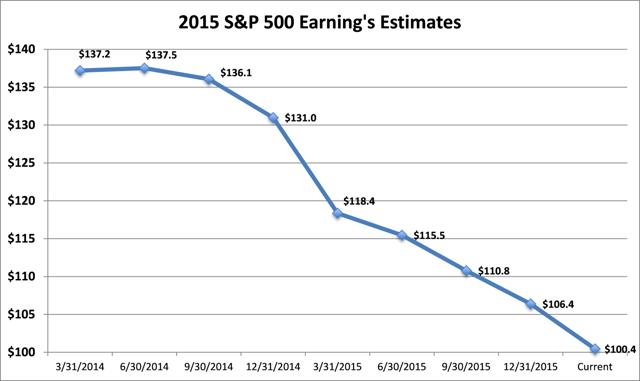 Click to enlarge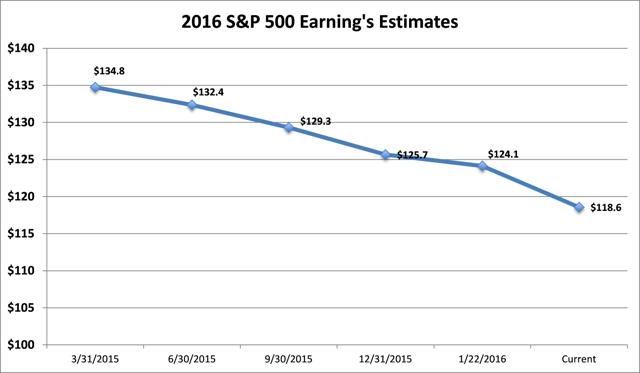 Click to enlarge
Clearly, analysts have been too optimistic about the earnings prospects for U.S large-capitalization companies as each update shows a lower estimate. While earnings estimates have come down over the past two years, curiously the S&P 500 Index itself, as measured by the SPDR S&P 500 Index ETF (NYSEARCA:SPY), remains within shouting distance of its all-time highs.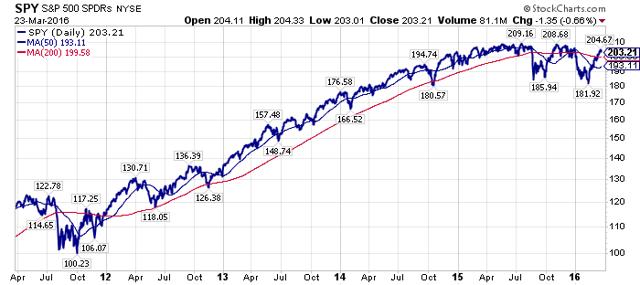 Click to enlarge
Clearly a divergence has developed between the price of the S&P 500 Index and the underlying earnings of its component companies. How will this divergence be resolved?
Additionally, leading stocks like Nike (NYSE:NKE), Visa (NYSE:V), Alphabet (NASDAQ:GOOGL), (NASDAQ:GOOG), Gilead Sciences (NASDAQ:GILD) and Tesla (NASDAQ:TSLA) have lost their price momentum. The chart of Apple (NASDAQ:AAPL) illustrates the plight of many investors, where a stock appears cheap on the surface, yet it has struggled, after a terrific share price appreciation over the past five years.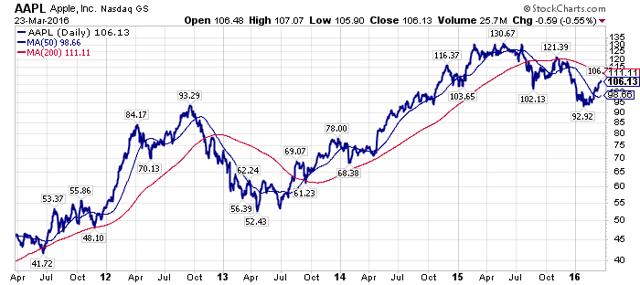 Click to enlarge
Bonds and Earnings Suggest Deflation, But…
With yield-starved investors across the financial markets willing to tolerate minimal or negative returns in their bond holdings, and earnings for the flagship global stock market index on a downward trajectory, deflation seems to be priced into the market. In fact, deflation fears recently hit an all-time high.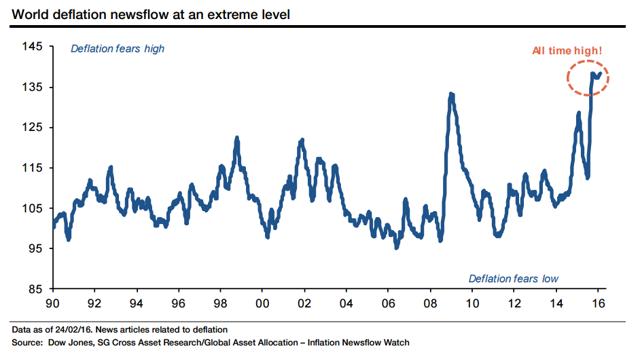 Click to enlarge
With falling bond yields, falling earnings estimates and all-time high concerns about deflation, the recent, burgeoning rally in inflationary assets has been a huge surprise.
After underperforming for the majority of the current bull market, material, mining and energy stocks rallied significantly above their 200-day moving averages for the first time in five years.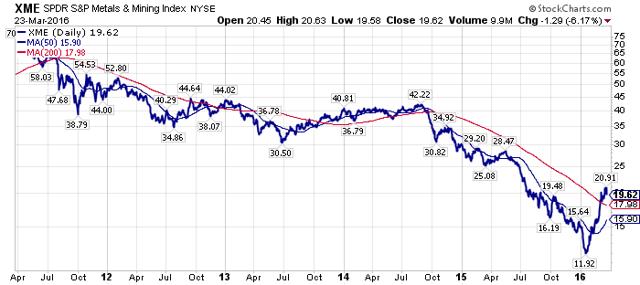 Click to enlarge
The SPDR S&P Metals and Mining ETF (NYSEARCA:XME), whose top holdings include Schnitzer Steel Industries (NASDAQ:SCHN), Cliffs Natural Resources (NYSE:CLF), Carpenter Technology Corporation (NYSE:CRS), Couer Mining (NYSE:CDE), Worthington Industries (NYSE:WOR), Steel Dynamics (NASDAQ:STLD), Freeport-McMoRan (NYSE:FCX), U.S. Steel (NYSE:X), Stillwater Mining Company (NYSE:SWC) and AK Steel (NYSE:AKS), has seen its most relative strength since the first quarter of 2011.
As metals and mining companies rallied, downtrodden energy companies, like Chesapeake Energy (NYSE:CHK), staged a stunning reversal, providing rocket fuel for the out-of-favor high-yield bond market. This is demonstrated by the charts of the iShares iBoxx $ High Yield Corporate Bond ETF (NYSEARCA:HYG) and the SPDR Barclays High Yield Bond ETF (NYSEARCA:JNK), which are posted below.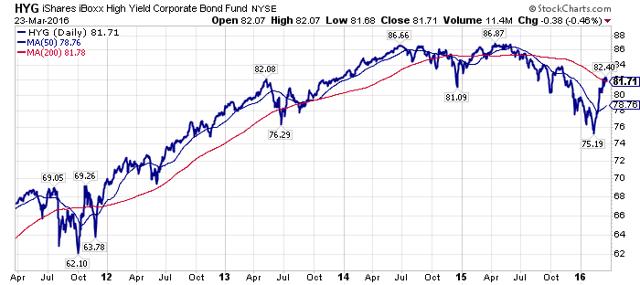 Click to enlarge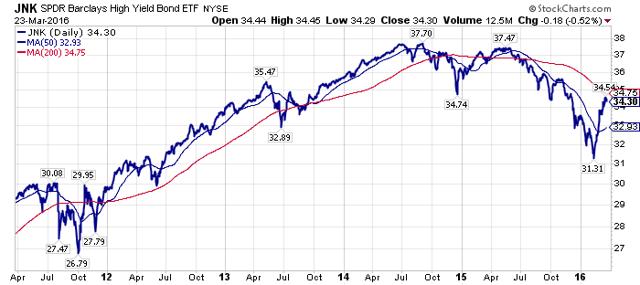 Click to enlarge
China To The Rescue?
In the middle of January of 2016, Federal Reserve officials suggested that a slowing Chinese economy, alongside depressed commodity prices, could slow their interest rate trajectory. This made sense at the time as crude oil had sunk below $30 per barrel and the Chinese stock market approached its five-year lows. The dire situation, at the time, is illustrated by the charts of West Texas Crude Oil and the iShares China Large-Cap ETF (NYSEARCA:FXI).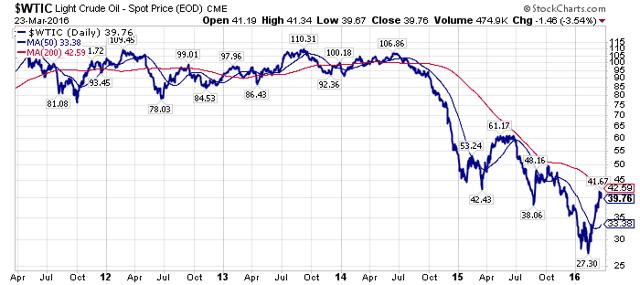 Click to enlarge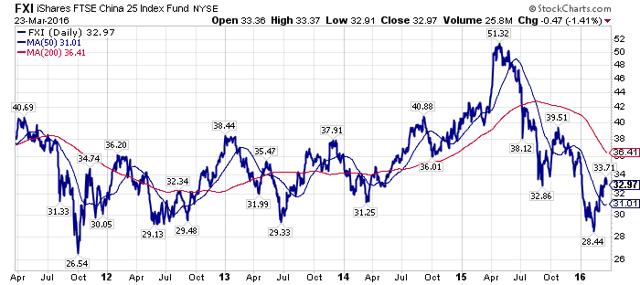 Click to enlarge
Since the Fed's commentary in January, however, crude oil and Chinese stocks have rallied in tandem with aforementioned, out-of-the-blue rally in mining and material companies. Building on the inflationary turnaround, commodity prices have moved higher and left-for-dead emerging markets like Brazil, as illustrated by the iShares MSCI Brazil Capped ETF (NYSEARCA:EWZ), have rallied sharply.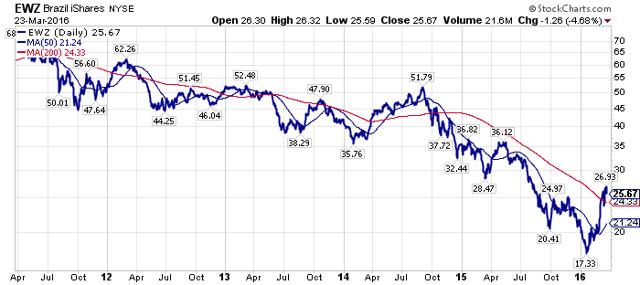 Click to enlarge
The intertwined, short-covering reversal has been driven by the unwinding of a historically crowded group of trades and improved expectations of China's future growth. The following chart, which shows the price of copper, alongside Chinese monetary growth, shows the change in character that has taken place.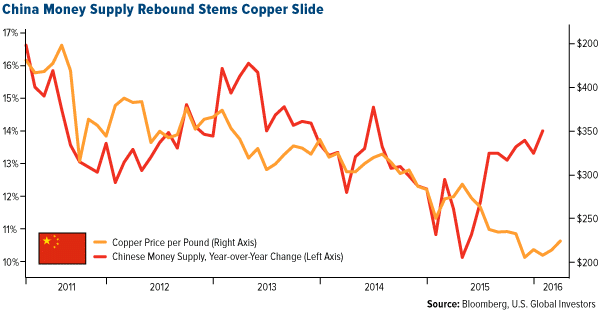 With nearly everyone expecting a continued slowdown in China could the Chinese economy, the Chinese stock market, and commodity prices be poised to deliver an upside surprise?
The price action in leading Macau casino operation Wynn Resorts (NASDAQ:WYNN), which led the surge in Chinese stocks in 2014, indicates that a Chinese growth surprise may be closer than anyone imagines.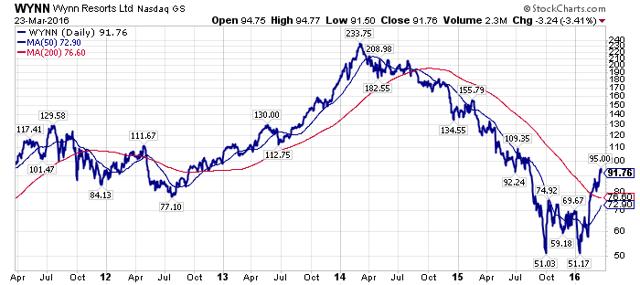 Click to enlarge
Australia And Canada Spring To Life
As growth prospects in China have improved, investors and speculators have reversed their short positions in commodities, emerging markets, and in the U.S. Dollar.
The reversal in the U.S. Dollar can be best illustrated by the price increases of commodity oriented currencies, specifically the Australian Dollar and the Canadian Dollar. Both have surged higher, which is shown by the chart of the Currency Shares Australian Dollar Trust ETF (NYSEARCA:FXA), and the chart of the Currency Shares Canadian Dollar Trust ETF (NYSEARCA:FXC).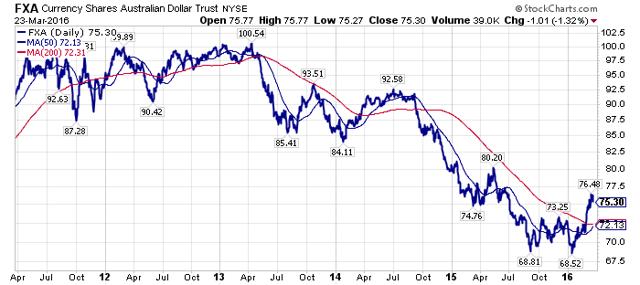 Click to enlarge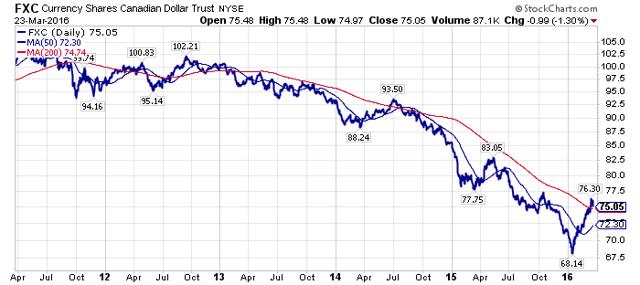 Click to enlarge
With their currencies strengthening, and commodity prices rising, investors have reversed course on the stock markets of Australia and Canada. The iShares MSCI Australia ETF (NYSEARCA:EWA) and the iShares MSCI Canada ETF (NYSEARCA:EWC) have both shown their most relative strength in five years, mirroring the relative strength of materials and mining stocks in the United States.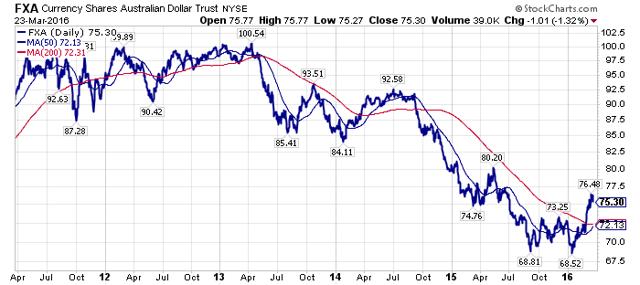 Click to enlarge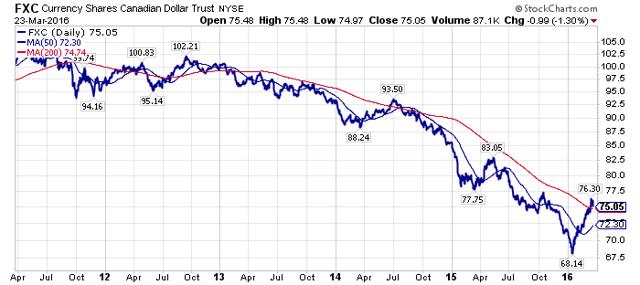 Click to enlarge
With interest rate hikes looking less likely in the U.S., and with the reversal of the crowded trades, the U.S. Dollar appears to be set to give back some of its sizeable 2014 rally.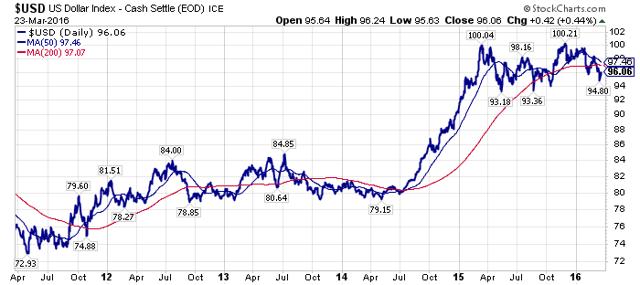 Click to enlarge
The recent struggles of the U.S. Dollar have provided a lift to international stocks and commodities, but the declining greenback has also put a bid under U.S. multinational firms that get a majority of their revenue and profits outside the continental United States.
International Business Machines (NYSE:IBM) is a prime beneficiary of the weaker U.S. dollar, and its stock has appreciated accordingly.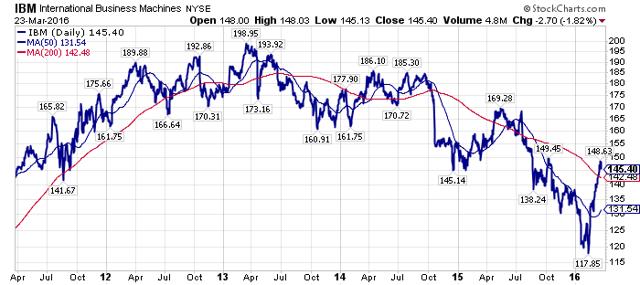 Click to enlarge
Conclusion - The Tug-Of-War Is Unresolved
Deflation has had the upper hand over the past five years, and the price action of sovereign government bonds still suggests extraordinary deflationary fears. Just as the specter of deflation hovered over the financial markets, like a plague, a vigorous inflationary rally has taken place, surprising most investors.
The tug-of-war appeared over with deflation winning, and just when it looked like a deflationary bust would be the primary solution to cure the debt overhang, inflation has made a comeback. This could be just a bear market rally in inflationary assets, yet the strength of the move off the lows suggests a change in character. To be clear, inflationary investments have a lot of ground to make up, after underperforming for five years. Additionally, the current cyclical bull market is already long in the tooth. While these are challenges, investors should remember that central banks would clearly prefer an inflationary cure to the debt disease, and they possess the printing presses.
Thus, investors, even those with a bearish bent, should not discount the recent reversals in commodities, commodity stocks, emerging markets, international currencies, and the all-powerful U.S. Dollar. With China poised to surprise to the upside, investment results going forward have the potential to look a lot different than the past five years. This means that "growth at any price" stocks, like Amazon (NASDAQ:AMZN) or Netflix (NASDAQ:NFLX), which thrived in a low growth world, could struggle as their valuations are stretched, while out-of-favor stocks, particularly commodity stocks, and emerging market stocks, which are more dependent on inflationary growth, could thrive, as their valuations still remain at the bottom of their historical ranges. To close, the broader U.S. stock market and bond markets are priced for zero real returns over the next seven years, but a rotation, from growth to value, and in-favor to out-of-favor assets, could certainly take place as the broader markets struggle going forward.
Disclosure: I am/we are long CHK, CLF, FCX, GILD, X, IBM, WYNN AND SHORT SPY.
I wrote this article myself, and it expresses my own opinions. I am not receiving compensation for it (other than from Seeking Alpha). I have no business relationship with any company whose stock is mentioned in this article.
Additional disclosure: Every investor's situation is different. Positions can change at any time without warning. Please do your own due diligence and consult with your financial advisor, if you have one, before making any investment decisions. The author is not acting in an investment adviser capacity. The author's opinions expressed herein address only select aspects of potential investment in securities of the companies mentioned and cannot be a substitute for comprehensive investment analysis. The author recommends that potential and existing investors conduct thorough investment research of their own, including detailed review of the companies' SEC filings. Any opinions or estimates constitute the author's best judgment as of the date of publication, and are subject to change without notice.