Top Silver Stocks for 2016
In December, I listed my top 5 overall silver stocks to buy in 2016 (as I do with my top gold stock picks as well). Since almost four months have passed since that article published, I thought it'd be worthwhile to provide an update to readers to see how the picks have performed.
The goal is to outperform both the price of physical silver, as well as the Global X Silver Miners ETF (NYSEARCA:SIL), which is comprised of a basket of silver mining stocks as is meant to give investors leverage to silver prices. However, I don't think the SIL is a great way to gain leverage to silver for a few reasons.
First, the ETF carries an expense ratio of .65% which is a little too expensive for my taste; more importantly, the SIL contains a few questionable stocks in its top 10 holdings, including Alamos Gold (NYSE:AGI) which isn't even a silver miner, and Tahoe Resources (NYSE:TAHO), which has been a consistent underperformer. The SIL itself has also been a poor performer, down 38.32% over the past six years, compared to a 19.33% drop in silver prices.
My point is that silver investors can outperform both silver prices and the miners with a careful selection of miners. And if you choose right, the gains can be quite amazing: just take Fortuna Silver Mines (NYSE:FSM) from 2009-2010, as it returned 648% compared to a 164% rise in the iShares Silver Trust ETF (SLV), or First Majestic Silver, which returned 615.27%.
These stocks provide big leverage to rising silver prices. But as I mentioned in my previous article, I recommend investors dollar-cost average positions in silver stocks, instead of trying to time the market and go all-in at once (trying to call a bottom is not the smartest idea). Even though the picks have worked out very nicely over the past few months, there's no telling where silver is headed in the short-term.
With that being said, here's a recap of my top silver stocks for 2016. You'll see the picks have nearly doubled the performance of the SIL.
Q1 SUMMARY
AVERAGE GAIN ON TOP PICKS: 94.55%
GAIN ON SIL: 51.2%
OUTPERFORM PICKS: 3
#5 Silvercorp Metals (OTCPK:SVMLF)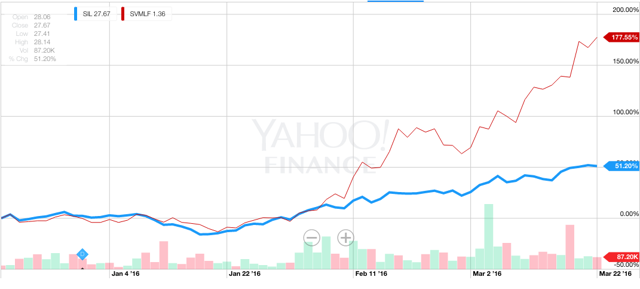 Click to enlarge
Silvercorp has rocketed higher by 177.5% compared to a 51.2% gain in the SIL, so the stock has outperformed by more than 3X and has been the top pick on this list.
My reasons for picking Silvercorp: the company's ample cash position ($70 million in cash with little debt) which puts it in a rare position to buy backs its own shares, and it's ridiculously low valuation (an enterprise value of $46.12 million, annual EBITDA of $37.87 million and a book value per share of $1.39).
Well, right after the article was published, Silvercorp announced a new share buyback program in which it can purchase up to 16,255,503 common shares or 10% of the public float. Later, the company announced solid Q3 fiscal 2014 financial results, producing $9.6 million in operating cash flow and $3.3 million in net income in Q3, with all-in sustaining costs falling to $7.72 per ounce. What's more: Silvercorp gave strong fiscal 2017 guidance, as the company is expected 5.1 million silver ounces, 57 million pounds of lead and 19.3 million pounds of zinc production, at all-in sustaining costs below $10 per ounce.
The stock has had a strong run, but still has a long way to go to reach its 2011 high's of $16 per share. I think shares should be bought on any pullbacks.
#4 First Majestic Silver (NYSE:AG)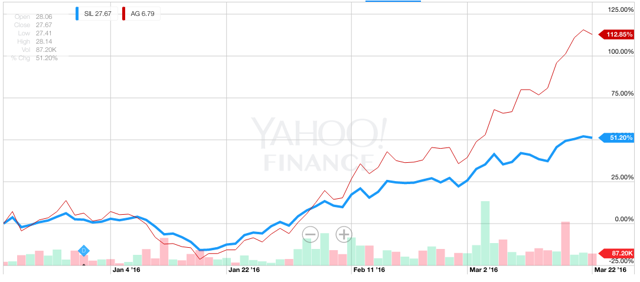 Click to enlarge
First Majestic is another outperform pick as the stock has more than doubled (112.8% return), compared to the 51.2% gain in the SIL. I felt the company's focus on reducing cash costs and maximizing profitability would pay off in the Q1 2016, and thought the valuation was too low at the time.
Following publication of the article, First Majestic announced solid Q4 and full-year 2015 financial results: silver equivalent production rose 13% in Q4 to 4.8 million ounces, which all-in sustaining costs fell 22% to just $11.48 per ounce. For the year, First Majestic produced 16.1 million silver equivalent ounces at $13.43 AISC. But 2016 should be an even better year, with silver equivalent production forecasted to increase to 17.8 - 19.8 million ounces, and AISC in a range of $12.29 - $13.36 per ounce.
First Majestic also announced in March that it has renewed its share repurchase program, and can repurchase up to 7.78 million common shares of the company, or 5% of its outstanding shares. It's a smart move as shares still look undervalued here. While shares have doubled since the article was published, much more upside is ahead in my opinion.
#3 Hecla Mining (NYSE:HL)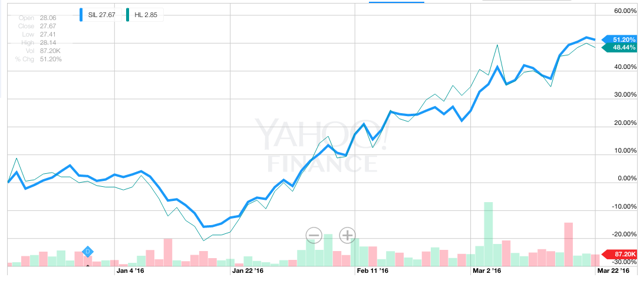 Click to enlarge
Hecla has had some nice returns (48.44%), but unfortunately has not outperformed the silver miners index by 3%, and I can't explain the underperformance.
In late February, Hecla announced strong Q4 2015 financial results, as silver production increased 13% to 3.6 million ounces, and gold production increased 10% to 60,350 ounces.
For the full-year 2015, Hecla production a record 37.5 million silver equivalent ounces, at cash costs of $5.85 per silver ounce and $772 per gold ounce. For 2016, Hecla is guiding for 39-40 million silver equivalent ounces and in an effort to reduce costs, plans to reduce non-payroll costs by $25 million; management and board members are taking a 10% pay cut, while the CEO has taken a 20% pay cut.
Hecla boasts strong production growth, a solid cash position of $155 million and long-life assets located in politically favorable mining jurisdictions. I think the stock should finish the rest of 2016 on a strong note.
#2 Silver Standard Resources (NASDAQ:SSRI)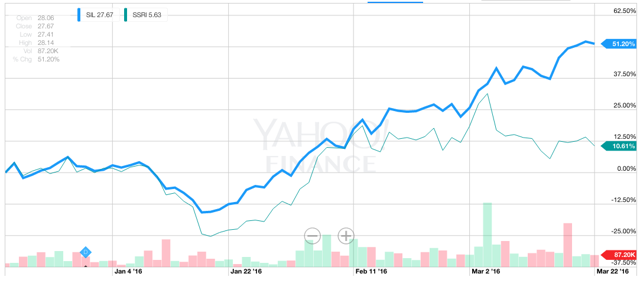 Click to enlarge
Silver Standard has been, by far, the worst pick of the bunch, returning only 10.61%. I felt the stock was undervalued based on the company's strong net cash position and assets, but I'm not sure I can recommend the company anymore following the C$337 million acquisition of Claude Resources.
Like author Itinerant, I feel the company paid way too much and I don't like that the company is paying for Claude in common shares, either, instead of cash (check out his analysis). Shares were actually doing quite well since the acquisition was announced, too, so the market clearly agrees.
#1 Great Panther Silver (NYSEMKT:GPL)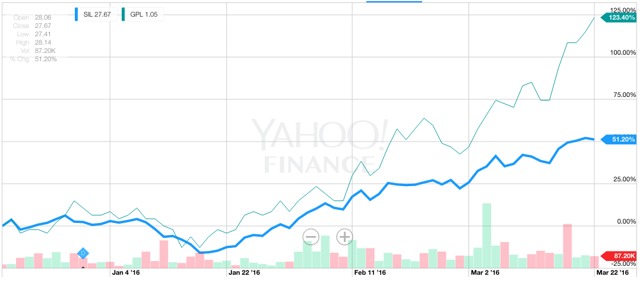 Click to enlarge
Great Panther has soared higher by 123.4%. As mentioned in the article, Great Panther has done a great job reducing cash costs in the face of lower silver prices.
On March 3, the company announced its full-year 2015 financial results, and for Q4, announced a 10% increase in total metal production with a 30% decrease in AISC to $15.10 per ounce. For the year, silver equivalent production rose 30% to 4.15 million ounces, with AISC decreasing 38% to $13.76 per ounce.
As for the balance sheet, Great Panther ended the year with $17.9 million in cash and equivalents and no debt, so it remains in great financial shape. For 2016, the company expects flat production (4 - 4.2 million SEOs) with AISC between $13 - $15 per ounce. The stock has given investors great leverage to silver prices in the past, and I don't expect that to change in 2016.
Disclosure: I am/we are long AGI, GPL.
I wrote this article myself, and it expresses my own opinions. I am not receiving compensation for it (other than from Seeking Alpha). I have no business relationship with any company whose stock is mentioned in this article.
Editor's Note: This article discusses one or more securities that do not trade on a major U.S. exchange. Please be aware of the risks associated with these stocks.