A recent report by market research firm IDC painted a bleak picture of global PC sales declines, with a 10.6% y/y decline for 2015 and projecting another 5.4% decline in 2016. This picture is incomplete, however, since it includes only traditional PC form factors of desktops and notebooks. If tablets and 2-in-1 convertibles based on Microsoft's (NASDAQ:MSFT) Windows 10 are included, then the decline is not so bad. Most importantly, Windows tablet unit sales appear to have grown by about 50% y/y in 2015.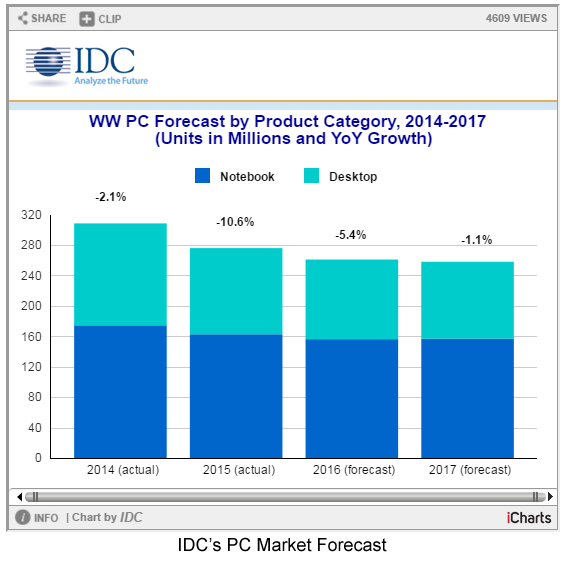 Source: IDC
Product Transition
I've written in the past about Microsoft's strategy of "mobilizing" the PC: moving Windows 10 into tablet and tablet/keyboard convertible devices, and now even smartphones through the Continuum feature. Despite my putative role of Apple (NASDAQ:AAPL) fanboy, I continue to use Windows PCs in my daily work and have expressed admiration for Microsoft's excellent Surface Pro 4 (SP4) and Surface Book
Realizing that the Windows PC is evolving, I didn't see how one could ignore this evolution in assessing PC sales stabilization. I understand IDC's take on the matter. Tablets and convertibles are a separately reported category, and they don't want to mix apples and oranges. But any assessment of the business impact on companies such as Microsoft and Intel (NASDAQ:INTC) must take into account tablet/convertible sales of Windows 10 devices.
This is especially true of devices such as the Surface Pro 4, which sports a full version of Win10 as well as a choice of powerful Intel Skylake processors. SP4 and similar devices from Microsoft's OEMs really have become the new PC, and it doesn't make sense to exclude them when looking at how the Windows ecosystem is doing.
Sales Accounting
Accounting for sales of Windows tablet and 2-in-1 devices is a little more difficult. Clearly, we want not just Microsoft's sales but the sales of the entire industry. I also believe that sales of lighter weight tablets such as the Surface 3 based on Intel Atom processors also should be included. Over the course of its four quarterly reports for 2015, Intel reported that it had sold a total of 34 million tablet processors, presumably Atom series such as the Atom x7-Z8700 in the Surface 3.
Intel's tablet processor sales were not all for Windows tablets, however. Strategy Analytics has reported that Windows had a 10% share of the tablet market in 2015, as shown in the graphic below.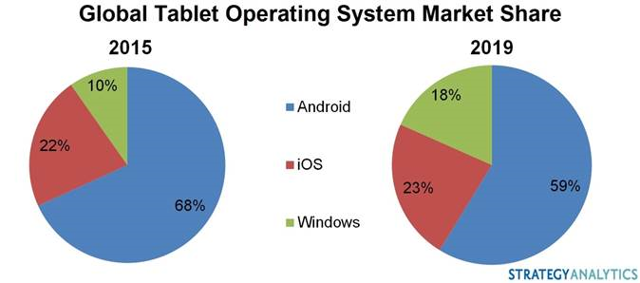 Click to enlarge
IDC's total for global tablet sales in 2015 is 206.8 million, which IDC explicitly states included lightweight tablets such as the iPad as well as 2-in-1 convertibles such as SP4. Applying the Strategy Analytics percentage yields a total number of Windows tablets of 20.7 million. Given the number of tablet processors Intel reported sold in 2015, this number seems fairly conservative.
IDC and Gartner both report PC sales (using the same criteria and excluding tablets) on a quarterly basis. IDC's estimate of global PC shipments for 2015 was 276.2 million. Gartner's estimate of global PC shipments for 2015 was 288.7 million. The difference between the two companies probably provides a reasonable estimate of the error bars of the companies' estimates, + or - 12 million.
Their average PC shipment estimate for 2015 is 282.45, while their average for 2014 was 311.05. We can get a reasonable estimate of Windows PC shipments for the two years by subtracting out Apple's reported Mac shipments for 2015 and 2014, 20.4 and 19.6 million respectively. This yields 262 million Windows PCs shipped in 2015 and 291 million in 2014.
I've found it's even harder to come up with an estimate for Windows tablet sales for 2014. Statista and Strategy Analytics seem to agree that the Windows market share was 5.8% in 2014. In the table below, I summarize the relevant data (shipments in millions):
| | | | | | |
| --- | --- | --- | --- | --- | --- |
| Year | Ave. PC Shipments | Windows PC Shipments | IDC Tablet Shipments | Est. Windows Tablet Shipments | Total Windows PCs and Tablets |
| 2015 | 282.5 | 262.1 | 206.8 | 20.68 | 282.8 |
| 2014 | 311 | 291.4 | 230.1 | 13.34 | 304.8 |
The total y/y decline for Windows PCs and Tablets was 7.2% and the y/y increase in Windows tablet shipments was about 55%. If the trajectory of Windows tablets can be maintained, it can start to overcome the decline in traditional PC form factors.
IDC's report called for another 5.4% decline for 2016, or about 14 million units. If, and it's a big if, Windows tablets continue to grow at the 50% y/y rate, most of this decline would be canceled by Windows tablet growth.
Investor Takeaway
As the modern PC transitions to the tablet/convertible form factor, the companies that benefit are obviously Microsoft and Intel. The fact that there is a decline says that they still have a tough road ahead, but they have the benefit of a large upgrade market in the form of older Windows PCs.
Apple, by virtue of its repudiation of convergence, seems to have deliberately locked itself out of this upgrade market. While Apple continues to maintain about a 20 million unit/year rate of Mac sales, iPad sales have been falling. As I have pointed out, Apple's long-term strategy is to position iOS and iPad as its vision of the future of personal computing. That vision is falling short competitively in the near term as the iPad continues to lose sales and market share.
Perhaps the biggest loser in the PC transition is AMD (NASDAQ:AMD) which simply has nothing to offer that is competitive with Intel's lower power Skylake offerings. AMD's Carrizo for the mid-priced notebook market once again seems too little, too late, as the market pivots to the 2-in-1.
I continue to be cautious about Microsoft for a number of reasons. Windows 10 still needs a lot of work to be a truly well integrated and consistent user interface that works for both touch and mouse or trackpad. The objective of converting a billion Windows users to Win10 appears to be all but out of reach. And finally, it's not at all clear that growth in Windows tablets can be maintained in 2016. For these reasons, I continue to rate Microsoft a hold.
Disclosure: I am/we are long AAPL.
I wrote this article myself, and it expresses my own opinions. I am not receiving compensation for it (other than from Seeking Alpha). I have no business relationship with any company whose stock is mentioned in this article.