Click to enlarge
Sun Communities (NYSE:SUI) just announced plans to buy privately held Carefree Communities for roughly $1.7 billion. It's a huge deal for the company, but you'll want to look past sheer size. There's plenty to like about what Carefree does to Sun's internal growth prospects.
A big deal
With the acquisition of Carefree, Sun Communities will expand its property list by roughly 45%. It will increase the number of sites at its properties by nearly a third. This is, no questions asked, a big deal. Although there's always risks with big acquisitions, Sun has a solid history of integrating assets. For example, since 2011 acquisitions have increased Sun's community count by around 85%. So I wouldn't get too concerned about the company flubbing this deal. In fact, the real estate investment trust, or REIT, expects it to add to quickly earnings once the deal is consummated.
From a big picture perspective, there's a lot to like here. Interestingly, investors appear to have approved of the deal, too. And in a big way, since market demand for a stock issuance in support of the acquisition was so strong Sun was able to increase the number of shares sold by over 30%. I'd say investors like what they see here.

More to like
But I wouldn't get too caught up in the headline numbers. There's some other things, perhaps more important things, to like about the Carefree acquisition.
For example, Sun's exposure to California will increase from less than 1% of its portfolio to 6%. Although location is important for every real estate deal, being in coastal markets is particularly vital for manufactured homes. Put simply, people like to retire and vacation near water.
And increasing scale in California should help Sun keep costs in check, too. Going from roughly 500 sites to over 5,000 should seriously boost the benefits afforded by scale. The rest of Carefree is largely in Florida, a market in which Sun already has a material presence, and Ontario, a new market but one in which Carefree has notable scale with 5,000 home sites. It will be interesting to see how the Canadian assets fit in the mix over the long term. But, overall, gaining more access to the California market helps create a stronger Sun.
That shows up in another way, too... Rents. Carefree's average rent is roughly 30% higher than Sun's. Although the combination will only increase overall rents by around 3.5% or so, having these higher quality assets in the mix should help boost Sun's growth prospects within the "same store" portfolio once they hit that number. It's not unreasonable to expect that to have a long-lasting impact on rent growth in the future, either.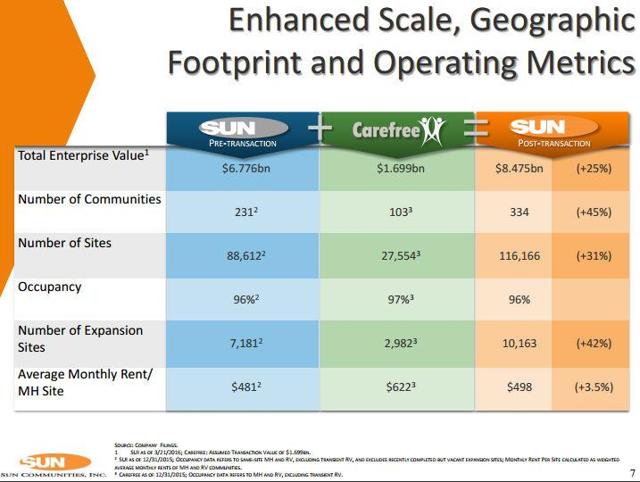 Click to enlarge
It's worth noting, too, that in 2015 the company sold 20 communities that it no longer felt lived up to its standards. So Sun is actively remaking its portfolio with an eye toward quality. Actively managing a portfolio is something all REIT investors should approve of. This deal will help that process at Sun and, perhaps, free the REIT up to dispose of even more assets and further improve its rent metrics.
Another "under the hood" benefit from this deal is that it bumped Sun's expansion site count by over 40%. Acquisition-led growth is wonderful, but at some point that won't be as feasible an option anymore and REITs are going to need to find other avenues for growth. After this deal, Sun could expand its site count by nearly 9% without a single acquisition. That won't provide years and years of growth by any stretch of the imagination, but it could prove to be a rock in a storm should REIT shares crater and, thus, acquisitions become less compelling. That, in turn, would allow the REIT to keep growing through a downturn.
Not cheap
So, all in, I'd say that Sun buying Carefree is a solid deal. However, Sun is hardly cheap today. Prior to the deal the company was projecting 2016 FFO of between $3.72 and 3.79 per share. That puts price to FFO in the 18 times area. Assuming the deal is accretive, as management suggests, that might be a bit lower post merger. But the yield is still a somewhat miserly 3.9% or so.
In other words, I wouldn't get too excited about Sun's shares right now. However, it is a REIT that's worth watching, just in case a broader market decline drags the shares lower. With a strengthening core business, a REIT sell off could be a worthwhile buying opportunity. A 5% yield or so would be interesting, but a yield in the 6% range would start to look pretty compelling, granting that it would represent a big drop from today share price.
Disclosure: I/we have no positions in any stocks mentioned, and no plans to initiate any positions within the next 72 hours.
I wrote this article myself, and it expresses my own opinions. I am not receiving compensation for it (other than from Seeking Alpha). I have no business relationship with any company whose stock is mentioned in this article.