It has been a terrible twelve months for American Express (NYSE:AXP) shareholders with the company shedding a quarter of its value during this time. It must be said that this is a fair improvement on how things were in the middle of February, though. The share price has rallied almost 19% since then. We have been holding the shares since late in February and despite the climb continue to see this as a great long-term buy and hold investment.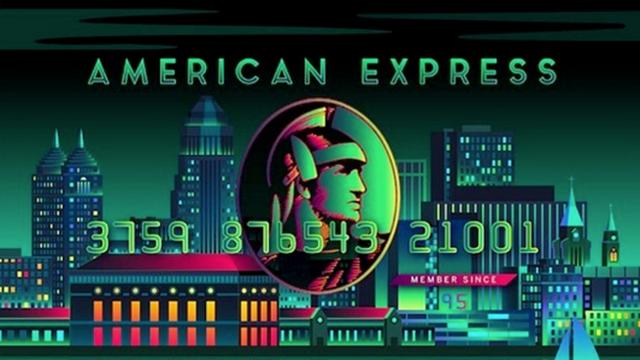 We are sure by now that readers are familiar with all the drama from the last twelve months which has led to the share price plummeting. The loss of Costco (NASDAQ:COST) was a big blow. For the last 16 years the two companies had partnered together, so for it to come to an end really came as a surprise. But the proposed deal wasn't right for AmEx and walking away was the only option. 16 years certainly is a long time, and in fact, it is longer than the average marriage of 13.6 years. But this divorce has long been priced in and we feel it is time to leave the past behind and concentrate on the future.
American Express could certainly have a bright future. It will take some time to get its growth levels to the same heights as previous years, but in time it will we're sure. Warren Buffett continues to hold onto his 15.6% stake and although he has acknowledged its struggles publicly, in his recent letter to shareholders he reiterated his view of it being an excellent business which is being run by talented managers. He said it is a business which has always had to adapt, and now is no different
We don't expect the management team of AmEx to just wave goodbye to all the Costco cardholders they have lost. We feel it is highly likely that the company will attempt to recapture these lost customers with very enticing offers and incentives. With all the data it has, it would also have the luxury of picking and choosing which customers it wants to attempt to recapture. If the company can recapture a decent portion of these customers, then this could certainly take the market by surprise.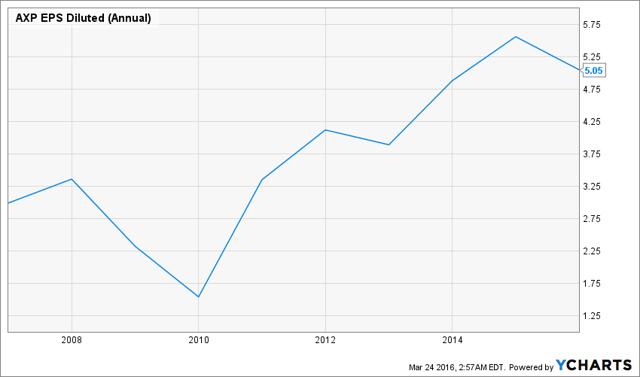 We don't expect to see earnings growth at the same rate as previous years, but we certainly do believe it is possible to grow earnings in the high single-digits. High single-digit earnings growth should provide investors with plenty of upside at the current share price.
The rewards programs that AmEx offers are great in our opinion and encourage continued use. We use our cards wherever possible to earn points. We may have Visa (NYSE:V) and MasterCard (NYSE:MA) cards in our wallet, but we will reach for the AmEx whenever and wherever it can be used. There has been a bit of talk recently about a patent that AmEx filed in 2014 named "Third Party Digital Wallet Pay With Points". The idea here is that points will be able to be redeemed wherever consumers want to use them regardless of whether the company or merchant has a working relationship with AmEx. This could be a great way of getting consumers hooked on using its cards.
The link-up with Uber (Private:UBER) is a great way of reaching the millennial generation and winning their business. Uber was recently named as one of three major items that millennials are spending their money on. The spending power of this generation is incredibly important both now and in the future. In the United States in 2015 the demographic was estimated to have a spending power of almost $2.5 trillion.
We also believe the societal shift from cash payments to card will continue to benefit AmEx in the future. The same can be said for the next phase in payments - mobile payments. We regularly use our AmEx cards through Apple Pay and have never had any issues with the service. A good service should encourage high levels of adoption.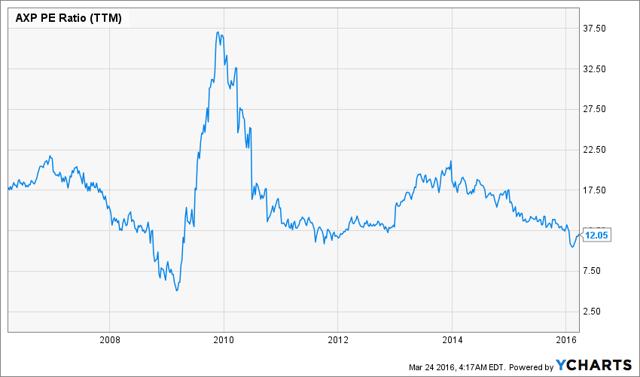 As you can see above the shares are trading at a trailing price to earnings ratio of just 12.05. This is far below the average that they have traded at in the past, with the 5-year average (which excludes the spike shown above) being 15.08. During times like this we do believe negative sentiment could stop the shares from trading at that multiple for a little time. Because of this we believe valuing them at 13 times earnings is more than fair.
For the full-year we anticipate the company delivering earnings per share of $5.50, which at 13 times earnings gives us a price target of $71.50. This works out to being an 18% return from the last close price.
As sentiment starts to shift we expect the shares to begin trading at a higher multiple. This should offer significant upside in the future that make an investment in AmEx today a must.
Disclosure: I am/we are long AXP.
I wrote this article myself, and it expresses my own opinions. I am not receiving compensation for it (other than from Seeking Alpha). I have no business relationship with any company whose stock is mentioned in this article.