SunPower (NASDAQ:SPWR) is one of the few major solar manufacturers to fully embrace residential solar. Given residential solar's enormous addressable market and the general long-term promise of distributed generation, SunPower's growing involvement in this sector is great news for investors. With the current leading residential solar companies experiencing major growth issues, SunPower has a perfect opportunity to cement its foothold in this arena.
SunPower recently introduced the SunPower Equinox, which is the industry's only fully integrated residential solar system. Even SolarCity (NASDAQ:SCTY), which is the residential solar industry's most vertically integrated company when including the installation process, does not offer a fully integrated residential solar system. SunPower is arguably the best-suited solar company to offer a complete residential solar system given the company's unparalleled product quality and efficiency.
SunPower recently introduced the fully integrated SunPower Equinox residential solar system.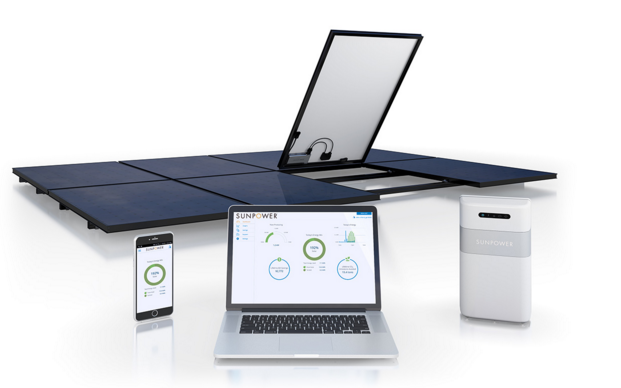 Source: SunPower
Perfect Fit for Residential Solar
SunPower manufactures the highest efficiency commercial modules in the industry, which gives the company a huge advantage on the residential solar front. As module efficiency is far more important in residential solar given the segment's disproportionately high installation costs (higher efficiency means less panels to install), SunPower already has a huge advantage going for it. Most residential solar companies are using modules with efficiency percentages in the mid-teens. SunPower, on the other hand, is using 22% efficient modules.
Whereas leading residential solar company SolarCity is spending a huge amount of its time/resources attempting to manufacture high-efficiency modules, SunPower has already perfected high-efficiency module manufacturing. This fact alone will give SunPower a huge edge over its residential solar competitors. While SunPower still has a long way to go before it can compete with the likes of SolarCity, Vivint Solar (NYSE:VSLR), or Sunrun (NASDAQ:RUN) in terms of market presence, SunPower certainly has the ability to create a dominant foothold in the industry.
Fully Integrated System
SunPower has managed to create a fully integrated residential solar system, which should give the company many advantages. By producing everything in-house, SunPower should be able to bring down total costs both on the hardware and installation front. On the hardware front, SunPower will be able to manufacture each individual component so that it fits perfectly with the whole system.
This should allow SunPower to create cheaper individual components as the company will only have to worry about creating functions that work with its unique system. In contrast, a residential solar company that does not have a fully integrated system has to buy components that work with all types of solar systems. As such, components have an excess of functions given the need to cater to a wide assortment of solar systems, they are disadvantaged on the cost front.
By creating components that are specifically tailored for its own system, SunPower does not have to worry about manufacturing components that will work with all types of systems. Such an integrated approach will also help installers save time/effort, thus lowering total install costs. Installers will have a far smoother time installing rooftop solar components that are tailored perfectly for each other.
SunPower's integrated approach gives the company an ability to manufacture components in a manner that specifically makes the installation process easier. For instance, SunPower's microinverters are already integrated into the company's panels in the factory. In most cases, installers have to manually attach inverters to panels during the installation process. While specialization has its own cost benefits, SunPower's fully integrated approach likely has more potential to lower total costs given both the hardware and installation cost benefits of this approach.
Large Obstacles Remain
SunPower still has to contend with major established residential solar players like SolarCity and Sunrun. These companies already have a tight hold on the residential solar industry, which should make it more difficult for SunPower to penetrate the market. With SolarCity continually improving upon its already unparalleled cost structure, SunPower will have to offer a truly compelling product to compete.
Fortunately, for investors, the SunPower Equinox will likely be highly competitive even against the likes of SolarCity. What's more, SunPower is targeting a slightly different customer base and is far less dependent upon the controversial long-term contract model. Given SunPower's superior technology and differing customer base, the company should be able to build its own formidable presence in the residential solar market.
Conclusion
SunPower is arguably the most vertically integrated company in the solar industry. The introduction of its comprehensive and aesthetically pleasing new residential solar system should only further expand the company's dominance across the solar industry. SunPower still has far more upside at its current market capitalization of $3 billion, as the company is one of the most fundamentally sound in the industry.
Disclosure: I am/we are long SPWR, SCTY.
I wrote this article myself, and it expresses my own opinions. I am not receiving compensation for it (other than from Seeking Alpha). I have no business relationship with any company whose stock is mentioned in this article.