West Texas Intermediate and Brent crude pricing have firmed up over the past six weeks and now sit around $40/barrel. There are signs of a stabilization and a potential bottom, but it's still far too early to tell and like in the past, crude could tank again back below $30/barrel. However, the market is moving in the right direction as non-OPEC supply comes down, global demand increases, and OPEC supply growth comes under control. Upstream oil & gas players with strong balance sheets, acreage positions in top tier plays, managed debt maturities, and plenty of liquidity stand to gain the most in the event of a rebound.
Pro forma for its secondary offering and recent borrowing base increase, Marathon Oil Corporation (NYSE:MRO) had $2.4 billion in cash on hand and an undrawn $3.3 billion revolving credit line (boosted by $300 million on March 4, 2016) at the end of 2015. That's a big boost compared to Marathon's previously reported $4.2 billion in liquidity ($1.2 billion in cash, $3 billion credit line) at the end of last year. On top of its secondary offering, Marathon Oil has a $750 million - $1 billion non-core asset divestiture program underway, up from its previous target of $500 million. Slightly over $300 million in deals had already been completed by the end of last year.
To compensate for plummeting cash flow streams due to lackluster prices, Marathon Oil has done a solid job of curtailing its expenditures. The company cut its quarterly dividend payments by 76% (saving $425 million a year), reduced its workforce to save $160 million per year, and brought down its capex budget by 53% versus last year and 75% compared to 2014. The company plans to spend $1.432 billion on capital expenditures, ~$136 million on dividend payments, and ~$270 million on interest payments in 2016, or ~$1.84 billion in expected expenditures.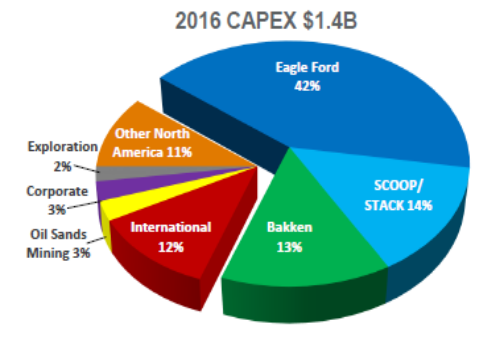 Source: Marathon Oil Corporation Presentation
Going forward, Marathon Oil's financial trajectory is a lot brighter. Since entering 2016 on a very bearish note, Marathon Oil has doubled its cash balance through an equity offering, engaged in another round of aggressive cost cuts, increased its borrowing base while similar names grapple with reductions to their credit lines, boosted its non-core divestiture program, and its stock price has started to rebound because of it.
Through its strategic maneuvers, the chance of a cash crunch in the event oil prices continue to stay subdued is now very unlikely. $680 million of Marathon's debt load matures in October 2017, followed by $860 million the year after. With the company now in a position to wade through 2016 while retaining a solid liquidity position, Marathon Oil's shareholders can wait for a recovery without having to worry about external factors (like a much lower for much longer environment) crimping its liquidity once a material amount of debt comes due. Marathon Oil had just under $7.3 billion in long term debt at the end of 2015.
Operations
When crude and to a lesser extent natural gas prices recover, Marathon Oil Corporation has a extensive inventory ready to be developed across its positions in the Eagle Ford, the Bakken/Three-Forks, and the STACK/SCOOP region.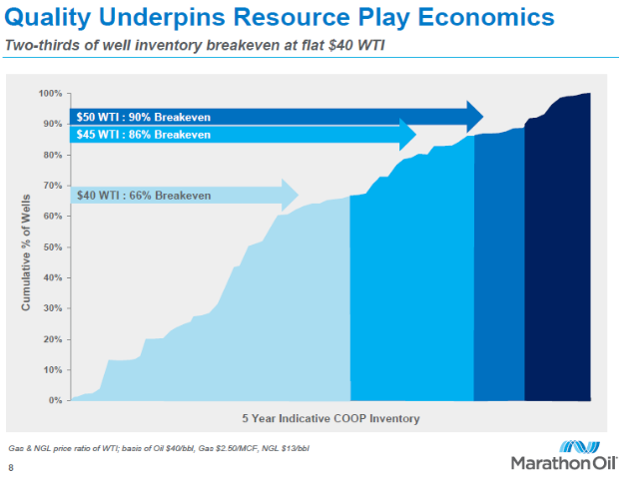 Click to enlarge
Source: Marathon Oil Corporation Presentation
At $40 WTI, Marathon sees two-thirds of its potential well locations capable of breaking even. That goes up to 90% of its unconventional American portfolio when WTI hits $50/barrel. Keep in mind these numbers assume a natural gas price of $2.50/Mcf, roughly a third higher than where prices are at as of this writing. However, as most of Marathon Oil's core and core-lite inventory is heavily weighted towards liquids, that won't be a major issue for the time being. In Q4 2015, Marathon Oil's production cut of oil/condensate, NGLs, and natural gas from its US Resource division was 60%, 18%, and 22%, respectively.
Marathon Oil is betting all of its chips in Oklahoma on the STACK region with the emerging Meramec oil shale play in mind. 66% of Marathon's Oklahoma Resource Basin's 2016 capex budget is going towards developing its Meramec position to delineate the crude/condensate window, boost its HBP acreage to 60% by the end of 2016, and get an idea on how to properly develop the very economically horizon.
Industry wells targeting the play have been able to "breakeven" at oil prices as low as $22/barrel in the core of the core portion of the volatile oil window in the Meramec. In other parts of the play the breakeven price is a bit higher but not by much and still comes in below $40. The Meramec play is centered around the Kingfisher, Blaine, and Canadian counties in Oklahoma.

Click to enlarge
Source: EnLink Midstream Presentation
At the end of 2014, Marathon Oil held 270,000 net acres in the STACK and SCOOP region. The company was able to pick up an additional 14,000 net acres in the area for less than $3,000/acre last year, with most of that acreage located in the prolific Blaine county. Marathon Oil sees its 2P resource at 1.6 billion BOE in the region and management is aiming to make it Marathon's next 100,000 BOE/d+ asset.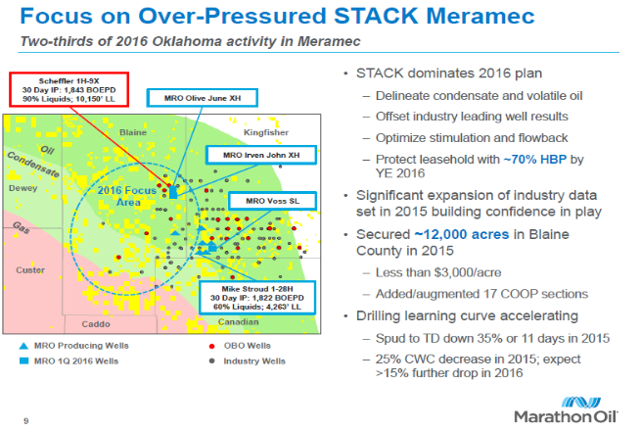 Click to enlarge
Source: Marathon Oil Corporation Presentation
Keep in mind that its Eagle Ford, Bakken/Three-Forks, and SCOOP/STACK divisions pumped out 128,000 BOE/d, 58,000 BOE/d, and 28,000 BOE/d, respectively, during the final quarter of 2015. What that implies is that Marathon Oil is going to direct more of its attention to boosting its SCOOP/STACK production, with its 2016 capex budget allocating the second most amount of money to that division.
On the drilling economics front, what Marathon Oil is really looking to do is optimize its completion and drilling techniques so it can cut down on its spud to total depth time (after a 35% decrease in 2015) while boosting well productivity. Marathon's Meramec completed well costs fell by 25% in 2015, and management is guiding for another 15% drop this year. Faster drilling times, cheaper labor costs, and lower third-party prices will push down on total well costs while larger output streams yield bigger liquids-weighted revenue streams (especially if Marathon Oil is able to effectively delineate and develop the Meramec volatile oil window).
International
Production from Marathon's Equatorial Guinea asset rose by 5% quarter-over-quarter to 104,000 BOE/d last quarter. Marathon Oil's Alba compression development will extend its peak production rate for two years as it increases the lifetime of the field by eight years. The project will compensate for the projected base production decline, keeping production stable over the next couple years.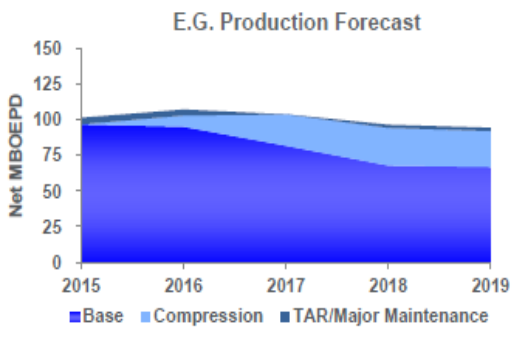 Source: Marathon Oil Corporation Presentation
The compression development is expected to start-up around the middle of this year and will tap into 130 million BOE of proved reserves. Marathon Oil now estimates that its EG asset will keep producing through 2030 and beyond. Investors should note that its heavy well intervention program negatively impacted its EG production streams during the first quarter of 2016 by 20,000 BOE/d, which will normalize starting next quarter.
Final thoughts
Marathon Oil Corporation's future is starting to look a lot brighter as its financial woes come under control. Cutting the dividend was the right thing to do as payouts to investors make little sense when generating negative free cash flow. As its capex and dividend cuts take effect, Marathon Oil's outspend should come down this year versus 2015. Asset sales will help bolster its cash pile while prices are low and its managed debt maturities provides the company with plenty of time to adjust to the new pricing paradigm. Investors looking for a safe way to play a rebound in crude prices should take a look at Marathon Oil Corporation and its 1.8% yield.
Disclosure: I/we have no positions in any stocks mentioned, and no plans to initiate any positions within the next 72 hours.
I wrote this article myself, and it expresses my own opinions. I am not receiving compensation for it (other than from Seeking Alpha). I have no business relationship with any company whose stock is mentioned in this article.