Starboard Value, the activist hedge fund, is (in)famous for its unapologetic and aggressive approach to enacting change in the companies it owns shares in. And Yahoo (NASDAQ:YHOO) is proving to be no exception. On March 24, Starboard sent a scathing letter to Yahoo and its shareholders, outlining several grievances as well as detailing a plan to replace the company's board of directors and the CEO, Marissa Mayer.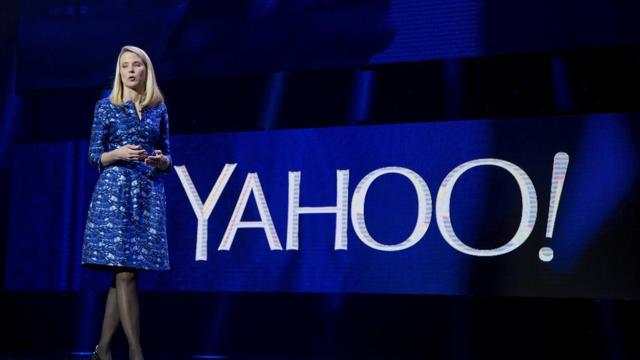 Click to enlarge
Yahoo CEO Marissa Mayer. (AP Photo/Julie Jacobson)
Almost immediately after the letter became public, CNBC's Jim Cramer lauded Starboard's activist approach: "Rick Hill is one of the greatest moneymakers I have ever seen in my lifetime. He created tremendous value from Novellus. If they win, and Rick Hill becomes the interim CEO, you could have one of the great home runs. If Rick Hill is the CEO, I'm going to tell you to buy it." Cramer strongly believes investors should purchase Yahoo stock if Rick Hill is nominated for CEO, but the question is: Will a change at the helm really increase Yahoo's value? Are Starboard's candidates a better fit, and will they do better than the current leadership at the company?
The Question of Value
When looking over the letter, Starboard hits a lot of key points. They begin by making the case for change: Marissa Mayer and the board have proven to be ineffective at boosting the company's value. While Yahoo stock increased sharply after Mayer's initial appointment to the job, shares have been on a downward trend as financial results and continued aimlessness in direction grip the company.
Starboard also describes Yahoo's strange behavior with bidders on its core business assets, deriding the lack of transparency and potential conflicts of interest that lie therein.
The hedge fund is correct in a lot of its assertions. Despite the promises of the CEO, the last four years have been, at best, unsettling for Yahoo shareholders, as management has continued on its path of puzzling decisions and acquisitions. Yahoo has deployed $2.3 billion on acquisitions since 2012, but has already had to write down $1.2 billion relating to those acquisitions.
The main problem the company has now is that its losing a lot of ad revenue to Alphabet (GOOG, GOOGL) and Facebook (NASDAQ:FB) and can't seem to wring any money out of acquisitions like tumblr. Despite the big proceeds from the Alibaba (NYSE:BABA) IPO, Yahoo is still about as directionless as it was four years ago.
This isn't to say Yahoo is worthless by any stretch. On the contrary, the company does have value in what is being termed its "core business": its search and email services. This is what the Starboard team is after and is trying to convince the Yahoo board to sell, rather than spin off.
Why sell the core business? Starboard has criticized Yahoo for pursuing a spin-off despite its belief that "interested and credible buyers" are out there. Analysts also believe a sale would value the core higher than a spin-off and would have less tax repercussions. As Citi analyst Mark May wrote in December 2015, selling the core business is "a viable and attractive option" for Yahoo. He continues: "Not only could this outcome be a more effective way of unlocking value of its stake in Alibaba, but also the core Yahoo! business could achieve a higher value (e.g., 5-6x forward EBITDA or $3.4-4.1 billion EV) than what is currently implied (i.e., ~2.5x forward EBITDA or $1.7 billion EV) given its scale and strategic value to what we believe is likely a number of potential buyers."
Therefore, while the value in Yahoo is there, it needs to be unshackled, and Starboard's candidates seem ready to do just that. CEO candidate Rick Hill's professional experience includes being the CEO of chipmaker Novellus Systems until 2012, when the company was bought out by Lam Research Corp. (NASDAQ:LRCX) for about $3.3 billion. (However, it's worthy of note that he did a great job of actually growing Novellus during his tenure, so it's not like he's only good at selling businesses.)
The Fork in the Road of Value Creation
Something that I don't see being discussed too much in the field's literature so far is how the new board would run Yahoo in the event a sale of the core business does not happen. The Starboard replacement candidates are seemingly geared towards the possibility of a sale. So, what would the solution be if there isn't a sale of the core business? Why, more sales of course!
In all seriousness, though, if a sale of the core business doesn't take place, the new management has a couple of options to unlock value. They could just move ahead with spin-off plans. While this would probably yield less money for Yahoo, it would be another way to restructure the firm into a holding company - probably the best way forward for shareholders to get value from Yahoo.
Or, the new board could keep the core and decide upon trimming the less profitable parts of Yahoo. This move, however, is unlikely to occur separately or not in conjunction with some form of restructuring. Why would companies like Verizon (NYSE:VZ) and Disney (NYSE:DIS) pass on Yahoo's valuable IP but bite at the chomp to buy things like tumblr?
But in today's market, where Snapchat commands a value between $12 and $16 billion, perhaps Yahoo might be able to jettison some of its least profitable divisions under new management and be able to streamline and focus its core business. The new team could come in, admit the past mistakes and signify this by getting rid of some of the most quixotic Yahoo acquisitions. However, I still believe finding a way to restructure Yahoo by selling its core business is the most optimal outcome.
Conclusion
Overall, Cramer is probably right on this one. If the Starboard candidates come in and replace Yahoo's current leadership, they have the potential to create tremendous value for shareholders. However, in order to boost the stock, a sale is the best way forward. As Business Insider notes, "That doesn't mean anyone expects Yahoo's troubled core business, which has suffered from several years of stagnant revenue growth, to rebound anytime soon. But with activist investors and bankers circling Yahoo, a turnaround in the core business might not be necessary for the asset to become more valuable."
While the Starboard team could probably run Yahoo plus the core business well, the safer bet by far is to explore a sale. The damage has been done over the last four years, and the Starboard candidates would need to quickly come up with a plan to deal with the repercussions of prior bad management decisions without the proceeds from auctioning off the core business. Why deal with all that when you can work out a deal with one or more of the several credible buyers Starboard talks about?
Disclosure: I/we have no positions in any stocks mentioned, and no plans to initiate any positions within the next 72 hours.
I wrote this article myself, and it expresses my own opinions. I am not receiving compensation for it (other than from Seeking Alpha). I have no business relationship with any company whose stock is mentioned in this article.