Encana Corp (NYSE:ECA) is among those top tier exploration and production companies that have deep penetration into the rich oil and gas resources of Montney, Duvernay, Eagle Ford and the Permian Basin. The company has seen massive production growth from these key assets, and has been investing almost 80% of its capital on these assets.
These four assets have the potential to bring in excess of a 30% return, even at the WTI oil price of $50 and the gas price of $3 per MMBtu. In the final quarter of 2015, Encana generated production growth of 35%, up to 274,400 barrels of oil equivalent per day (BOE/d) from its four key assets. The company's oil and liquid production increased 36% to 145,000 barrels in the final quarter of last year.
On another front, ECA's management has been aggressively working to cut costs and improve production efficiencies. In the past year, they saved more than $400 million in capital and operating efficiencies, well beyond their objective of $375 million. Consequently, company's liquidity threat will remain extremely low for the next few years.
In 2015, it reduced its debt by over 30%, or $2 billion, and the company faces no long-term debt maturities until 2019. Encana has also renewed its $4.5 billion of unsecured credit facilities; these will not mature until 2020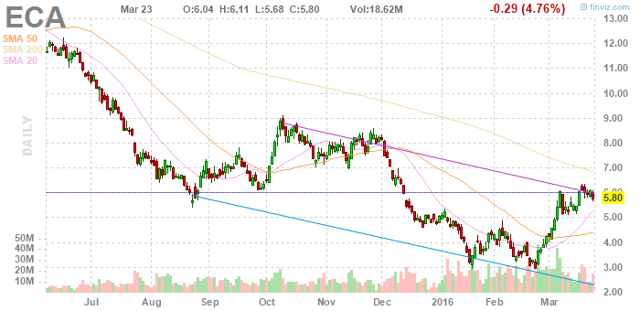 Click to enlarge
Encana's stock dipped violently along with the fall in oil prices, which plunged to a decade-low in February of this year. However, oil prices have since shocked investors' negative sentiments, growing by almost 52% since hitting the 20s range in late January of this year.
At present, WTI is trading near $40 a barrel while Brent is hovering above $41 a barrel. With the surge in oil prices, Encana's share price has soared, growing over 84% in the past month alone; this is nearly double the growth in oil prices and shows that oil investors love investing in Encana shares. Investors are now displaying their confidence in ECA's game plan and in its strategic position in the middle of the world's richest oil acreage.
Now the question arises whether the company's stock contains even more upside potential, or if selling on the heels of its 84% appreciation is a wise strategy. My opinion is that the company's share price could continue its gains for the coming quarters amid strong market fundamentals for oil prices, added to Encana's strategic positioning in high-margin areas and its strategies for minimizing costs. These actions, along with robust hedging positions, are lowering its breakeven point and enhancing its financial performance.
The company is looking to reduce its costs by around $550 million over 2016. The company is also working to enhance efficiencies throughout its four key assets; this could contribute a further $50 million of cash flow in 2016. In addition, multiple analysts are expecting oil prices to trade above $50 a barrel amid declining inventories, twelve consecutive weeks of falling rig counts, and key production negotiations.
In Conclusion
The globe's 15 largest oil producers, responsible for nearly 73% of all production, have been displaying great willingness to freeze production levels in order to further the recovery of oil prices. Oil fundamentals are now improving due to the positive signs of declining U.S production and the afore-mentioned production talks. Combining the rise in oil prices with Encana's improved cost structure, we can expect to see significant improvements in the company's financial and stock performance for weeks to come.
Disclosure: I/we have no positions in any stocks mentioned, and no plans to initiate any positions within the next 72 hours.
I wrote this article myself, and it expresses my own opinions. I am not receiving compensation for it (other than from Seeking Alpha). I have no business relationship with any company whose stock is mentioned in this article.