Seadrill (NYSE:SDRL) shares fell close to 10% on Wednesday after the company announced that it has received a contract from Petrobras (NYSE:PBR) for extending a rig contract. The drop in Seadrill shares does not look surprising as the company had to slash the drillship's dayrate to $229,000 from the prior $467,000, indicating a decline of almost 51%.
As a result of this new contract for the West Tellus drillship that will run for 18 months, Seadrill's backlog has dropped by $132 million. What's more, analysts at Evercore ISI believe that Seadrill will see further decline in its backlog as it might have to renegotiate the contract on the West Carina, which is also contracted to Petrobras at a dayrate of $457,000.
But, in my opinion, Seadrill is making the right move by extending its contracts at lower dayrates as it won't need to bear the costs of stacking its rigs and keep utilization rates high at the same time. Moreover, the company has been able to keep its margins and cash flow in good shape over the past year, which is why it can afford to pen contracts at lower dayrates. This is shown below: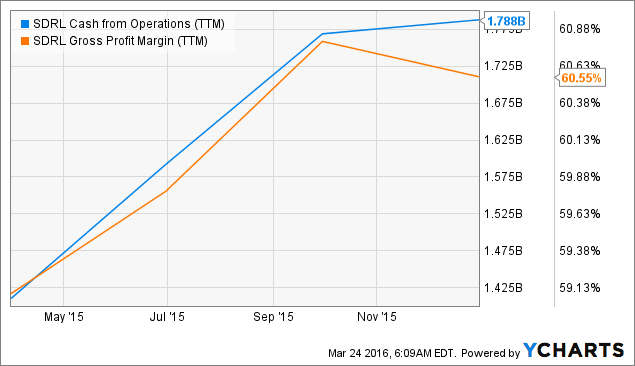 SDRL Cash from Operations (NYSE:TTM) data by YCharts
Additionally, by keeping its rigs contracted, Seadrill will remain in a position to increase dayrates in case of an oil recovery. As such, I think that the recent drop in Seadrill's share price is an opportunity for investors to capitalize upon due to the following reasons.
The backlog is still strong
On February 24, 2016, Seadrill's backlog stood at a respectable $5.1 billion. Out of this, the floater fleet accounted for $3.9 billion worth of backlog while the jack-up fleet accounted for $1.2 billion. Now, the average contract duration for the backlog stands at 18 months for the floater fleet and at 13 months for the jack-up fleet.
This means that the company is quite capable of keeping its revenue performance in decent shape over the coming year. In comparison, Seadrill had generated revenue of $4.22 billion last year, which means that its backlog is still greater than the revenue. What's more, investors should not forget the fact that Seadrill has also made positive moves to improve the backlog of late.
For instance, in February, Seadrill was able to increase its backlog by $285 million by gaining a new contract for its West Eclipse rig in Angola. However, as a part of the deal, Seadrill had to reduce the dayrate on the West Polaris, which led to a drop of $95 million in the backlog. But, as a part of this exercise, Seadrill's overall backlog had increased by $190 million, which is greater than the backlog reduction it has been forced to take as a result of lower dayrates from Petrobras on the West Tellus.
Also, as I had mentioned earlier, Seadrill is making the right move by accepting new contracts at lower dayrates since this will help the company benefit from higher utilization rates. As shown in the chart given below, higher utilization rates have had a positive impact on Seadrill's revenue and EBITDA in the latest quarter, mitigating the loss due to idle units to some extent.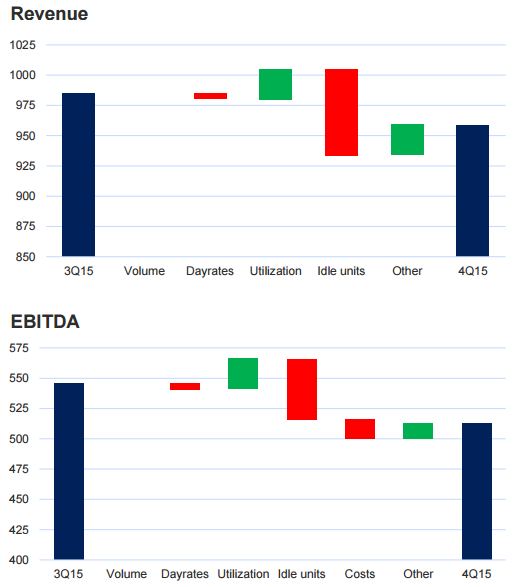 Source: Seadrill
Seadrill's moves will enable it to ride the downturn
The utilization rates of rigs have dropped to only 70% of late as compared to over 90% before the oil crash began. Even in this environment, Seadrill was able to maintain an economic utilization of over 90% in each of the last four quarters. Looking ahead, industry players such as Transocean (NYSE:RIG) expect that the situation will start getting better in offshore drilling as demand is expected to pick up pace.
Moreover, offshore drillers have also been scrapping rigs in a bid to reduce oversupply in the industry. For instance, Transocean has scrapped 24 rigs already and says that it might scrap another 10-15 rigs going forward. This move will lead to a drop in the oversupply of rigs and help the industry recover. At the same time, it is anticipated that utilization rates across the industry will start picking up pace. As reported by Fuel Fix:
"Rig-use rates, which have fallen to about 70 percent in the past year from more than 90 percent for the most advanced semi- submersible units, will probably begin to pick up within the next 12 to 24 months."
Therefore, a combination of lower rigs in the end market and a recovery in demand going forward will prove to be a tailwind for Seadrill as it will be able to keep its utilization rates in good shape.
Conclusion
Seadrill might have dropped steeply after the announcement that its latest contract negotiation will have a negative impact on the backlog, but investors should not forget that the company is in a robust position from a long-term point of view. Its backlog is in good shape and the utilization rate is also strong. As such, it will be a good idea to take advantage of the drop in Seadrill's stock price as it can do well in the long term.
Disclosure: I/we have no positions in any stocks mentioned, and no plans to initiate any positions within the next 72 hours.
I wrote this article myself, and it expresses my own opinions. I am not receiving compensation for it (other than from Seeking Alpha). I have no business relationship with any company whose stock is mentioned in this article.