I hope you took my advice back in September when I said to "invest in utilities because the Fed remains dovish." Since then, utilities have provided a total return of 14%, outperforming the overall S&P 500 index which provided a 7.9% total return. The utility sub-sector of the S&P 500 has been the second best performing sub-sector to begin the year behind telecom.
Year-to-date, the overall S&P 500 has provided a total return of .83% while utilities have returned 12.8%. Not bad for boring utility stocks!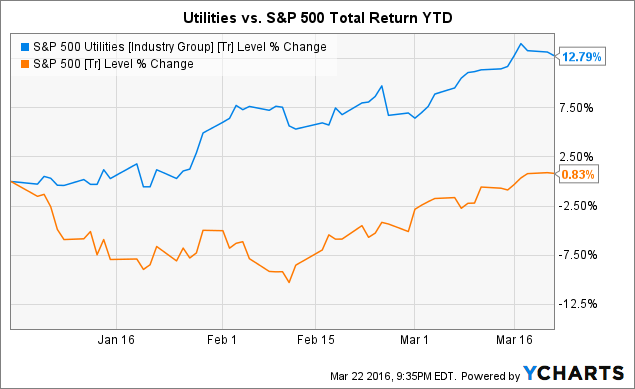 Why taking gains now makes sense
The S&P utility index includes 30 stocks. 23 of those have provided greater than 10% return year to date. With that return, you have outperformed the S&P 500 by over 9%. Since many investors use the S&P 500 as their benchmark, then taking some of those gains now is a good idea. POM, TE, and GAS have trailed the index while EXC, EIX, and PEG have outperformed.
More importantly, the rest of the year will be a challenge for utility stocks because inflation is really beginning to heat up and the Fed is likely to resume their rate hikes in June. Both of these events should cause a shift in the interest rate curve upwards which would negatively impact valuations for utilities much like a rate increase would hurt a long duration bond. If the 10 year treasury were to rise to 3%, owning a 3.5% dividend yield utility becomes less attractive as it only yields .5% over the treasury yield and the utility carries more risk.
Utility valuations would need to fall which would in turn inflate the dividend yield and the market would appropriately re-price the risk inherent in the utility based on the higher risk-free rate.
Since 2000, the average dividend yield for the utility index has been around 3.82% and it is currently at 3.4%. In the past 15 years, the yield dipped below 3.2% only a couple times and this occurred before the stock crashes of 2001 and 2008. The fall in yield as the index price rises becomes a strong indicator that it's time to sell now and buy back in when the yield looks more attractive. The yield briefly spiked above 5% in 2002 and 2009 but the index has looked cheap when yields were greater than 4%.
Fundamental Indicators
On traditional valuation metrics such as P/E, P/B, EV/EBITDA, and dividend yield the utility index looks cheaper than the overall S&P 500. Valuations have been inflated by the QE program so I take this with a grain of salt as I don't view any sectors as particularly cheap right now.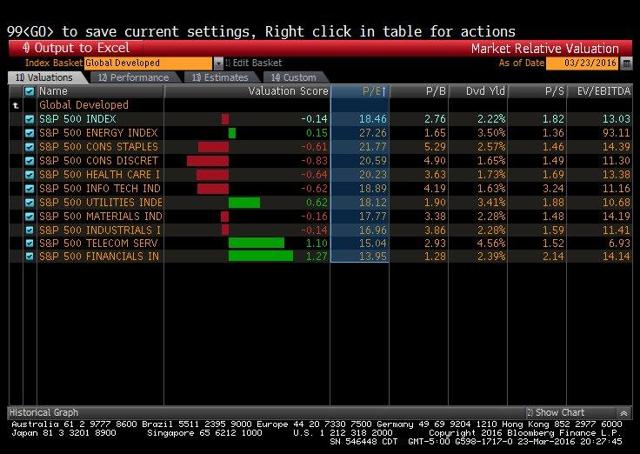 Click to enlarge
The utility index average P/E (purple line below) for the past 15 years has been 14.9 and it is currently almost 1.5 standard deviations above that at 18.12. The green line in the middle represents the average P/E over this time frame. The other two green lines show +1 and -1 standard deviation. This shows the current P/E is well above 1 standard deviation away from the average which has happened only a few brief periods since the year 2000. This is another indicator it is time to sell.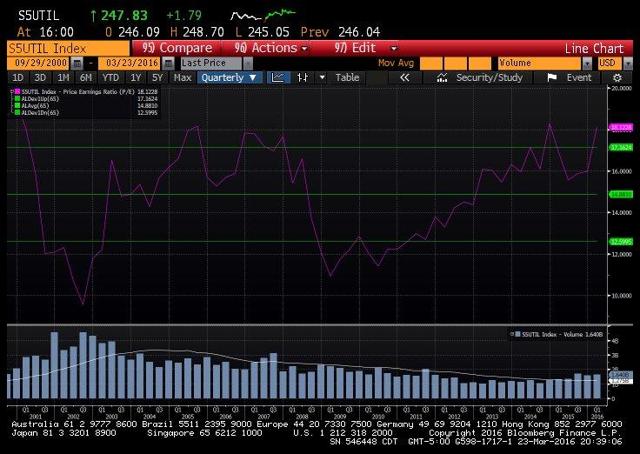 Click to enlarge
Technical Indicators
The chart shows the index is close to all time highs. The bottom panel shows the RSI is close to 69 and a 70 is generally considered overbought. The index is currently priced above it's 20, 50, and 100 day moving averages.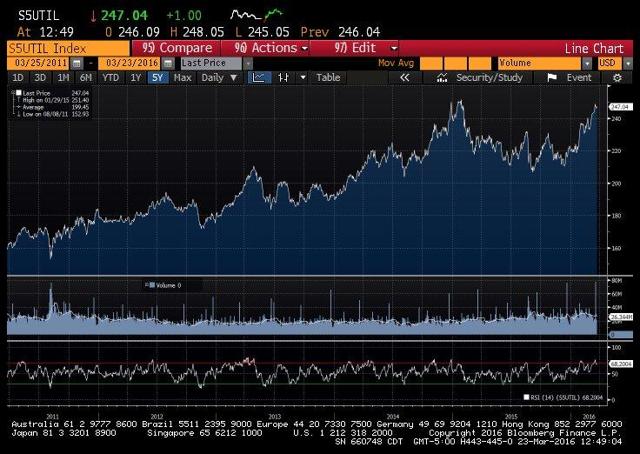 Click to enlarge
Conclusion
The Fed will likely raise interest rates later this year if inflation continues to rise. This limits further upside in utilities. The inflated P/E of the sector, lower than historical average dividend yield, and technical indicators point towards utilities being overvalued. Taking some gains now makes sense.
Disclosure: I/we have no positions in any stocks mentioned, and no plans to initiate any positions within the next 72 hours.
I wrote this article myself, and it expresses my own opinions. I am not receiving compensation for it (other than from Seeking Alpha). I have no business relationship with any company whose stock is mentioned in this article.