The share price of Phillips-Van Heusen Corp. (NYSE:PVH) has climbed by a massive 26.5% since we recommended it as a buy on January 28, but it's not too late for investors to jump in on the PVH train. We still see even more upside ahead for investors due to the company's strong performance and the low multiple it is trading on.

Click to enlarge
Phillips-Van Heusen operates and markets a very diverse portfolio of brands globally which includes Calvin Klein, Tommy Hilfiger, Van Heusen, IZOD, ARROW, Speedo, Warner's and Olga. We were particularly optimistic over the Calvin Klein brand, thanks to its use of global icons Justin Bieber and Kendall Jenner.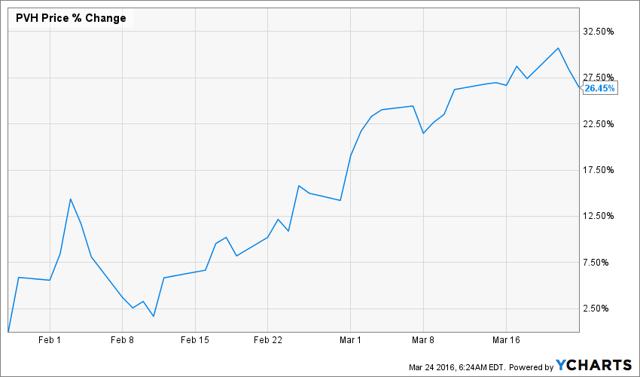 Click to enlarge
This week, the company reported a beat on both the top and bottom line, but the share price gains were made long before then as you can see on the chart above. We feel there is still a long way to go, though, and continue to look at topping up our position.
For us it was, and still is, all about Calvin Klein and China. These two are the catalysts for strong growth in the years ahead. Calvin Klein performed incredibly well in the fourth quarter with revenue growing by 21% in constant currency, or 15% on a GAAP basis.
We feel the brand has been connecting well with a younger market, thanks to the company's marketing with the likes of Justin Bieber and Kendall Jenner. The exposure these two gives the brand is incredibly extensive and powerful. This helped domestic stores produce comps of 4% and international stores saw comps increase by 6%. Although there will be currency headwinds, we expect the Calvin Klein brand to continue its strong growth in the years ahead.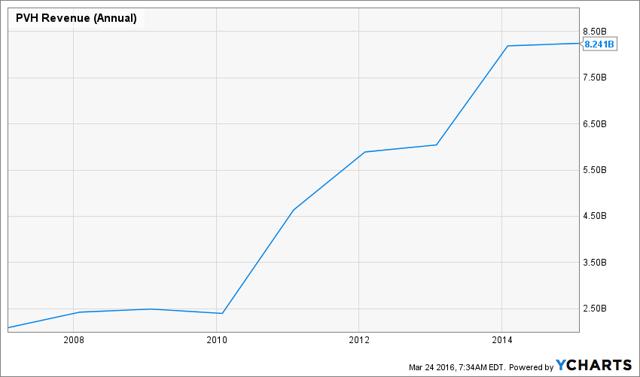 Click to enlarge
As you can see above, despite the strong dollar, the company managed to increase its revenue year over year ever so slightly. Whilst the US dollar remains as strong as it is, we wouldn't expect to see revenue growth ramp up. The company will have to focus on expanding margins in order to grow its bottom line. PVH managed to make improvements in its gross margin in fiscal 2015 for a second successive year, and we hope to see more improvements in fiscal 2016.
When we invest in companies, we prefer the company to be liquid and producing good levels of free cash flow. Thankfully, its strong balance sheet, characterized by its current ratio of 2.1 and high levels of positive free cash flow ($600 million), Phillips-Van Heusen is a good fit for us.

Click to enlarge
Due to its strong balance sheet, PVH has been able to acquire the remaining 55% of the Tommy Hilfiger China joint venture. This will give the company the opportunity to further strengthen its market position in China. Although it is not expected to close until the end of the first quarter, management expects it to add around $100 million to the top line, as well as being accretive to full-year earnings on a non-GAAP basis. We have been very pleased with the performance of the Calvin Klein brand in China and expect to see the Tommy Hilfiger replicate this success.
In fiscal 2016, we believe the company will again see gains in revenue and earnings, thanks to increased brand awareness and appeal, thanks partly to a new audience brought about by Kendall Jenner and Justin Bieber. This and the Tommy Hilfiger China acquisition should lead to earnings per share of $6.60. This is more ambitious than management's guidance of $6.30 to $6.50 on a non-GAAP basis, but very achievable in our eyes.
As we shift focus from revenue to earnings, we are now valuing the shares on a price-to-earnings basis. 16 times earnings is fair in our opinion and puts it in line with Ralph Lauren (NYSE:RL) which is priced at 17 times earnings. Our target price is therefore $105.60, which is upside of 20%. It is for this reason we are continuing to look at topping up our position rather than taking profit after the 26% gain.
Disclosure: I am/we are long PVH.
I wrote this article myself, and it expresses my own opinions. I am not receiving compensation for it (other than from Seeking Alpha). I have no business relationship with any company whose stock is mentioned in this article.