The concerns over a possible global economic slowdown along with a stronger U.S. dollar have curbed the rally of Philip Morris International (NYSE:PM) at the beginning of the year. But over the past few weeks Philip Morris International resumed its upward trend and its shares are currently up by more than 10%, which is much better than other what other tobacco giants have done so far: Share of Altria (NYSE:MO) and British American Tobacco (NYSEMKT:BTI) are up by only 3% and 5.5%, respectively, year to date. But at the current valuation, the excepted shift in the direction of the U.S. dollar and the likely slower growth in PM's dividend this year (compared to Altria), PM becomes less of a bargain.
One of the factors that helped pull up shares of PM is the back wind it received from the devaluation of the U.S. dollar, as indicated in the following chart.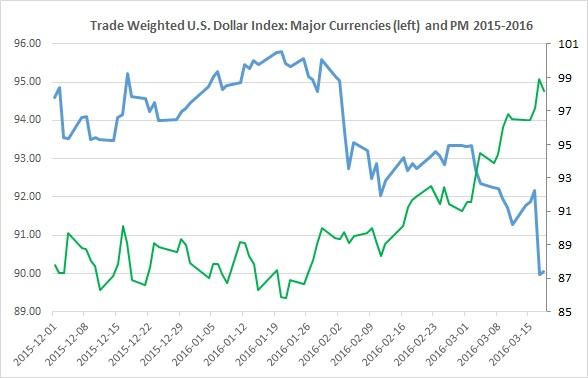 Source: FRED and Google finance
Since the end of January, the U.S. dollar depreciated against the major currencies, which coincided with the recovery in shares of PM. Bear in mind that back in 2015, PM's unfavorable currency provision reached $4.7 billion for $26.7 billion in revenue or nearly 17.6%. And this year, the company projected its earnings per share to range between $4.25 and $4.35 as the exchange rates as of the release of Q4 earnings report. So any devaluation of the U.S. dollar could behoove the company's EPS and lead to higher dividend raise later this year. But this could change as other central banks continue to aim towards devaluing their currencies: The ECB rolled out another stimulus package to boost the EU economy including slashing rates and augmenting its QE program and BOJ also lowered its deposit rate to negative territory. While the FOMC didn't raise rates in the last meeting and its statement was considered dovish, the Fed is still on course towards raising rates at least once this year - and according to the dot plot it could be even two raises. And Federal Reserve Bank of St. Louis President James Bullard said in a recent interview that a rate hike could occur even as soon as the next meeting. Therefore, the recent depreciation of the U.S. dollar could be a short term occurrence that will change direction, which will curb the recent rally of PM.
In terms of its current valuation, PM its current EV/EBITDA is around 15.3, which places the tobacco company in the middle among its peers: British American Tobacco has a ratio of 16.5, while Altria's ratio is 14.7. So PM isn't at a bargain price at least compared to Altria.
Bottom line
Phillip Morris continues to pay a sizable dividend of 4.2% with the high likelihood of another raise later this year. The current valuation isn't unreasonable but also isn't too attractive. And the current valuation was likely to be partly inflated due the weaker U.S. dollar. Therefore, the tobacco giant doesn't offer much of a buying opportunity at these levels.
Disclosure: I am/we are long MO.
I wrote this article myself, and it expresses my own opinions. I am not receiving compensation for it (other than from Seeking Alpha). I have no business relationship with any company whose stock is mentioned in this article.