The first quarter of 2016 is almost over and it is time to summarize the performance of my 4% dividend yield portfolio during this time period.
The goal of this portfolio, which was created back in November 2014, was to generate an everlasting dividend growth machine with a starting point of 4% dividend yield.
The portfolio includes 22 holdings from different sectors: Avista Corp. (NYSE:AVA), BHP Billiton (NYSE:BBL), Baxalta (NYSE:BXLT), Cracker Barrel Old Country Store, Inc. (NASDAQ:CBRL), Care Capital Properties, Inc. (NYSE:CCP),Cummins Inc.(CMI),Chevron (NYSE:CVX), Deere & Company (NYSE:DE), Eaton (NYSE:ETN), Johnson & Johnson(JNJ), HCP (NYSE:HCP), Main Street Capital (NYSE:MAIN), National Health Investors (NYSE:NHI), Realty Income (NYSE:O), Omega Healthcare Investors, Inc. (NYSE:OHI), Philip Morris International (NYSE:PM),Schwab U.S. Dividend Equity ETF (SCHD),AT&T (NYSE:T), Unilever (NYSE:UL),Vanguard REIT ETF (NYSEARCA:VNQ),Ventas, Inc. (NYSE:VTR) and Wisconsin Energy (NYSE:WEC).
As mentioned above, the original yield on cost was 4% and following the multiple dividend increases across time the current yield is now at 4.1% based on the current stock prices.
The collapse in oil and other commodities prices continue to take its toll from my portfolio and the immediate impact is that the dividend growth goal went out of course. I hoped by this time that the yearly dividend would reach the bar of 4,800 but with recent cuts the current trend is at $4,284.
The recent dividend cut that was taken by BBL impacted my dividend return pretty significantly. The semi-annual dividend, which was cut by 75%, was reduced from $1.24 per share to $0.32 and therefore my yearly dividend, which was expected to be at $474, went down to $124.
The portfolio now holds a minimal number of holdings with a high-dividend-cut-risk. BBL was highlighted for some time as one of the weak spots of my portfolio, but after I eliminated my position in ConocoPhillips (COP) I would leave BBL in for now hoping for a recovery in the commodities' markets.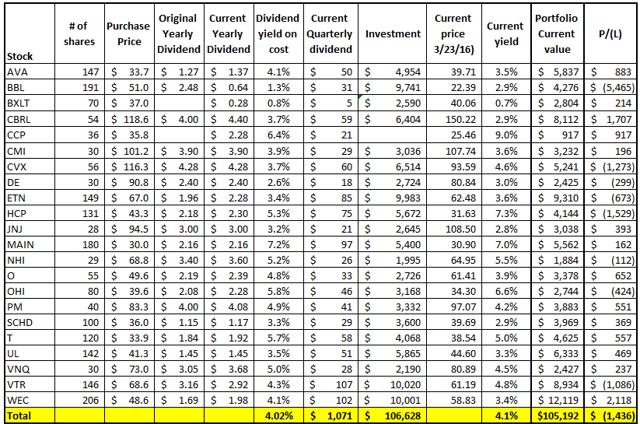 Click to enlarge
On the positive side during the first quarter of 2016 there were six companies who raised their dividends: AVA, ETN, NHI, O, OHI and HCP. These increases allowed my yearly dividend to grow by $40.
When examining the total value of the portfolio I noticed an impressive recovery during the recent two months. The last time I reported the status of the portfolio's value it was back in mid-January 2016. The portfolio's value back than was at $92,486 which was about 12% lower from the current value of $105,192. Needless to say that the value was even lower during the market deep in mid-February.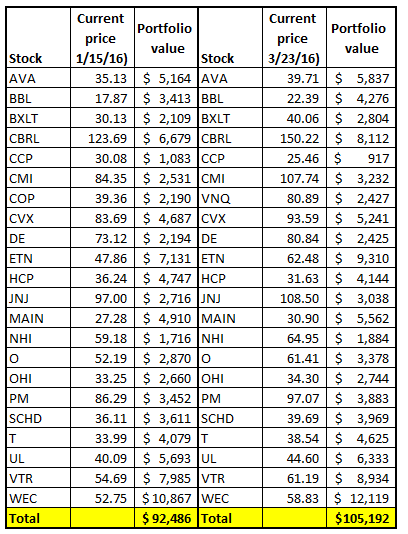 I do not regret the action that was taken in mid-February when I exchanged COP for VNQ. I still think that the low interest rate will support the REIT sector this year. This is supported by the strong behavior of bonds in the recent quarter.
Here is a graph of the iShares 20+ Year Treasury Bond ETF (TLT) which supports my thesis that the bond market does not signal a risk of an approaching interest rate hike: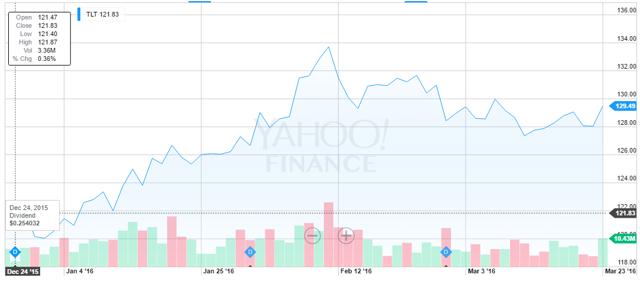 Click to enlarge
Following the recent market recovery I will not generate a position in a new holding but patiently wait for another pull back. The volatility went down to the lowest levels of the quarter but I suspect it to reappear sooner than later.
Here is the chart of the VIX indicator that illustrates the recent volatility relaxation.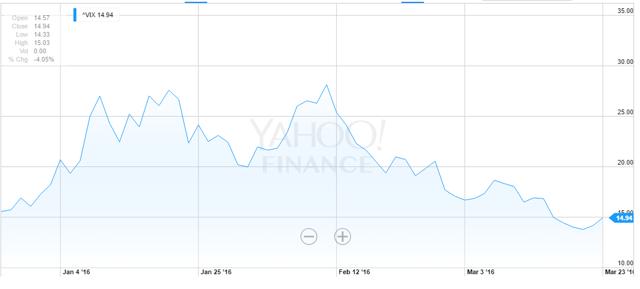 Click to enlarge
Based on past experience the current levels indicates that a sudden move is expected to take place. Here is a chart that illustrates the VIX behavior during the recent six months on top of the S&P500 represented by the SPDR S&P 500 Trust ETF (SPY):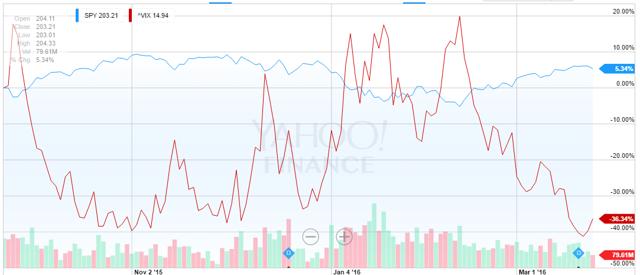 Click to enlarge
These low levels in the VIX did not hold for a long period of time during the recent six months and I expect this phenomena to continue.
Summary:
The dividend cuts in the Mining and Energy sectors had a significant impact on my portfolio's dividend growth rate. The dividend return is now back at the levels it was in mid-2015. This is a bit of a drawback but I am optimistic that most of the bad news are already built in.
I am looking forward for the second quarter of the year, especially for the markets swings towards the June Interest rate decision.
I would keep my eyes open for opportunities and will share it here.
As always I appreciate your inputs.
Happy investing
Disclosure: I am/we are long WEC, NHI, O, OHI, VTR, PM, T, VNQ, SCHD, CBRL, AVA, BBL, CMI, BXLT, ETN, DE, HCP, MAIN, JNJ, UL, CCP.
I wrote this article myself, and it expresses my own opinions. I am not receiving compensation for it (other than from Seeking Alpha). I have no business relationship with any company whose stock is mentioned in this article.