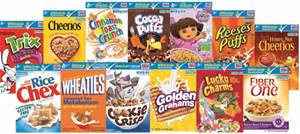 General Mills (NYSE:GIS) has been on quite a run over the last couple of years, moving up from below $50 to over $60. For a company that sells cereal in a sideways market, GIS has performed extremely well and it pays a sizable dividend to boot. Certainly, the move down in interest rates has helped GIS become a more attractive stock and after Q3 earnings, shares are knocking on the door to new highs. In light of this price action, is the prudent course to chase GIS higher or are shares overbought at this point?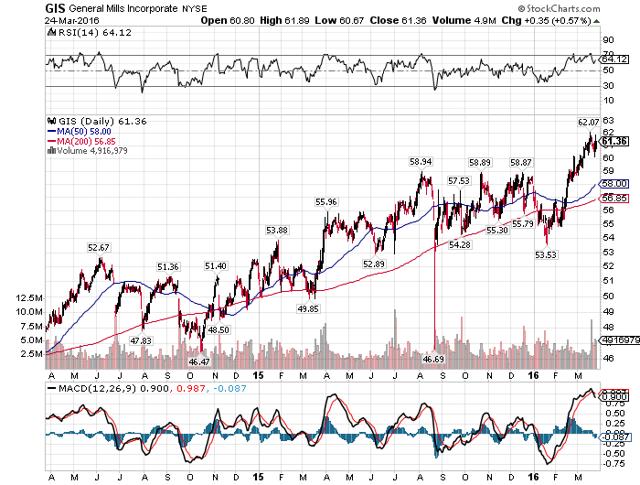 Click to enlarge
GIS saw sales decline by 8% during Q3 although when the components of the sales loss are broken down, the decline is far less depressing for longs. Three percent of the decline was due to the Green Giant divestiture, meaning constant currency sales declined four percent. While that's still pretty ugly, it's not as bad as the headline number. GIS and other cereal makers continue to grapple with flat to lower volume, a product of shifting tastes among consumers and in particular, Millennials. This is a long term headwind to not only GIS but any of its competitors as well and any valuation case must be framed in that light.
On the bright side, the company's gross margins flew 160bps higher in Q3 on cost saving initiatives outpacing input price growth. That is a significant gain and it helped the company push its operating margins up despite a headwind from SG&A. The company's SG&A costs deleveraged 80bps despite the fact that the absolute level was lower thanks to much lower sales. However, GIS still managed to produce a 60bps gain in operating margins to 15.9% on gross margin strength. This is a significant development given the very weak revenue environment GIS finds itself in.
GIS produces a lot of FCF due to its relatively low capex needs and high margins and that allows it to not only pay the ample dividend, but buy back stock as well. GIS doesn't repurchase a huge amount of stock but it has bought back $602 million so far this fiscal year, good for around a 1% reduction in the average diluted share count. The intent of the buyback isn't to be a primary source of earnings growth - as it is with some other firms - but instead to sop up dilution and provide a small reduction in the share count.
GIS reaffirmed its guidance for the rest of the year, guidance that looks pretty weak to be frank. Sales are still expected to decline at a low single-digit rate due to the Green Giant divestiture and an extra operating week in last year's results. In addition, operating profit is expected to be flat in constant currency, meaning it will likely be down slightly on an absolute basis. Unfortunately for GIS, this kind of performance is going to be the norm going forward as it struggles with volume issues that are partially offset by better pricing and margins.
What's interesting is that analysts have GIS hitting flat sales next fiscal year but growing EPS by 6%. We know sales will continue to be pressured due to volume issues but perhaps offset by pricing gains. The problem is that even if GIS hits a constant currency sales level of flat, it still has to contend with the dollar. With the dollar trading down some in 2016, comparables for GIS' fiscal 2017 may be tougher as the Fed begins to remove accommodation. With other central banks around the world still easing, if the Fed follows through with its tightening regime, the dollar may become very strong in GIS' fiscal 2017. That could leave absolute sales much lower than flat so I think the bias to that estimate is certainly down.
In addition, EPS is slated to grow at 6% next year, something I find difficult to reconcile. We know operating margin has been strong for GIS this year but how much more of that can continue into next year? GIS is in a situation where pricing is already strong so unless there is significant easing of food input costs in fiscal 2017, I'm not sure where a sizable amount of margin growth is going to originate from. Plus, if we assume the dollar will have some impact next year - which I believe it will - negative revenue growth will make it all the more difficult to grow EPS because even more work has to be done by margin expansion.
At 20.2 times next year's earnings, GIS is hardly cheap. Consumer names in general are expensive at this point after the panic that ensued in February saw a flight to safety. GIS has certainly participated in a rally that I'm not sure is totally warranted given the fact that its fundamentals are relatively weak. GIS is highly profitable and pays a nice dividend but its growth is nonexistent and will be for the foreseeable future. I think analysts are way too bullish on next year and that GIS will ultimately miss those estimates.
Consensus is for $3.04 in fiscal 2017 but I think GIS will be closer to $2.90 as it struggles with volume and the strong dollar. Putting an 18 multiple on that number gets us to a share price of $52, a price at which GIS could be considered a buy for its yield. Regardless of what EPS GIS ends up hitting in fiscal 2017, the stock is way overvalued right now and it is time for a correction. The move from $53 to $62 was way too fast and it needs to be digested. The first test will be $59 where the triple top was formed last year; if GIS can hold that level then my forecast will be far too bearish but if not, we could see the low $50s in play very easily.
Disclosure: I/we have no positions in any stocks mentioned, but may initiate a short position in GIS over the next 72 hours.
I wrote this article myself, and it expresses my own opinions. I am not receiving compensation for it (other than from Seeking Alpha). I have no business relationship with any company whose stock is mentioned in this article.